Tasty Pecan Tassies Recipe
These tart-like goodies are the perfect mix of nuts and cookies. Make this traditional holiday treat with real maple syrup; you (and your guests) will love the homey taste.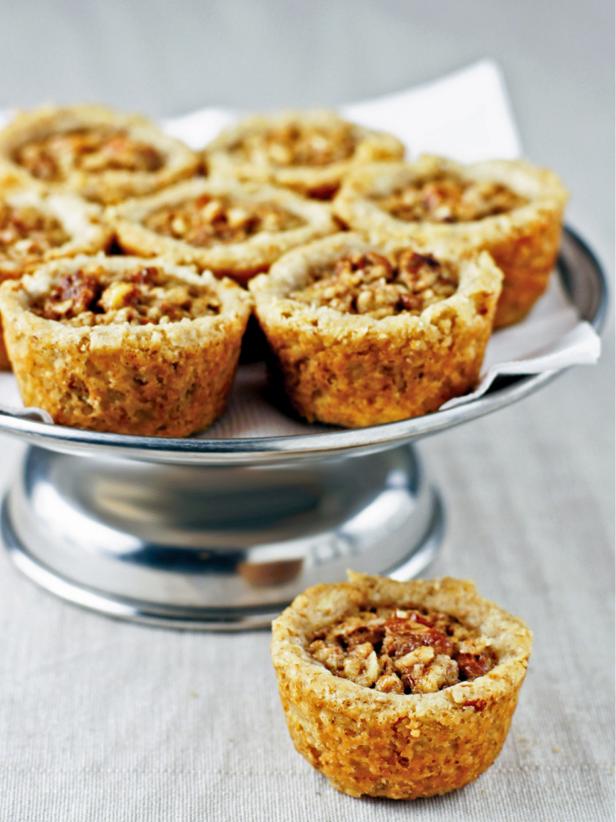 Pecan Tassies
Like mini pecan pies, these tart-like cookies have a shortbread crust and a maple-pecan filling. Get the recipe.
For the Dough:
1/3 cup finely chopped pecans
1/2 cup mascarpone cheese
1/2 cup unsalted butter, softened
3/4 cup flour
pinch of salt
For the Filling:
1 egg
1/4 cup packed light-brown sugar
2 tablespoons maple syrup
1 1/2 teaspoons vanilla extract
1 tablespoon unsalted butter, softened
1/4 teaspoon salt
3/4 cup coarsely chopped pecans
For the Dough:
1. Preheat the oven to 350°.
2. Place mascarpone and butter in a mixing bowl and beat on medium speed until well combined and creamy.
3. Add flour, salt and nuts and mix until combined and dough forms.
4. Divide dough into 16 equal parts.
5. Press each part into the bottom and up the sides of the cups of mini muffin pans.
For the Filling:
1. Whisk together the egg, sugar, vanilla, maple syrup, butter and salt in a medium bowl.
2. Stir in the pecans.
3. Place 1 1/2 to 2 teaspoons of filling into each premade cup.
4. Bake until crust is golden brown (about 15-18 minutes). Allow to cool completely in tin on a wire rack before unmolding.