Make Your Own Tissue Paper Tassel Garland
Tassel garlands are a huge party trend. It's easy to make your own with some tissue paper or sparkling mylar, scissors and string.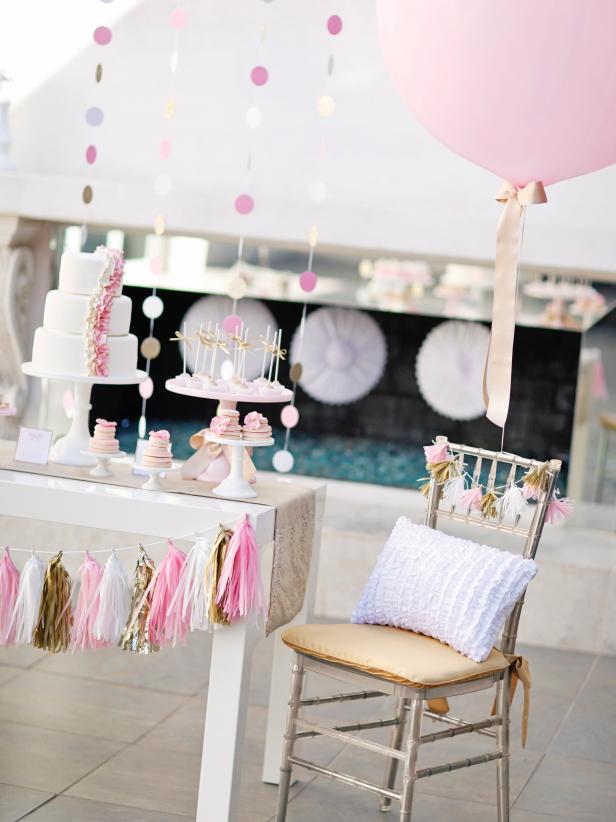 Blissful Pink & Gold Cake Table With Tassel Garland
What's not to love – and celebrate – about this pink and gold cake table? It's adorned with shimmering tassel garland and topped with blush macarons and a tiered fondant cake. A gold chiavari chair is set apart for the guest of honor with its own tassel garland and jumbo pink balloon.
A few tassels in sparkling mylar add a festive touch to your handmade tassel garland. Sheets of mylar are available at most craft stores.
This tutorial shows you how to make a larger version big enough to dress the front of a buffet table or stretch across a wall, but you can easily scale down the project. For a version small enough to add flair to your dining chairs, use 1/8 sheet of tissue paper per tassel.
1/2 sheet of 20" x 20" or 20" x 24" tissue paper or mylar per tassel
scissors
Fold a piece of tissue paper in half and in half the other way. Cut strips towards the fold to create fringe, leaving about 1 inch uncut at the fold line.
Once all strips are cut, unfold the tissue and cut in half so you have 2 sheets with fringe (to make 2 tassels).
Unfold tissue paper. Begin rolling tightly down the middle crease. Continue rolling, fold in half and then twist to create a loop for hanging.
Create More Tassels and Finish Garland
Repeat to create additional tassels in various colors. Hang from thin cord or ribbon.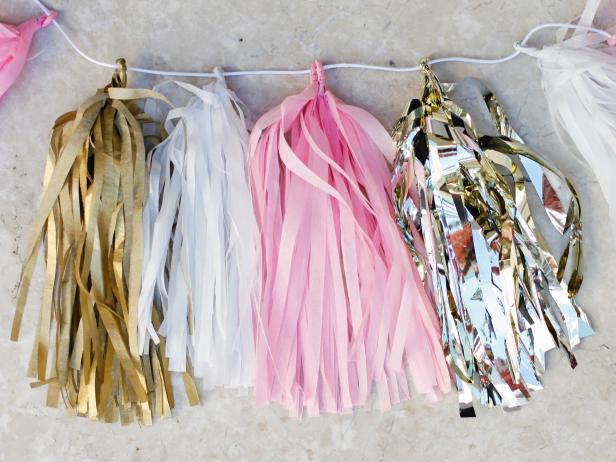 Tissue Paper Garland With Gold, White and Pink Tassels
Repeat steps to create additional tassels in various colors. Hang from thin cord or ribbon.