Day at the Circus Kids' Birthday Party
Throw a birthday party that's more fun than a three-ring circus.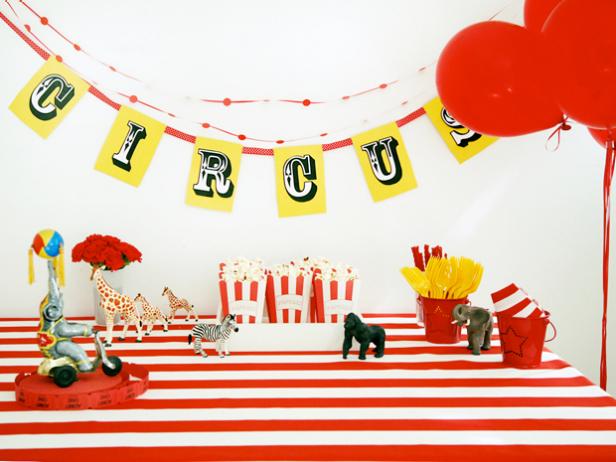 Circus-Themed Kids' Birthday Party
A circus-themed birthday party is a great idea for kids of all ages. Transform your home into a day at the circus with bold hues of red and yellow and circus activities like face painting. Serve circus snacks like popcorn in striped containers you can find at any crafts store. Guests will feel they're enjoying a day at the circus.
Make your child's birthday the greatest show on earth with a circus-themed party. While the real circus comes to town rarely, you can recreate the fun of a day under the big top for your child and his friends. Younger children will especially enjoy the games and accoutrements of this carnival-like fiesta.
Give Them a Ticket to Fun
For circus-inspired invitations opt for boldly hued red and yellow papers and inks. Make sure each invitation is sent with a ticket to the circus: "Admit One" tickets can be purchased at office supply stores or you can make your own. On the party day, don a top hat, a vest and, if you're really in the mood, a fake mustache, for a ringmaster-like look. The kids will feel they've arrived at the circus when you collect tickets from them at the door.
Set the Stage for the Show
You don't need to rent an actual tent for the party – create the atmosphere of a three-ring show with less expensive details. For example, a couple yards of red and white striped fabric make a festive table covering that recalls the stripes of a circus tent. Bunches of red balloons are an absolute must, and guests can each take one home at the end of the party.
A pair of circus-inspired banners will give your party space some flair. To create the banner above, cut yellow cardstock to size with a pair of pinking shears. Then print out the word "circus" in a huge size of an old-time-y font (ours was Rosewood Std Regular). Once printed, use scissors to carefully cut out each letter and glue each to the center of a yellow card. Then affix cards to a length of grosgrain ribbon with double-stick tape and hang. The red garland was crafted from red labeling stickers and curling ribbon. Simply adhere a pair of stickers to one another over the ribbon; we spaced ours every three inches.
What represents a circus better than a box of animal crackers? This party favor is a healthier option than candy-filled party favor bags. Laura Fenton suggests decorating the boxes with some ribbon and name tags.
Let kids nibble on circus-worthy bags of freshly popped popcorn or boxes of Cracker Jack. If none of your child's friends have allergies, shell-on peanuts are another fun-to-eat and healthy snack. When serving a full meal, hot dogs and hamburgers with all the fixings are a go-to choice for a big top-themed party. Decorate a cake with simple stripes, or if you're feeling more intrepid, cupcakes can be frosted to look like clowns. Alternately, ice cream cones, candy apples or cotton candy would all make for interesting variations to the usual birthday cupcake.
For activities, pin the tail on the donkey is a classic game that fits right in with the circus theme. Face painting is another carnival-like activity that little ones love. All you need are a face painting kit (usually less than $15) and an artistic friend or two to man the station. Provide red foam noses for those who want a clown face. If the event is outside, a water balloon toss is sure to give your guests a laugh.
Laura Fenton is a Brooklyn-based writer and stylist whose work has appeared in many publications, including Country Living, Family Circle and Good Housekeeping. She is also a regular contributor to Shelterpop.com.