Cream Puffs With Chocolate Sauce Recipe
This timeless Parisian dessert is easy to make from scratch. Whip up these delicate treats for your next gathering and fill with everything from whipped cream to seasonal fruit.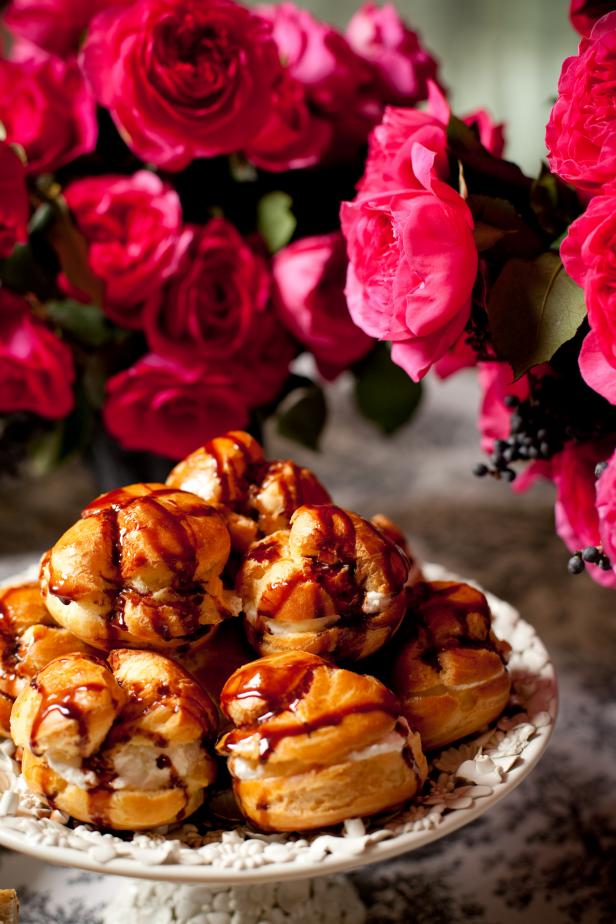 French-Themed Baby Shower Recipes
Host a fabulous French-themed baby shower with these petite treats.
1 cup water
6 tablespoons butter
1 tablespoon sugar
1 cup flour
4 eggs
whipped cream, fruit or pastry cream, for filling
chocolate sauce, for garnish
1. Preheat oven to 375 degrees F.
2. Place water, butter and sugar in a medium saucepan on medium heat. Once butter is completely melted, pour flour into the pan and stir vigorously with a wooden spoon until mixture forms a thick dough.
3. Place dough in the bowl of an electric stand mixer fitted with a paddle attachment. Blend eggs into the mixture one at a time until fully incorporated.
4. Place mixture into a piping bag fitted with a round tip. Pipe 1/4 cup mounds onto a baking sheet lined with a Silpat, leaving about 2 inches between mounds.
5. Bake for 40 minutes or until golden brown. Let cool completely.
6. Slice each puff in half and fill with whipped cream, pastry cream or a fruit of your choice.
7. Drizzle with warm chocolate sauce, and serve immediately.