10 Clever Ways to Organize + Decorate With Tension Rods
Think beyond the shower curtain.
Tension rods are this year's hottest organizing and decorating accessory. Why? Not only are they budget-friendly, stylish and easy to install, but they won't leave a permanent mark on your walls, making them ideal for renters or habitual redecorators. Although we normally associate tension rods with holding up our bathroom curtains, there are so many creative uses for these versatile bars in your home. Check out a few of our favorites below.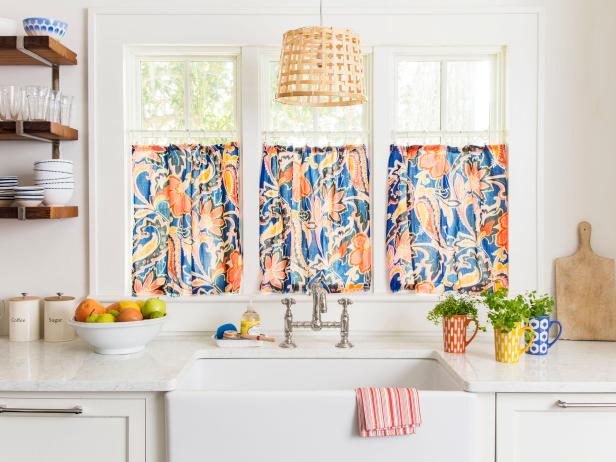 Kitchen Styled With Basket, Scarf and Mugs
Style your home with items you already have with these ideas from HGTV Magazine. Have an electrician wire a hanging light socket, then slip a basket over it as a shade. For café curtains, cut and hem a colorful scarf, then hang the pieces from clip-on rings and tension rods. Finally, pot fragrant herbs in a set of mugs to keep on the counter.
Helen Norman (produced by Elizabeth Demos)
Small tension rods + designer cloth napkins = custom cafe curtains you can make in 10 minutes or less! Simply slide a handful of curtain clip rings along the length of a tension rod, hang the rod in the center of your window, then clip up the napkins. Designer tip: Cafe curtains should always hit right at or slightly above your window sill.
Display your craft tape collection in style! Slip rolls of washi tape on mini tension rods for a quick, no-fuss tape dispenser.
Streamline your morning routine by setting up a chic bar devoted solely to your favorite hot drink. Keep mugs stylishly within reach by installing pretty copper tension rods with S-hooks inside a wooden box, then securing the box to the wall. Finish with your favorite coffee or tea-making essentials.
Free up valuable real estate under your sink by installing a tension rod across the inside of a cabinet to hang all your spray cleaners.
Give your dorm room, bedroom or open floorplan a touch of chic privacy by hanging a floor-length curtain from a removable tension rod. This is also a great way to create an office or workspace out of one corner of a large room.
Did you stock up on discounted wrapping material during last year's after-holiday sales? Keep all that gorgeous gift wrap organized and easy to access by installing a tension rod in a small closest or tall cupboard. Simply slip the rolls of gift wrap upright behind the rod, then use S-hooks to hang lightweight gift bags.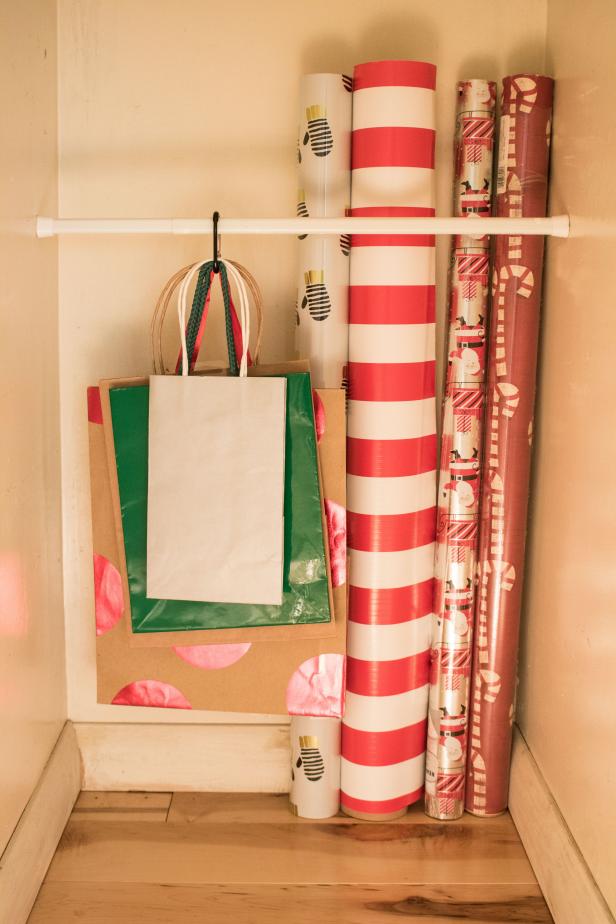 Using a Tension Rod to Organize Your Gift Wrapping Supplies
Utilize space in a closet by installing a tension rod to harness rolls of wrapping paper upright. Hook the lightweight gift bags to the same rod for easy storage.
Cover up unsightly storage in utility spaces with this quick hack. Simply slide a curtain along a tension rod and hang to hide cleaning supplies, extra toiletries, toys and more.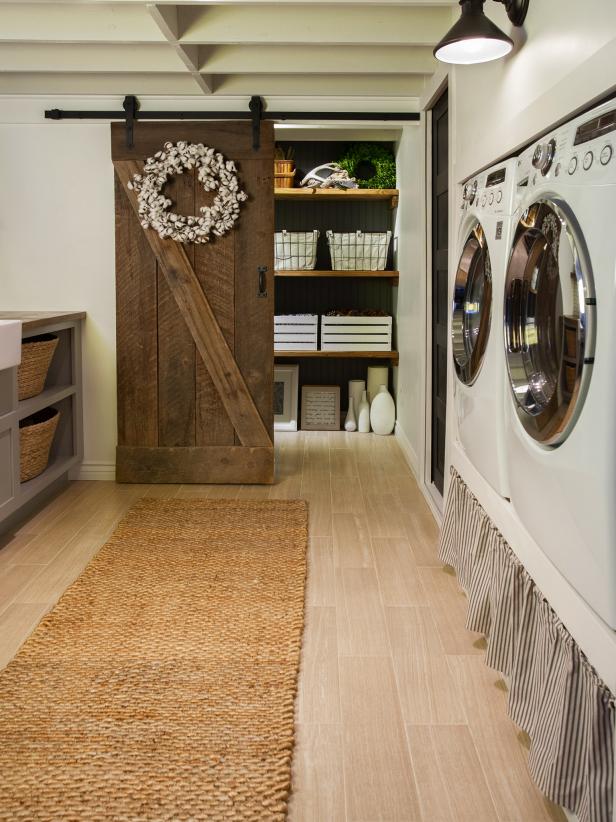 Skirt the Issue
With the washer and dryer elevated in her new laundry room, Jenna Sue of Jenna Sue Design Co. found herself with some welcome extra storage space. She opted to use fabric in place of drawers to add a less expensive, custom touch. "The curtain is great for hiding detergents and laundry supplies," she says. "It's such a simple solution and softens the hard lines while emphasizing farmhouse style." Even if you don't have under-machine storage, we love this idea for other spaces, too. Stapled or Velcro-ed beneath a shelf or cabinet or in a nook with a tension rod, skirted storage is a simple, pretty storage solution.
Jenna Sue, Jenna Sue Design Co.; Gary Johnson of GaryJohnsonPhotography.com
What kid wouldn't love their very own indoor playhouse? Create this low-cost version in a closet or nook by installing two curtain rods — one on the back wall and one slightly lower toward the entrance — then hanging a sheet or curtain over the rods to create a removable, house-shaped hideout for the kiddos.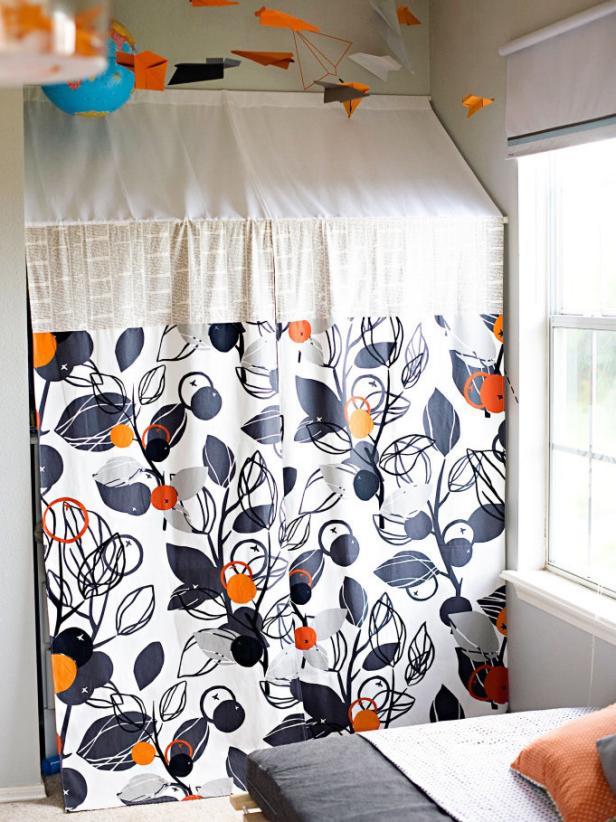 It's Curtains for Clutter
If keeping bookcases and shelves organized is just too much of a challenge, simply conceal them with fabric that coordinates with your child's bedding. Tension rods and premade drapery panels will make short work of hiding the mess when company calls. Image courtesy of Ashley Corbett Campbell
Keep fresh herbs within reach and dress up a boring window with this super-easy hanging garden DIY.
Keep your purses and bag collection under control with this hack. Install a tension rod in a small section of your closet and hang each bag by its handle with an S-hook. You'll be amazed how much space this will save.