From Toddlers to Teens: How to Encourage Kids to Help With Housecleaning
Start 'em young! Set expectations for doing chores, and make it easier for kids to learn how to clean their spaces.
How to Teach Kids to do Chores
Housekeeping is an important part of life, and demonstrating it early helps foster independent life skills among the next gen. The #1 rule to keep in mind: Don't expect too much when you're initiating a chore routine. Set goals that are achievable, whether the child is 2 or 12 so that they can find success and enjoy the sense of accomplishment. We know that cleaning can be annoying and frustrating and certainly less fun than other tasks, but do what you can to make it fun, and your little helpers will shine.
Engaging kids in the process early can be important for a number of reasons:
chores hold children accountable for their own messes
it's quality "together time"
chore assignments help to show how everyone in a family can work together
and, quite simply, chores teach good habits
Chore assignments don't need to be backed by monetary rewards; they can be positioned as a simple part of the family routine. They're something everyone can partake in, based on their individual skill levels. Kids are often trying to do what the big kids and adults do, so set a pattern for housekeeping early, and they'll be more interested in leveling up as they grow. (This is my daughter helping us install an underground wire fence – she had so much fun filling the grass back over the wire, and placing flags along the path.)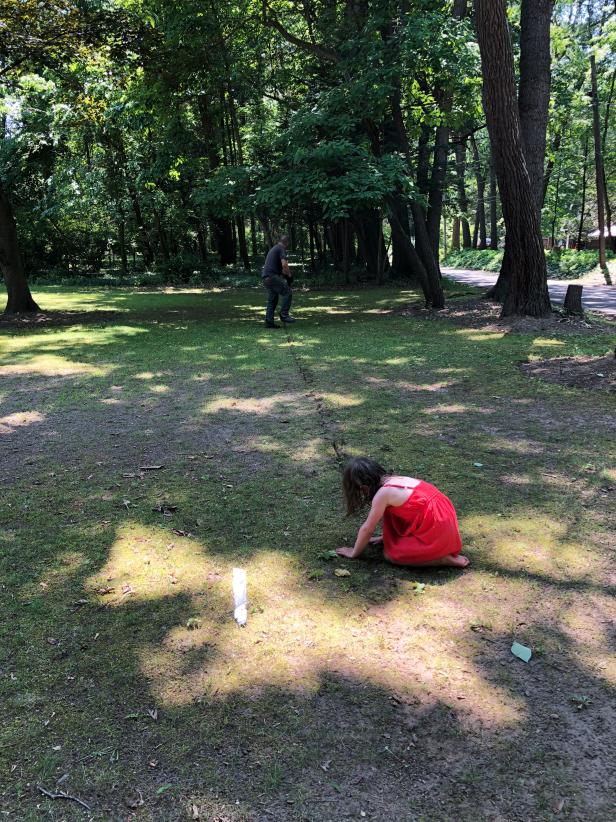 How to Install an Underground Wire Fence For Your Pet
Learn the DIY way to install an underground "invisible" fence around the edge of your yard.
At what age should you start letting kids help with chores?
It's never too early. Even mobile one-year-olds can begin to follow simple tasks (i.e. "Put your shoes by the door," "put your sweatshirt on the hook.") They'll continue to be eager to be "helpers" throughout many aspects of your life. If you start early with small, easy to comprehend, achievable tasks, it really helps to set expectations of responsibility.
Children are inherently interested in cleaning and organization, since it's what they see adults do, and especially when young, they're very eager to help because it means more time spent doing meaningful activities together.
What methods of positive reinforcement work for kids?
We're not talking "allowance" or monetary rewards here – for the sake of simplicity, it's fair to preach that chores are an expectation in a shared household, and if you live in the house, you should contribute.
That said, recognizing a child's accomplishments is rewarding to them and boosts their self-esteem. Tell your child that they did a great job organizing their closet and explain what you like about it. Appreciate how the table is set for dinner, or how the toys are cleaned up from the living room rug. Acknowledge if they do chores without being asked.
How many chores are too many chores?
Parents, you'll be walking a tightrope in determining the right amount of balance. It depends on the child – on their attitudes, their small motor skills, to how they respond to positive reinforcement. Don't assign so many tasks that you're setting them up for failure, but slowly add more responsibility as they gain confidence and show interest in doing more around the house.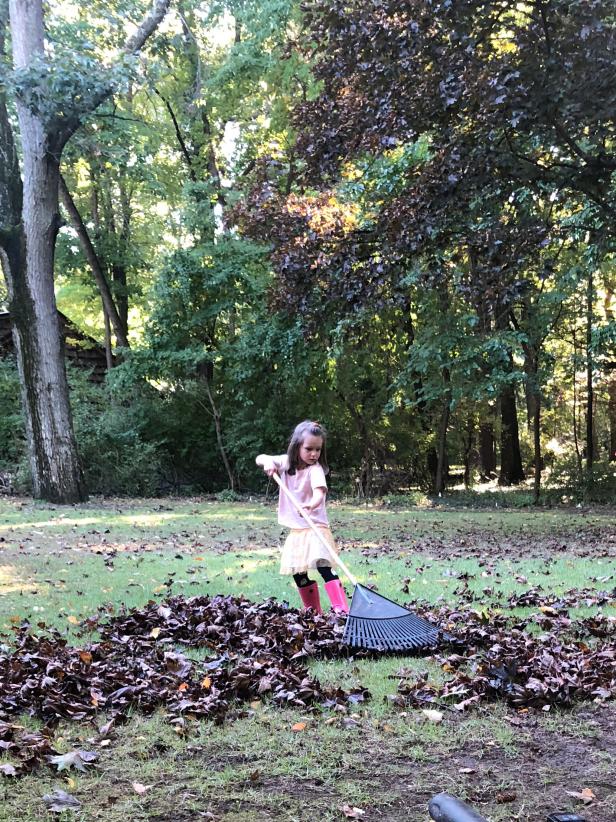 How to Teach Kids to do Chores
What chores are good for different age groups?
As they get older, some of the early chores will become more ingrained as an ordinary expectation. Here are examples as to how you can evolve chore responsibilities as your child gets older.
Toddlers and Preschoolers (2-4)
putting laundry in the laundry basket; garbage into the garbage can
matching socks
putting away clothing (placing folded items in baskets or drawers)
cleaning up after playtime
using a dustpan and brush to clean up (have low expectations – this is more for general coordination and motor skills)
two words: Dry mopping
re-wrapping the long vacuum cord after use
setting the table (let them select the placemats and napkins – and don't worry if it's mismatched)
putting books on accessible bookshelves
washing dishes (non-breakable items, assisted by an adult, while standing on a stool)
disinfecting doorknobs, light switches and low cabinets pulls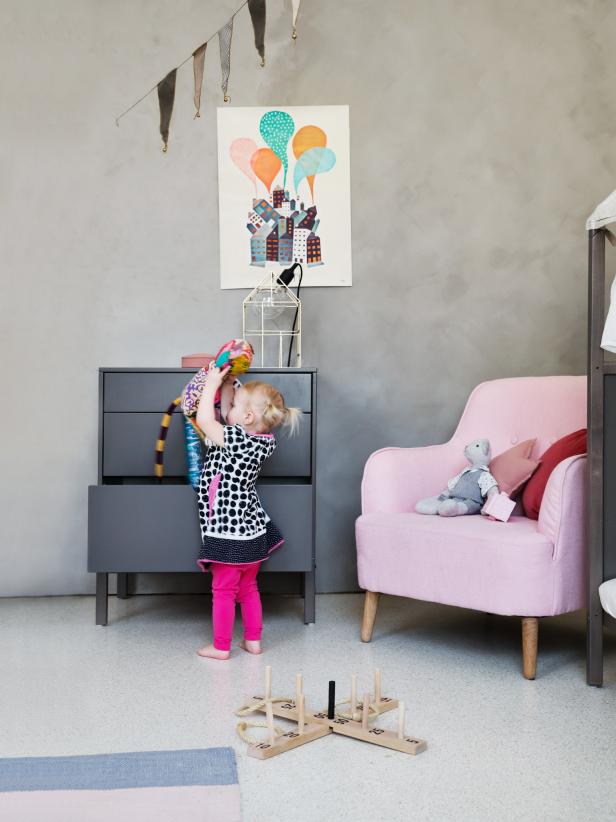 Versatile Gray Dresser in Kid's Room
Versatile solutions like this dresser from Stokke with an optional attachment for changing diapers gives you storage that can grow with your child. When your child is past the diaper stage, the soft-closing drawers can be used for storing different-sized toys. Look for dressers with low-height drawers, so little ones can help put away their toys at cleaning time.
folding and putting away laundry (introduce hangers)
folding bathroom towels and dish towels
stuffing pillowcases
caring for pets (brushing and helping with feeding schedules)
getting all of the "little things" off the carpet before it gets vacuumed
setting table (introduce positioning of silverware; also, still okay if the placemats are mismatched)
opening curtains or blinds in the morning
raking leaves or shoveling snow in small areas (let them be your assistant)
washing dishes (assisted by an adult, while standing on a stool)
unloading silverware from dishwasher (assisted by a parent; separate the forks, spoons, and butter knives for the child to organize into drawer dividers.)
cleaning up after playtime
outdoor chores, such as cleaning up sticks in the yard (I ask my kids to drag lightweight sticks into a pile nearby our fire pit – huge help!)
harvesting garden produce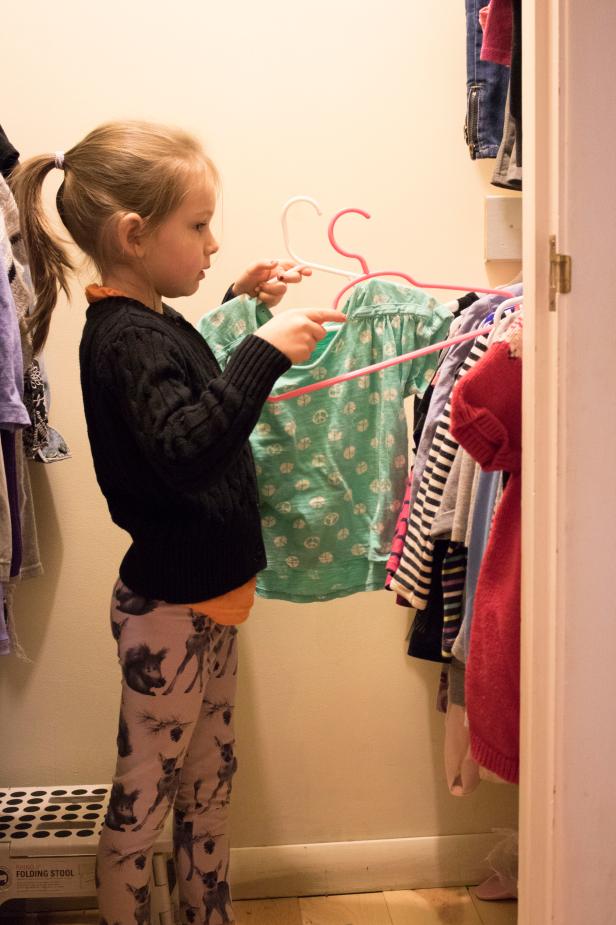 How to Teach Kids to do Chores
cleaning windows and mirrors
cleaning the bathroom sink-top and bathtub
folding and putting away personal laundry (it can be an independent chore by this age; simply hand off a basket of their clean laundry and encourage them to organize their belongings their way)
raking leaves or shoveling snow in small areas independently
sweeping and vacuuming floors
dusting windowsills, open shelves, vanities
stripping bed linens
taking out garbage bags or recycling
setting the table and clearing after meals
outdoor chores, such as pulling weeds and transplanting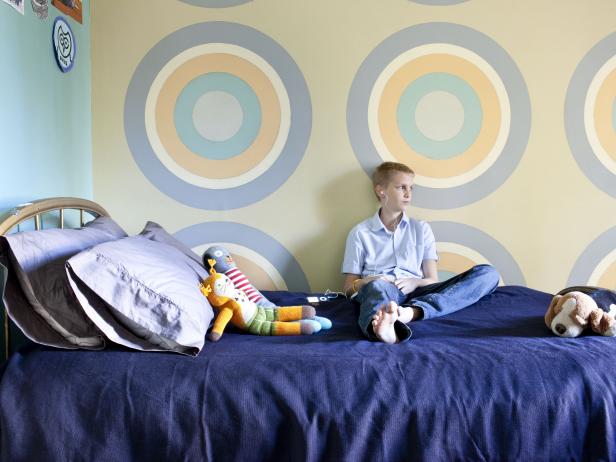 Tween Bedroom With Bull's Eye Focal Wall
The most impactful design elements in this tween bedroom are the graphic, modern bull's-eyes painted on the focal wall. Hand-painted by family friend and painter Lou Kregel, each bull's-eye has five accent colors. From the outside in, the C2 Paints are: "Chamomile" C2-153, "Larkspur" C2-313, "Solo" C2-128, "Calypso" C2-089 and "Hydrangea" C2-315.
dusting hard-to-reach areas with the help of a step stool
walking pets
lawn mowing (we love a great battery-powered motor for this age; the kind that push starts with the touch of a button but turns off as soon as the hand lever is released for safety)
stripping bed linens, re-making bedspread
washing dishes or loading dishwasher (unassisted)
outdoor chores, such as spreading mulch and planning a garden space
full bathroom cleaning, especially if they have their own space (toilet too!)
mopping floors
washing, drying and folding their own laundry
washing dishes or loading dishwasher (unassisted)
all outdoor chores – including mowing, snow blowing, gardening, and landscaping (sign them up to help elderly neighbors too!)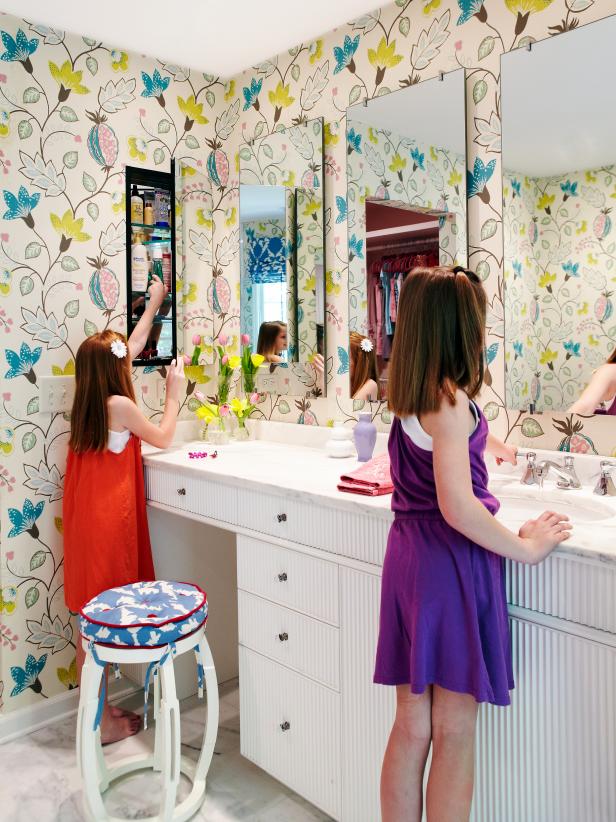 Tween Girls' Bathroom With Hidden Cabinets
One long mirror above the counter is replaced by three separate ones, reflecting the wallpaper facing it. This adds dimension to the room while the fluted detail of the cabinets bring an element of texture.