The 411 on Grooming Your Pet
Keep your furbaby looking good and feeling happy with our grooming tips.
When does pet primping start, exactly? According to the American Kennel Club, it's smart to start familiarizing your furbaby with grooming from a young age. The AKC says it is especially important for owners to implement frequent bathing and brushing at home for young puppies or dogs who have never been groomed professionally.
But, Cats Hate Water... Don't They?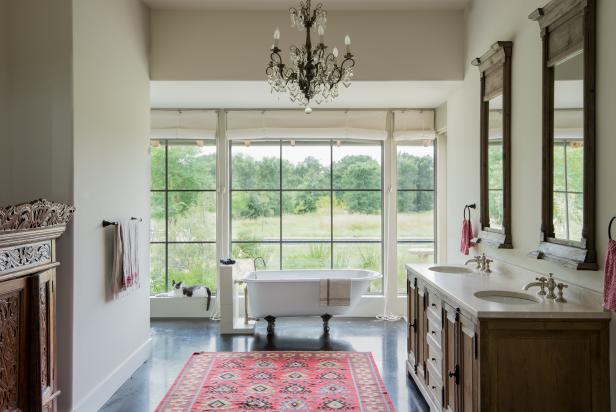 Country Bathroom With Freestanding Tub
An enormous wall of windows fills this beautiful bathroom with natural light, something the freestanding tub takes full advantage of. High ceilings and the crystal chandelier give an extra touch of elegance.
Eh, maybe. The truth? Cats are independent and naturally prioritize their self-care, much unlike their canine counterparts. The ASPCA says, "with her built-in grooming tools (tongue and teeth), your fastidious feline is well equipped to tackle her own haircare needs." If your cat does find themselves in a sticky or stinky situation, though, the ASPCA gives a step-by-step guide on cat baths.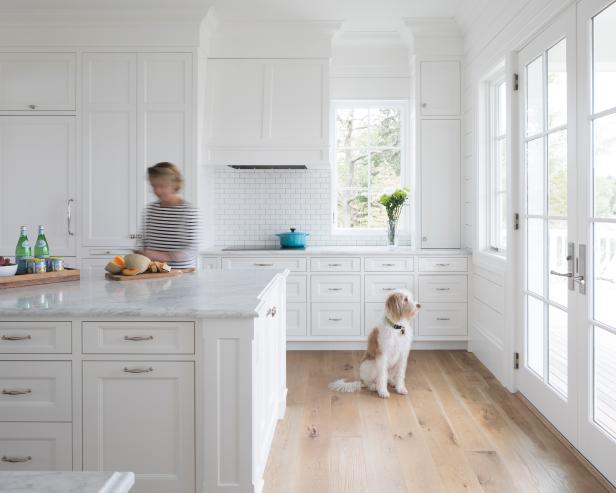 White Chef Kitchen With Dog
Even the family pet can be part of the action with a kitchen this spacious. All-white decor lets the sunlight bounce around the space.
The essential grooming tasks to maintain a healthy, happy and handsome pup at home include: monthly baths, regular brushing, teeth brushing and periodic ear cleaning. Be sure to block off some time to examine your cat and/or dog's eyes, paws and skin for any wounds, growth or irregularities.
The "Pros" of Professionals
While it's crucial to maintain a grooming regimen at home, it's equally as important to know your limits. Leave tricky tasks, such as cleaning anal glands, removing ticks or fleas, trimming nails, removing mats and cutting their fur, to the trained professionals. Another bonus? Professional groomers are equipped with quality tools that ensure your pet will be looking, and feeling, their best at the end of the day.
Cut Based on Coat, Not Convenience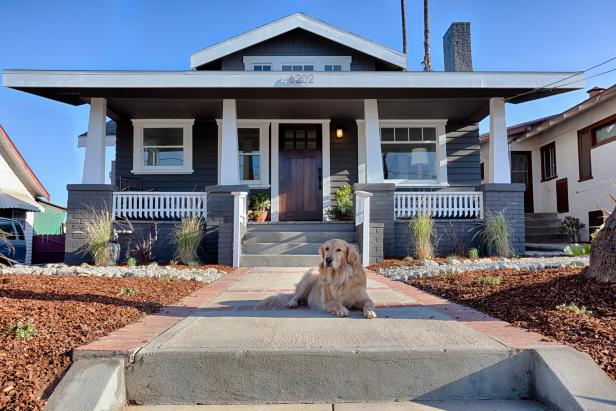 Gray and White Craftsman Exterior and Dog
A dark exterior with crisp white accents calls attention to this home's elegant Craftsman design. Say hello to the golden retriever welcoming committee.
Thinking of giving Fido a fun, fresh buzzcut for summer? Think again! In theory, that sleek, summer shave is supposed to keep your fluffy-coated cutie cool, offering reprieve from the sun by removing that thick, wintery fur. Unfortunately, this is not the case for many dogs and you may do more harm than good for pups that sport a snazzy double-coat. Common breeds with double-coats include, but are not limited to: Pomeranian, Shih Tzu, Miniature Schnauzer, Saint Bernard, Golden Retriever, Alaskan Husky and German Shepherd. Unsure if your companion fits the bill? Ask your veterinarian or a trusted grooming professional for their assessment and suggestions. Find more information on double-coat care from Dogs Naturally Magazine.
Keep Your Bunny Beautiful
Arm yourself with information before setting out to groom your cotton-tailed companion. Rabbits are delicate and require a specific grooming regime that includes avoiding baths at all costs and diligent, weekly brushing. Find more information for rabbit grooming at Rabbit.org.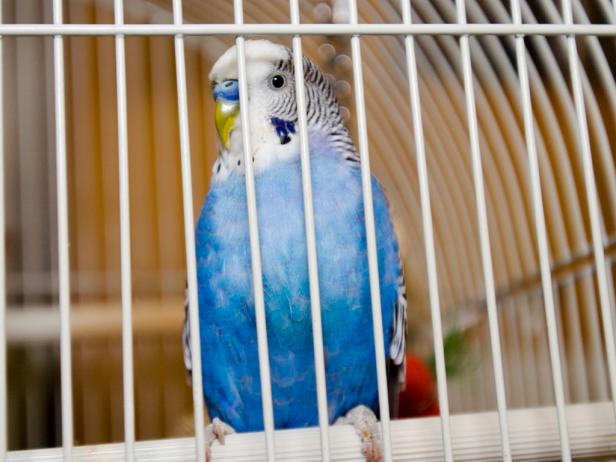 Fold' N Go Bird Travel Cage
We didn't forget Polly this holiday season. For your avian adventure, this cage is "ideal for short-term containment of medium to large-sized birds." The cage's components all store in a pan when folded, making for easy packing. See also: Paradise Perch and Go! Travel Cage, Drs. Foster and Smith.
Grooming needs vary from bird to bird, but there are a few grooming fundamentals that are musts to keep all feathers looking their best. According to Petco, owners should always provide a shallow bird bath with up to one inch of water. Feather shampoo and conditioner are optional, and it's important to schedule your parakeet an occasional pedicure (i.e. nail trimming) at your local veterinarian. Find more information on bird grooming basics, here.