If You Love Marie Kondo, Then You'll Love These Decluttering Tips from The Minimalists
Looking to get more organized? We're sharing our favorite ideas inspired by this famous decluttering duo.
Confession: I've never read Marie Kondo's The Life-Changing Magic of Tidying Up, nor have I seen her Netflix special. (I know, I know.) But I still manage to keep a clean and clutter-free home, and I like to think that's partially due to the tips I've gathered from Joshua Fields Millburn and Ryan Nicodemus — AKA, The Minimalists.
If you've never heard of them, let me fill you in. After decades of climbing the corporate ladder and feeling dissatisfied despite owning a lot of stuff, Millburn and Nicodemus essentially decided to clear away the clutter that was consuming their lives. They came up with "minimalist challenges" to help eliminate the excess, and in turn, they simplified their surroundings and created more space for things that actually mattered to them.
While The Minimalists detail their experiences in various books, a weekly podcast and the film Minimalism: A Documentary About the Important Things, I've pulled some tried-and-true tips that will help you declutter and live a bit more deliberately.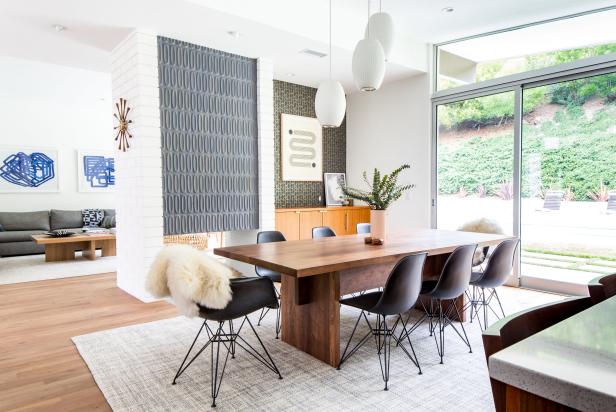 Midcentury Modern Dining Room With Sliding Doors
Glass sliding doors connect the dining room to the home's outdoor spaces—and let in lots of natural light.
Some of us have junk drawers, and some of us have junk rooms. (I will be the first to admit that my "home office" is a glorified dumping ground for books, boxes and miscellaneous papers.) When you're ready to declutter this space, throw a packing party. Work with your family or friends to put everything into labeled boxes, just as you would do if you were moving. Then, over the course of the next three weeks, unpack only the items that you actually need. By the end of the twenty-one days, you will see which items are still sitting in storage and should probably be thrown away or donated.
2. Throw a Photo-Scanning Party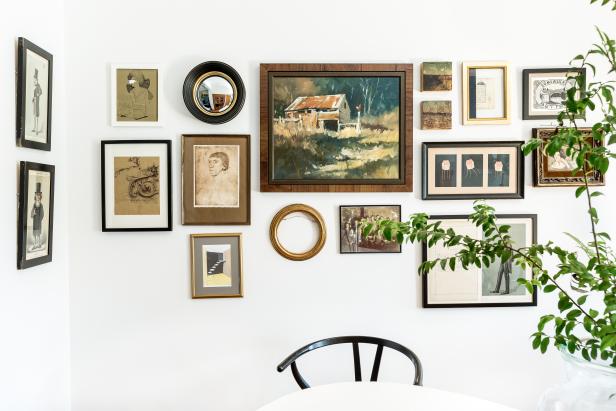 Corner Gallery Wall
Artwork and vintage photographs in a wide range of sizes create a dynamic gallery in the corner of the living and dining room. Mixing up the shape, width and color of the frames keeps the eye moving from piece to piece.
Instead of creating stacks of paperwork, consider investing in a scanner and saving important files to your computer. You'll eliminate the paper clutter in your space and ensure that those documents are safe in the event of an emergency. Don't forget to include any family photos, too. Though it's tempting to hold on to physical copies of photographs, you can still preserve the memories by backing them up to your computer and displaying them in a digital picture frame.
If you're anything like me, you probably hang onto certain items "just in case" you might need them — pens, colored pencils, note cards, rolls of tape and glue sticks are all items that frequently make my list. But have you ever unwittingly repurchased one of these products, so certain that you were out, only to discover some sitting in the back of a drawer? Yep. To combat this, The Minimalists suggest following the 20/20 Rule. Let go of your "just in case" stack and trust that anything you actually need can usually be replaced for under $20 at a location 20 minutes away.
4. Ask Yourself Tough Questions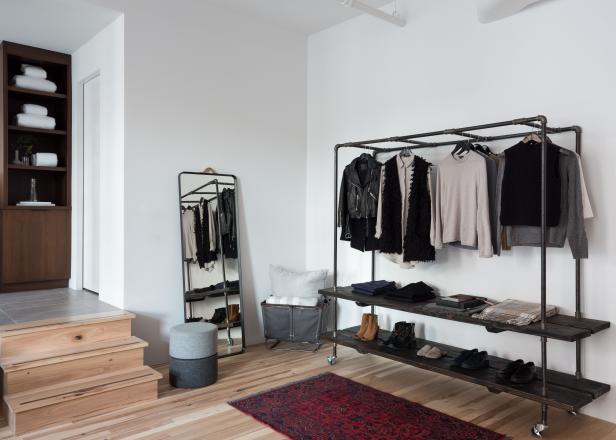 Industrial Wardrobe Rack in Bedroom
Instead of closets, an open wardrobe rack matches the urban edge of the industrial New York City loft.
This is one of my favorite ways to determine which pieces of clothing deserve a spot in my closet, and it was inspired by an anecdote from Joshua Fields Millburn. When I need to declutter my wardrobe, I ask myself, "What would I do if I spilled bleach on half of my clothes?" My mind immediately jumps to the pieces that I'd hate to see ruined (versus those that I could bear to part with), and then I know exactly which items I should donate.
5. Play The Minimalist Game
And when you really want to see some results, you should definitely play The 30-Day Minimalist Game. Team up with a family member or a friend, and starting on the first day of the month, you'll each get rid of one item. Then, on the second day, you'll get rid of two items, and you'll keep going as the calendar progresses. Any item goes, from pencils to entire pieces of furniture, but they have to be out of the house by midnight. Whoever lasts the longest or makes it to the end of the month wins!