This Colorful Kitchen has the Coolest Backsplash
She got a rainbow backsplash, and he got a bar. This fab collab in Edina, Minnesota, proves that makeovers (and relationships) are all about compromise.
Keep in mind: Price and stock could change after publish date, and we may make money from these affiliate links.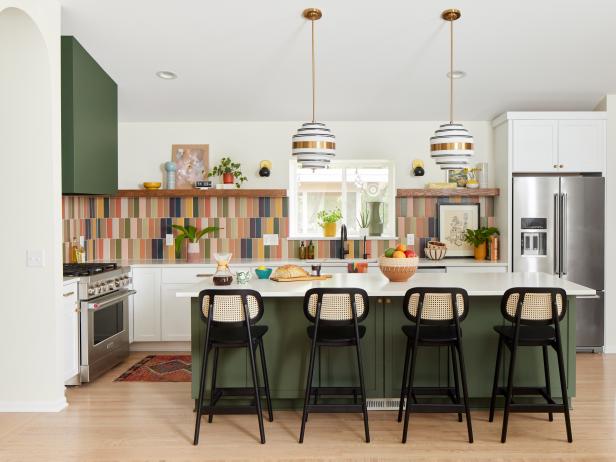 Eclectic Kitchen With Multicolor Backsplash and Green Island
This eclectic kitchen features a multicolor tile backsplash, earthy green island, retro pendant lights and caned stools.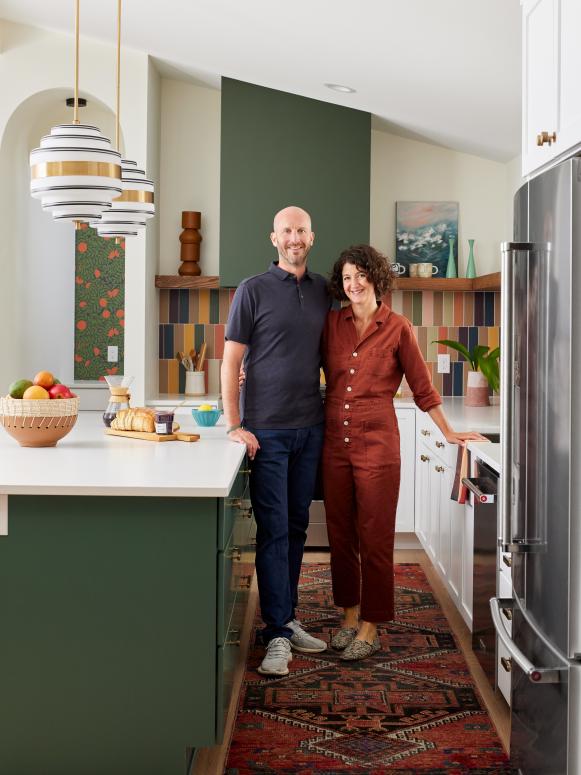 Eclectic Kitchen With Multicolor Backsplash
This couple created an eclectic kitchen with a multicolor tile backsplash.
Like any couple, Jay and Ta'mora Fuhrmann don't agree on everything. He likes things tidy, she's OK with mess. He's happy to eat grilled cheese for dinner, she likes to experiment. He's a disciplinarian, she's known to cave at the batting of their boys' eyelashes. When it came to updating the kitchen in their 1960s split-level in Edina, MN, though, they were on the same page: She would make the big design decisions. "Ta'mora is really creative and into color," says Jay. "I trusted her vision, as long as it included a beer and wine fridge!"
The two also unanimously wanted an open floor plan for their own family and their famous 40-person holiday dinners. Renovators Heather and Brad Fox of Should I Stay or Go? handled the overhaul, which included taking down the wall adjacent to the formal dining room to double the kitchen's square footage and redoing the oak floors. Ta'mora and Heather came up with the funky design and that all-the-colors scheme. "Occasionally I'd hold up a wild wallpaper or bold piece of art, and Jay would chime in with, 'That's going too far!' " says Ta'mora. "I had to be convinced a few times, like with the backsplash," says Jay, "but it all turned out incredible. Especially the bar."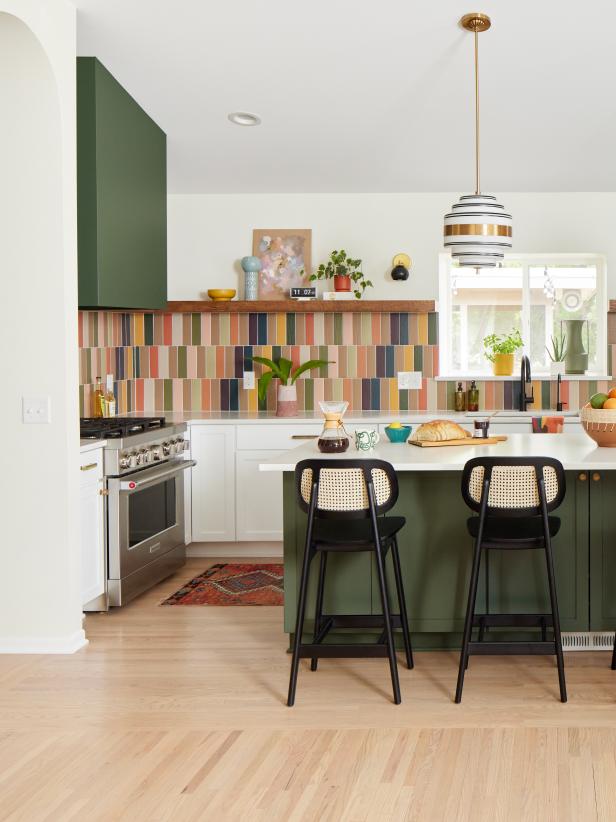 Eclectic Kitchen With Colorful Backsplash and Green Island
This eclectic kitchen features a multicolor backsplash, earthy green island, caned counter stools and retro pendant light.
"White lower ones gave us a neutral base to play around elsewhere," says Ta'mora. Forgoing uppers meant a less kitchen-y, more hangout-y feel. A walnut-stained ledge that spans the wall, full of trinkets from Ta'mora's childhood home, brought in added homeyness. "I just have to remember to dust up there!"
Ta'mora scored an earthy rainbow with 2-1/2" x 9" subway tiles from The Tile Shop, then flexed her computer skills to mock up a combo that pleased everyone. Going heavier on khaki was the clincher for Jay; it grounds the other hues. A vertical layout supersizes the cool factor. "Our backsplash sets the tone for the entire space," she says.
Cupcake baking, homework and craft projects happen here, and the Fuhrmanns went big: This one's 9 feet wide and 5 feet deep. Like the tile, the white quartz countertops are matte — when there's already plenty of pizzazz, you can skip the glossy finish. The counter stools are from Overstock.
After discovering these Anthropologie pendants several years ago, Ta'mora had been eager to find a place for them. Mission accomplished. The lights' horizontal stripes playfully complement the lines of the backsplash. Sconces with brass bases (from Sazerac Stitches) above the ledge connect to the gold in the pendants.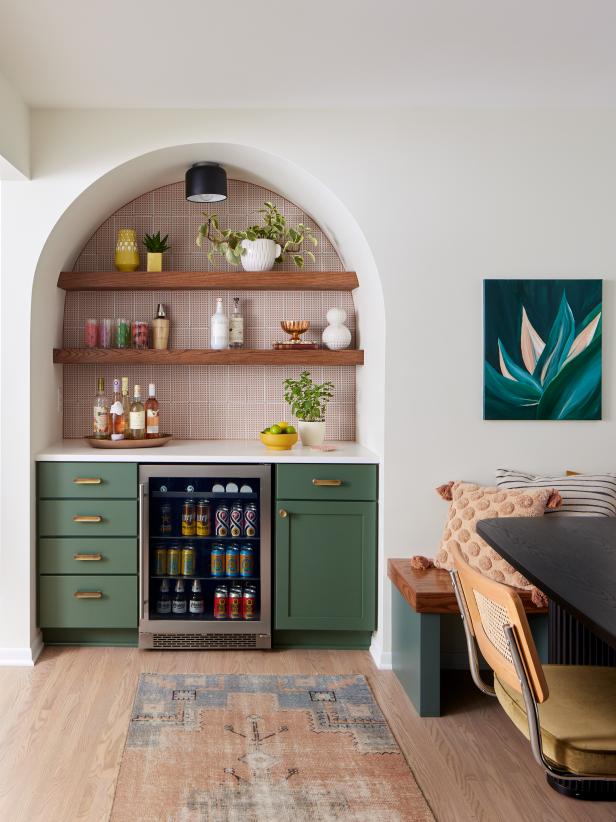 Inset Kitchen Bar With Tile Backsplash and Green Cabinets
This arched inset bar features a patterned tile backsplash, green cabinets, beer fridge and open shelves.
Taking Jay's request for a beer fridge seriously, Heather transformed an old pantry outside the kitchen into a bar. Bye-bye bifold doors, hello margaritas! She put in an arch and wood shelves that match the kitchen ledge. Porcelain tiles with a caning pattern, from 41zero42, were Jay's triumphant pick. The bartender: Ta'mora.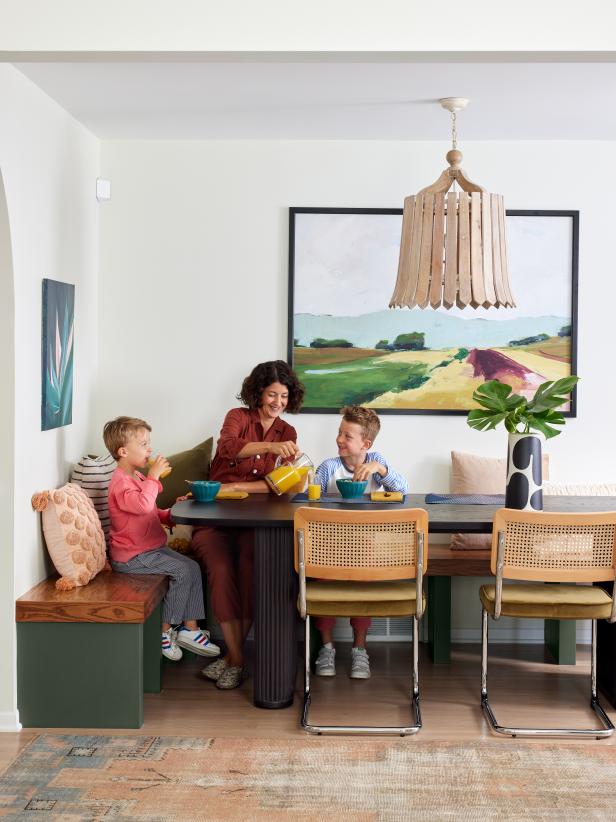 Breakfast Nook With Large Landscape Art
This breakfast nook features oversized art, a vintage wood pendant light, banquette seating and velvet cantilever-style chairs.
Breakfast is served on a Crate & Barrel table that's surrounded by an oak bench and velvet-seat chairs by Edloe Finch. Landscape art from Juniper Print Shop brightens the space and the mood. Says Ta'mora, "It reminds me of a happy road trip." That chic chandelier, found at a local home store, came with a wobbly strip — 50% off for Ta'mora! "Honestly, all I did was push a nail in," she says.