Create a Welcoming Guest Bathroom
Make your guest bath a welcoming space for friends and family with these remodeling ideas and bathroom layout tips.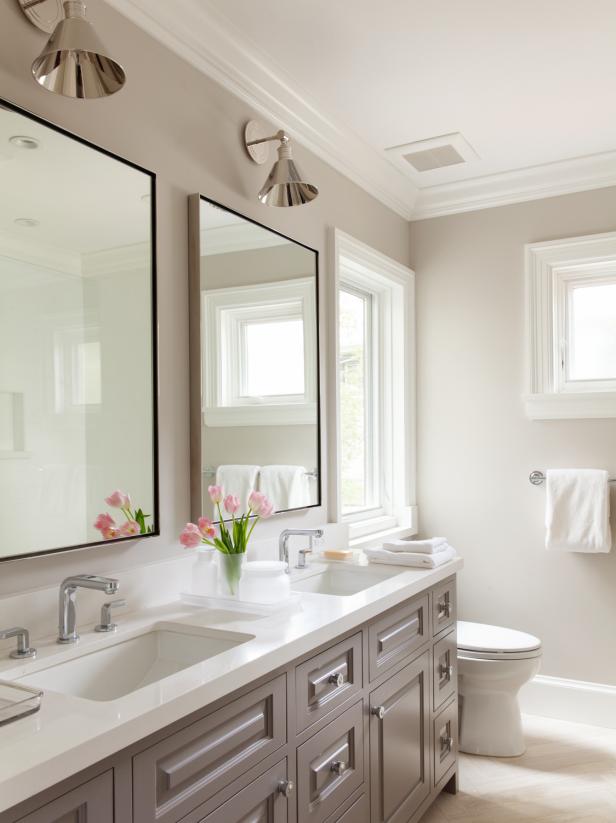 Transitional Guest Bath with Double Vanity
Two sinks are better than one in this classic, neutral guest bath with gray double vanity, matching mirrors and fixtures.
It is the lucky house guest who has a bathroom of his or her very own. Whether you're carving out a space for a new guest bathroom or remodeling the bathroom layout of an existing one, the objective should be to create a welcoming space for overnight company.
When deciding on a new look for the guest bath, comfort should drive the design. To home in on your style, you can create your stylebook from pictures torn out of magazines. You can also turn to books like, "Yes/No Design: Discover Your Decorating Style With Taste-Revealing Exercises and Examples," by Diane Love (Rizzoli International Publications). Another option is to visit decorator show houses, kitchen and bath showrooms, and plumbing showrooms provide places to see bathrooms in person, says Jessica Clock, a designer with Carmel Kitchen Specialists Inc. of Carmel, Ind.
The trick is to blend a bathroom design that appeals to you with the needs of future guests. "Make it as big and as roomy as you can," says Kristen Zwick, designer with Kitchens by Teipen in Greenwood, Ind. "Keep it easy to care for as far as materials," for countertops, flooring and shower, she says.
To create the best floor plan possible for a guest bath remodel, consider hiring a professional designer to look at the overall size of the room and work in the required elements to create. Again, "basic" is the buzzword for a guest bathroom layout; you want to "make things accessible," she says. Guest baths are more like hotel bathrooms; they don't have to be as luxurious as a master bath or as whimsical as a powder room. There's no need for elaborate showers, grand tubs or several sinks. The essentials — a sink, shower (and perhaps a tub) and toilet — will do the trick.
Add a bit of counter space, a mirror and good lighting — a combination of ambient, accent task and decorative — and most guests will be pleased with the accommodations.
Unlike a master bath or powder room where people tend to splurge on luxurious materials, homeowners are often more conservative in guest bathrooms. "They want them to look nice, but most people aren't going to go all out in a guest bath," says Sara Ann Busby, National Kitchen and Bath Association president-elect and owner of Sara Busby Designs in Elk Rapids, Mich.
Kristen Zwick says to make things, "convenient and accessible." Solid surface countertops with an under-mount sink are durable and easy to clean. For homeowners on a tight budget, consider laminate countertops with a vitreous china sink. Materials that look great with a quick once-over and require little upkeep will make life easier, especially if guests drop in on short notice.
Ample storage in a guest bath remodel may send the wrong message to visitors. "Most people don't want their guests to stay too long. (Give them) a narrow drawer for a toothbrush and a hairbrush — three days and they're out of there," Sara Ann says with a laugh. All kidding aside, storage in a guest bathroom should be about convenience and comfort for the users.
Kristen says most guests like to be helpful and recommends providing items like a squeegee in case they want to wipe down shower walls and doors. Also, be sure the bathroom is stocked with basics like towels, toilet paper and shampoo. "Make it as easy as you can on your guests, so they don't have to come out and say, 'I need this, I need that," Kristen says.
A small linen closet stocked with extra necessities like towels and tissue, a drawer or two where guests can stash their personal items, a few hooks to provide a handy spot for hanging clothes and towels, and a hamper for used linens can make guests feel at home.
After construction wraps up, dress up a basic bath is with accessories. Splurge on thick, soft towels and hang a cozy bathrobe on a hook. Provide an assortment of French-milled soaps, a fragrant candle and a carafe of water with a glass for a welcoming touch.
Sara Ann Busby
NKBA President-Elect, 2007
Sara Busby Design
Elk Rapids, Mich.
www.SaraBusbyDesign.com
Jessica Clock
Designer
Carmel Kitchen Specialists Inc.

Kristen Zwick
Designer
Kitchens By Teipen
Greenwood, Ind.
www.kitchensbyteipen.com