Which Garage Flooring Is Right for You?
From painted concrete to specialty tiles, discover options for the toughest flooring in your house.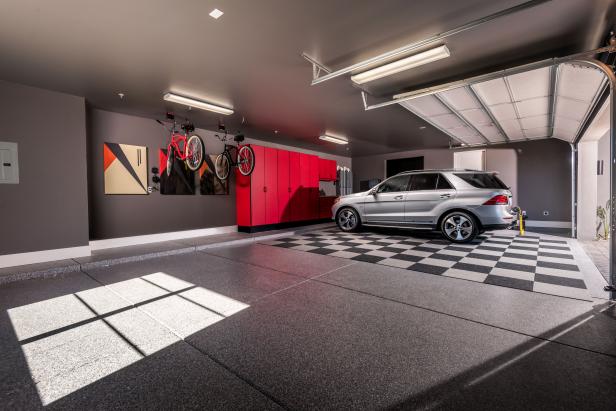 The Ultimate Garage
Gray cement speckled floors with carpet tiles add beauty to this spacious three car garage, with room for storing home and garden essentials and the top-notch hybrid SUV that comes with HGTV Smart Home 2017.
Let's face it: Garage floors take a beating. Oil leaks, dropped tools, dirty boots and hot tires can lead to a less-than-appealing underfoot. If that hardworking surface of yours is crying out for a makeover, or if you're thinking of converting your garage to living space, there are easy ways to brighten up your garage floor and get it looking new again.
Concrete stain is basically a sealer with pigments. When dry, it lets the existing concrete surface show through — which includes cracks and imperfections — so it's best if your garage floor is already in good shape and free of dirt, grease, oil and sealers. Keep in mind, stain isn't the most durable finish and, in the long run, probably not the best choice for garage workshops and other heavy uses.
Acid staining is another way to color your garage slab. An acid stain causes a chemical reaction with the lime that's in the concrete. The results are mottled, translucent colors that are highly decorative, although results can be somewhat unpredictable depending on the age of your slab.
Concrete dyes come premixed or in dry and concentrated liquid forms that are designed to be mixed with either water or a solvent such as acetone. Dyes usually are applied with a sprayer, resulting in a mottled look that's similar to acid staining. Solvent-based dyes tend to create more vivid colors; water-based dyes are more muted. It's possible to add powdered concrete dyes to acid stains to create unusual, swirling patterns of color, but the technique works best in experienced hands.
Keep stained or dyed floors looking great with a tough clear acrylic or epoxy topcoat.
Painting is one of the easiest and most cost-effective ways to transform a garage floor. Continual advancements in paint technology have produced tough concrete paints that stand up to hard use and special conditions such as hot tires. There are specialty garage floor paints that come in many colors as well as some with speckling and colored chips to give the floor a retro look. Some products boast low VOCs and are environmentally friendly.
Before applying paint, make sure your concrete garage slab is free of moisture. Do an easy DIY check by duct taping the edges of a 2x2 square of clear plastic to your floor and leaving it for 24 hours. If droplets form on the inside of the plastic, you'll have to fix moisture problems before applying paint.
Garage floor paint is found as three basic varieties:
Regular concrete paint is the least expensive option and comes in a wide variety of colors. It's formulated for high traffic and is tougher than regular paint, but it's the least-durable among garage floor paints. If your garage just needs a simple sprucing up, it's a good choice. Acrylic varieties clean up with soap and water.
Popular epoxy garage floor paint is an extra-tough coating that resists scratches, chemicals, oil and gasoline. Applying an epoxy finish typically is a multi-step process that requires premixing the base product with a hardener before applying. Some manufacturers have simplified the product so it can be used right out of the can.
Polyaspartic formulations combine urethane and other additives to create thick finishes that are stronger and more heat — and chemical — resistant than regular epoxy paints. They are also more expensive. Fast curing times can make applying these coatings challenging for the average DIYer.
Rubber flooring adds a tough, resilient covering to your garage slab. It's impact-resistant, waterproof and doesn't harbor mold. Yes, you can park a vehicle on rubber flooring without squishing it. Rubber flooring comes in two forms: tiles and sheet goods.
DIY-friendly rubber tiles have interlocking edges and install without glues. They're resistant to chemicals, help prevent leg fatigue and come in many patterns and colors. If a tile is damaged, it's easy to replace. Most have anti-skid textures to help prevent slips.
Rubber rolls typically are 4-feet wide and come in various lengths and thicknesses. Thinner varieties are good for regular garage use; install thicker types if you're converting your garage to a home gym or playroom. You can find rubber rolls that are made almost entirely from recycled rubber. Most rubber garage flooring products have 25-year warranties.
If tinkering with cars and motorcycles is your passion, then interlocking plastic tiles are for you. Durable and chemical-resistant, plastic tiles readily withstand drips and spills of all kinds and are easily cleaned. They're manufactured to withstand extreme weight and impacts, yet they're a forgiving underfoot and help prevent leg fatigue. They're easy to install and come in many colors and anti-slip surface textures.
Made extra-thick and tough for garage floors, vinyl sheet flooring is a good low-cost option for upgrading your garage floor. It's textured for traction, resistant to oils, gasoline and cleaning fluids, and is relatively easy to install.
Another alternative for DIYers is peel-and-stick vinyl tiles. Installation is a bit labor-intensive, but you'll get great looks and can create your own patterns.
It might sound counterintuitive, but porcelain floor tile is one of the hardest, most durable flooring surfaces available. You can find porcelain tile rated to stand up to the most heavyweight of vehicles. Tile comes in a huge array of colors and textures and isn't too expensive — ranging from $1 to $3 at most home improvement centers. A garage slab is an ideal substrate for porcelain tile.
Which Option Is Right for You?
Quick fix: Concrete paint or stain is a fast and inexpensive refresh. Getting ready to sell your house? This is a good bet.
Normal use: For sheltering vehicles, lawn tools and occasional home improvement projects, concrete paint, stain and dyes are all good choices. Upgrade to an epoxy finish for long-lasting results.
Home gym conversion: Go with tough rubber or sheet vinyl.
Playroom conversion: Choose rubber flooring for the kiddos.
Mother-in-law apartment: An acid stain is decorative and fun, but consider anti-slip additives and area rugs for a comfortable underfoot.
Mechanic's shop: Consider plastic or porcelain tiles for the best durability and easy clean-up.
Get Inspired: Garage Spaces
Take inspiration from some of our favorite designs to add instant beauty to any home.
Use these tips to transform your garage from a dumping zone to an organized space.
You can take an otherwise boring garage exterior to a whole new level of design zen.