Attention First-Time Homebuyers: Do This Before You Buy
Volunteer for a Habitat for Humanity build. You'll learn the basics of home construction and gain some confidence to tackle your own home improvement projects. Plus, you'll have fun while doing good.
Getting ready to buy your first home, but you don't know the first thing about home improvement or construction? Volunteer at a Habitat for Humanity build site — you'll learn about home construction while helping out your community.
The commitment of a mortgage can be scary for new homeowners, but what's also scary is being responsible for something you don't totally understand. But how do you get the experience and knowledge beyond watching home improvement shows? One way is to spend a few days working on a Habitat for Humanity build. You'll learn how a house goes up while gaining some confidence and knowledge to tackle your own projects. You don't need any experience to volunteer for a build; you just need to show up with the right attitude, work gloves and sensible footwear.
If you're worried about not knowing anything about home building or power tools, don't. Habitat will have team leaders who are professionals that will guide you through each step and show you how to work power tools if need be. And really, you'll want to try the power tools. It's a good opportunity to learn while you have someone there who can show you the ropes.
Discovery (HGTV's parent company) sponsored 3 out of 21 homes for the annual Habitat for Humanity Carter Work Project (CWP) that was started by Jimmy and Roslyn Carter back in the 1980s. Nashville was chosen as this year's CWP site because it is one of the fastest-growing cities in the U.S., which means affordable housing is becoming scarce. Discovery employees had the opportunity to spend three days working on the three homes. When we got there, the homes were just concrete slabs, but during the three days, we put up walls and installed windows, doors, insulation and roof trusses.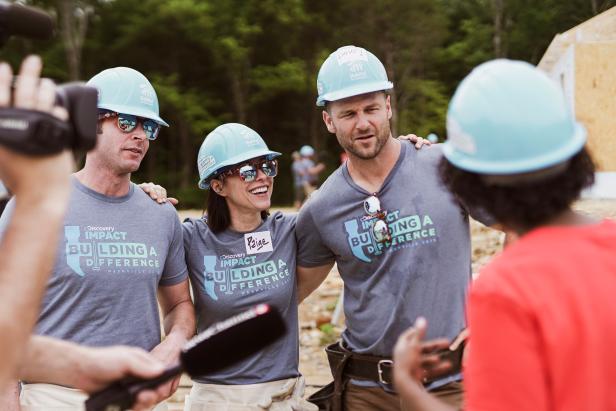 Many of the Discovery employees had no construction experience before they volunteered for the build, but they learned the process pretty quickly and were thrilled about it. Bethany, a Research Strategist from the Maryland office, said she was surprised at how quickly she was able to pick things up and was so happy that she learned how to use a circular saw. Allie, a Publicist who works on the Investigation Discovery Channel, just bought her first house, and having worked on this Habitat project, she now feels empowered to tackle some home improvement projects on her own home. Goldie, a Learning and Development Manager in our Knoxville office, said she learned how to fasten wood to concrete and was also taught how to use tools like a reciprocating saw and a nail gun.
The first day of our build started with raising the exterior panels for the walls. The panels were pre-made, which saved time and elbow grease. Homeowners can purchase pre-fab wall panels too. Once the exterior walls went up, it was onto the framing the interior walls. Not only did we learn how to use a miter saw, we learned how important it is to accurately measure before you cut the wood.
The second day started with raising the roof trusses. No cranes here, it was all-hands-on-deck to lift the trusses up onto the walls. Once the trusses were in place, the hurricane straps were installed to brace the trusses to the walls. Our team learned a lot of new jargon in the process, terms like "rat-runs" (boards nailed perpendicular to the rafters), "rake" (a wall that extends up to a sloped roof), and "double top plate" (extra support that sits between the load-bearing walls and the roof trusses).
Day three was all about insulation and installing windows and doors. Habitat homes are built with energy-efficiency and durability as a priority. The houses we worked on are so well insulated that they'll cost the homeowner about $250 per year to heat. The insulation starts from the ground up; the foundation is wrapped in six-inch insulation panels with all the seams caulked and sealed. The insulation is also placed underneath the exterior wall panels in between the concrete and wood. The exterior wood walls are completely covered in foam insulation and then wrapped in heavy plastic sheathing after the seams are taped.
You'll likely make new friends while working on a Habitat house even if you're not going in as a group as we did. Working together for a common goal builds camaraderie that can last beyond the project's completion. Our three-day build turned out to be a bonding experience that felt more like summer camp than work. At the end of the three days, we were signing each other's hardhats and signing the inside walls of the home.
Habitat for Humanity has 1,200 affiliates in 70 countries. When you volunteer to work at a Habitat home, you'll be working alongside the future homeowners. Habitat for Humanity is a hand up not a handout. The future homeowners must put in 200 hours of sweat equity working on their own home. To become a Habitat homeowner, an applicant has to demonstrate a need for housing, currently be spending more than 30% of their income on rent, and have an income below a certain threshold but also have steady employment. The future homeowners are also required to volunteer at a Habitat ReStore and they have to attend 70 hours of classes on homeownership. The classes teach everything from how to be neighborly to budgeting, plus other practical info like how to fix a toilet and proper lawn care.
When the house is complete and all the requirements are met, the homeowner will then close on the house with an interest-free mortgage. The process takes about a year from application to closing. One of our future homeowners, Brenda, age 60-something, applied in November, got accepted in May and construction began in June. That day in May when Brenda found out she was getting a house, she says she cried for four hours straight because she was so ecstatic. She also happy-cried several times while we were working on her home. Brenda has never owned a home and thought at her age she never would. Dream. Come. True. Brenda should be moving into her house in early December, and she already has her holiday decorations all planned out.