Homeowners renovate a master bathroom, nursery and outdoor space in time for twins.
Adam Christian and John Volturo had just six weeks to remodel a fixer-upper house into the home of their dreams. The reason for the tight deadline? The couple was expecting twins. To help them make room for babies in record time, they called home remodeling expert Laurie March.
The Pacific Palisades, Calif., home, built in 1949, was walking distance from restaurants, grocery stores and state parks. The mid-century modern home had two bedrooms and two baths tucked into an economical 928 square feet. The property also had a private backyard and a large guesthouse, making it ideal for the family life the couple was about to begin. Affordability was an issue, too. "We essentially picked the smallest house that needed the most TLC," Christian said, in explaining their purchase.
We're sorry, there seems to be an issue playing this video. Please refresh the page or try again in a moment. If you continue to have issues, please contact us here.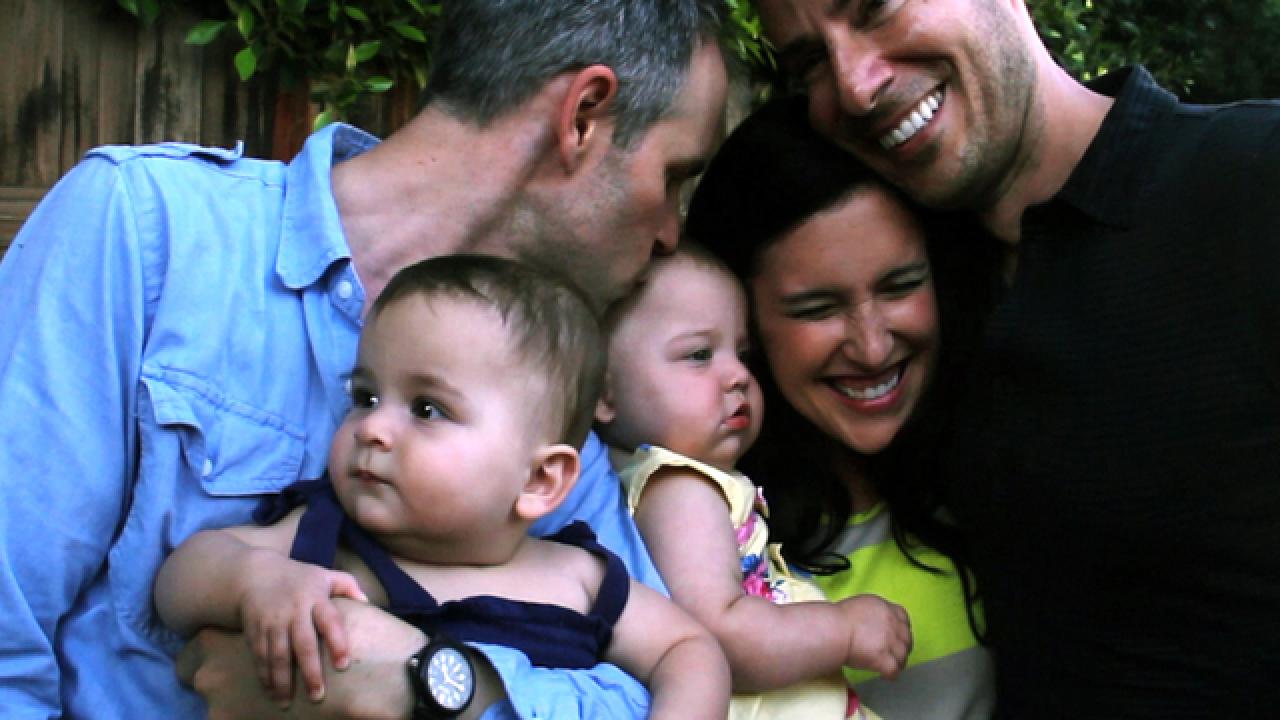 At the top of their to-do list: Turning one of the home's small bedrooms into a nursery. The room had an existing closet but it was a reach-in style that didn't have enough space for the belongings of two babies. So Laurie's team demolished the old closet and replaced it with adjustable shelving and rods behind white slab doors, an open bookcase and deep drawers. She also installed recessed lighting in the ceiling so precious floor space wouldn't be taken up by lamps.
To give the nursery a fresh, modern feel, Adam and John selected a white and aqua color scheme, with a diamond pattern stenciled on an accent wall. They replaced the old windows with new ones that were up to fire safety codes and repaired the damaged floor.
Next, Laurie's team moved on to the master bedroom. They demolished the closet in this room, too, replacing doors and hardware, and knocking out the wall between the master bedroom and a hall bathroom to create a bathroom en suite. Pocket doors that slid into the bedroom walls maximized the room's floor space.
Then, it was on to the new master bathroom. To keep them on schedule, Laurie had Adam and John choose materials that were in stock and didn't have to be special ordered. Updates included a new, gray-stained floating vanity, white acrylic countertops, square porcelain vessel sinks, and chrome single-lever faucets.
Gray wood medicine cabinets provided much-needed storage. The polished chrome shower fixtures put sparkle in the tub, and its hand-held showerhead makes it easier for Adam and John to bathe their babies.
To stay on budget, Adam and John kept the existing tub, and March had it sandblasted and recoated. Large wall tiles in a light gray pinstripe made the shower feel sleek, warm, and modern without darkening the space. Laurie's team cut a horizontal niche into the shower wall for baby toys, shampoo and scrub brushes.
For the bathroom floor, Adam and John opted for a darker gray tile and matching gray grout for a seamless, spa-like subtlety.
To keep the bathroom's feel modern, Laurie's team used metal trim on tile edges instead of rounded bullnose tiles. So the shower walls, niche and vanity backsplash all have brushed chrome edges. Bathroom walls were painted with crisp, white, low VOC paint. Ceiling-track shower curtains completed the spa look.
Laurie didn't just help John and Adam with aesthetic choices. She also kept their construction project running on time and within budget. Laurie hired a contractor who would work on a per-project fee instead of an hourly rate.
"You have to set up your team to be motivated by time if you're going to achieve a rapid-fire construction schedule," Laurie says. "Putting each of these items on a project fee encourages a contractor to work quickly and budget their time well."
In addition to redoing both bedrooms and the bathroom, John and Adam also added an exterior door to the master bedroom so they could walk directly into the backyard. They updated lighting fixtures inside and outside, planted a hedge to provide privacy to their fenced backyard, and demolished a concrete pad in the backyard so they could create a grassy spot for their dog, Lincoln, to enjoy.
The remodel was done a week before baby girls Michaela and Julia arrived to their new home. Mission accomplished.