Play It Safe With Your Fireplace
Before you light the first fire of the season, make sure you know how to do it safely.
A wood-burning fireplace is a real treat when fall's cool temperatures hit, but take some basic precautions before you light up. Stonehollow Inc.'s Steve Gladstone, past president of the American Society of Home Inspectors (ASHI), recommends you follow these steps:
Get the right smoke and carbon monoxide (CO) detectors in place.
As of January 2013 ASHI recommends that all smoke detectors be photoelectric models, not ionization models, and chances are you own the latter. Photoelectric models can detect slow, smoldering fires, whereas ionization models are better at big blazes. The National Fire Protection Association actually recommends installing one of each so that you're protected no matter what kind of fire breaks out in your house.
Fan new life into that burnt-out hearth.
It's also wise to place a CO detector near your fireplace, not just near your sleeping rooms. Glass fireplace doors often have vents that can allow CO back into the room if there's negative pressure in the house (say, if you have a bathroom exhaust fan running).
Shine a flashlight inside your fireplace and look around.
If you see cracks, gaps in the mortar, or soot buildup, call a chimney pro for advice. "That black stuff you see is creosote, which is highly flammable and can cause your chimney to catch fire," Gladstone says. "But don't try to clean it yourself, or you and your house will end up filthy."
We're sorry, there seems to be an issue playing this video. Please refresh the page or try again in a moment. If you continue to have issues, please contact us here.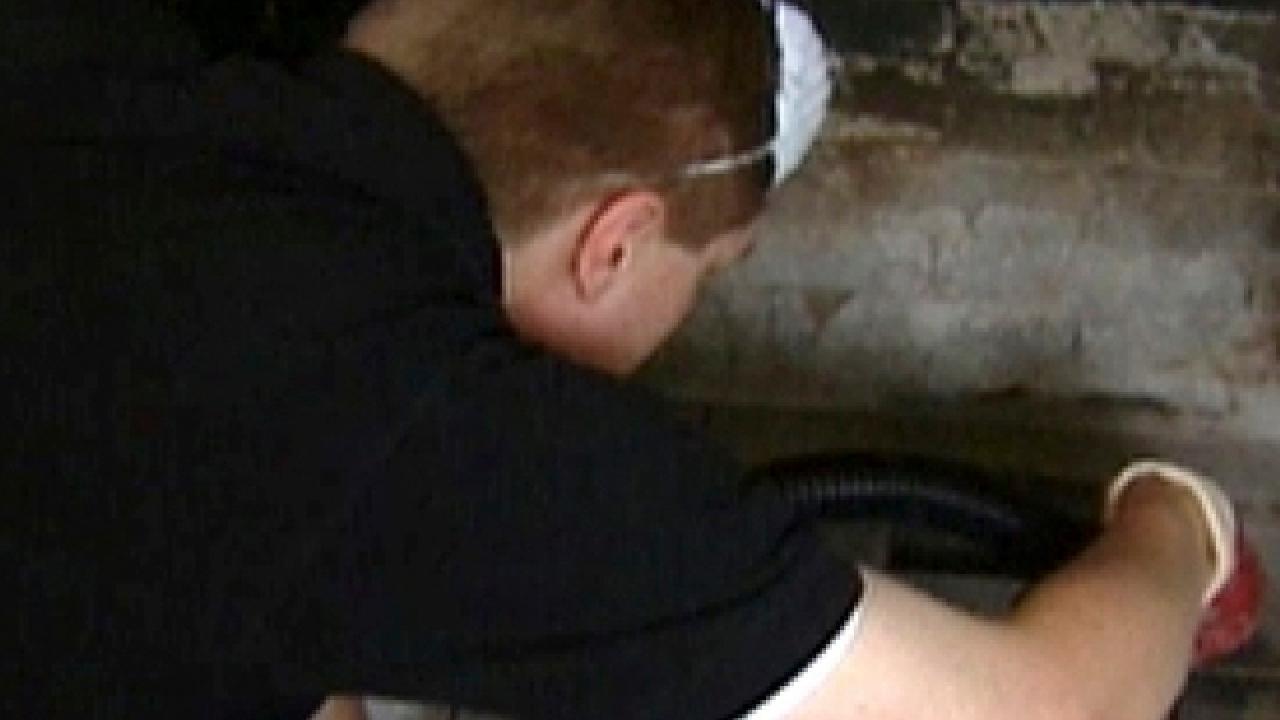 Make sure the damper is operating properly.
The damper should open and close easily. If it's blocked, one possibility is that a wild animal has taken up residence, so correct the problem before you light that first fire — "unless you want an impromptu barbecue," Gladstone jokes. "I've found dead birds and nests in chimneys many times. And to a raccoon, a chimney is just like the hollow logs they normally live in, only nicer because it's warm and sometimes there's music."
If you suspect something's inside, make noise and bang on the damper before you open it; otherwise, whatever it is might enter your living room instead of escaping through the chimney. If an animal is the culprit, have the chimney professionally cleaned.
Hire only a certified chimney professional for repair and cleaning.
If you do need a pro, choose someone with credentials from a respectable organization such as the Chimney Safety Institute of America, and seek out referrals. Besides their specialized skills, certified chimney sweeps have advanced camera technology with LED lighting that can show what's going on in parts of your chimney that you can't see.
For your first few fires, use just a couple of logs of seasoned hardwood so you can be sure everything's burning safely before you get a roaring fire going. Begin by opening the damper and warming the flue — if the air in your chimney is cold when you start a fire, the downdraft will pull smoke into the room. Hold a lit rolled-up newspaper in the opening until you feel the air start rising; then start your fire.
Check heat levels on the mantel.
This is especially important if you hang your flat-screen TV there. Once your fire is going, set a candle on the mantel — if it melts, find another place for your expensive electronics. Also visit the attic and any rooms above the fireplace. If the walls or mantel become too hot to touch or you see smoke coming into the house anywhere, consult your chimney professional ASAP.
Don't neglect your gas fireplace.
Ventless gas models need less attention than a wood-burning fireplace, but they still benefit from occasional maintenance. Dust and pet hair are the primary enemies of a ventless unit, so familiarize yourself with your manufacturer's instructions for cleaning and use a compressed air can to blow debris out of the burner air injector holes and ports. Don't burn ventless logs for more than an hour without opening a door or window to allow more oxygen into the room.