Make Living Rooms, Bedrooms Your Green Havens
Transform the rooms you relax in the most into the most eco-friendly places.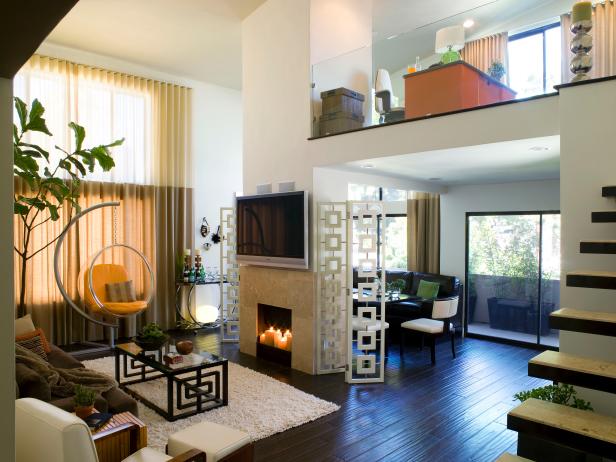 Contemporary Great Room With Fireplace
Natural light floods into this great room from all sides thanks to floor-to-ceiling windows. A frameless glass railing along the upper floor makes the space feel even more open and airy.
Most people spend much of their time at home relaxing in the living room, and, of course, sleeping in the bedroom. Why not make your top hangouts the greenest rooms in the house? Here are some tips to go eco-friendly in the living room and bedroom:
Get sustainable wood floors
We all know hardwood floors are a huge selling point. So why not add value by also making sure your wood floor was sustainably harvested? Using sustainable wood flooring is a great way to spruce up your home and be environmentally responsible at the same time.
Bamboo flooring looks the most like hardwood and can be stained in many colors. The plant is grown inexpensively and grows faster than harvest demands, which makes it perfectly sustainable.
Cork flooring is another option. It's made from the leftovers at bottle-stopping factories. It can be incredibly long-lasting and is a natural insulator. It's not the most aesthetically pleasing floor type, but it would be great for a kid's bedroom or playroom.
Even if you clean regularly, an older carpet can gather dust and affect the air quality of your home. When it's time to trade it in, try eco-friendly carpet. It's made from natural fibers, usually organically grown cotton and wool or recycled materials.
Rather than wall-to-wall carpeting, it's "greener" to use modular carpet tiles.
"Carpet squares are a huge eco-improvement, because they're modular," explains Greg Snowden, owner of the Green Fusion Design Center. "When you spill wine, you can remove an individual square to wash or replace it, and when you're done with it, you can ship it back to the manufacturer to recycle. So, what's good for you is good for the planet."
Plus, these squares involve little labor. They are easy to install, and do not need to be supported by toxic padding.
"If you have your heart set on an Oriental rug, check out antiques stores. "Anything antique is green," says Linda Woodrum, interior designer for HGTV's Green Home and Dream Home, because the products don't use new materials.
Go wireless with high-tech green lighting controls
Want your house to look like it came straight from an open house flier? Many interior designers say dimmable lights best show off your home's assets, plus they save on energy costs.
Wireless lighting controls, like Intermatic's InTouch line, include a wide range of remote-controllable switches, dimmers and outlets. With Intermatic's master controller, you can set lights to automatically turn on at dawn or dusk. The installation process is as simple as installing a typical light switch or dimmer.
Flip those switches off -- all the way
Many home electronic devices still draw power even when they're switched off but plugged in. GreenSwitch provides an easy way to change that. When you leave, just flip one switch at your front door to turn off all the designated switches. It can also be programmed to leave certain plugs on for items that require a constant power source. The simple switch can reduce your home's energy usage by up to 45 percent and cut your power bill accordingly.
Try natural or recycled wallpaper
Look for green products to spread or stick to your walls, too. You can find wallpaper made of sea grass, an abundant, sustainable resource that grows in saltwater marshes. The fibers are woven into beautiful, warm and textured wallpaper that brings a natural feel to any room.
Paper is a perfect product that can be reused. Recycled construction paper can be dipped into wallpaper paste mixed with red paint and then applied to the wall. This low-cost green method looks great and doesn't break the bank.
Do you feel a little woozy after painting with latex-based enamel? The Environmental Protection Agency has recently come out with an alarming statistic: In a typical American home, indoor air is three to four times more polluted than what is outside.
"What people don't realize, when they buy a bucket of traditional paint, is that they are buying a bucket of petrochemicals," says Greg Snowden, owner of Green Fusion Design Center, a showroom and website that offers the best in eco-friendly home goods, materials and design. "The VOCs (volatile organic compounds) in paint will off-gas for the lifetime that the paint is on the wall," Snowden explains.
Fortunately there are ways to improve indoor air quality: Purchase eco-safe paint. Choose a product low in VOCs instead. New designer colors and improved quality make these safer paints equivalent to standard ones.
Anna Sova, a green product designer with a website and catalog (annasova.com), goes the full distance by offering alternative paint that is made from food-grade preservatives.
"Painting with traditional latex is basically like stretching a sheet of plastic across the room," the designer says. "My paint smells like vanilla, and it's so nontoxic you can even eat it." Although she doesn't advise making a meal of it.
If you don't mind a paint fume buzz, try recycled paints. Filtered, reprocessed latex keeps harmful chemicals out of the landfill and at $5 to $7.50 a gallon, the paints are a bargain. Colors and finishes are sometimes limited.
Choose formaldehyde-free wood
Hardwood plywood is a common building material and a major source of formaldehyde exposure in homes and buildings. Conventional plywood contains urea-formaldehyde, which emits gases into the air, but the eco-friendly formaldehyde-free plywood eliminates these toxic gases.
Areas with toxin-free wood are cleaner and risk of airborne illness is greatly reduced, making it particularly beneficial for homes with children. Even if you don't have kids, it'll be a huge selling point for families if and when you sell.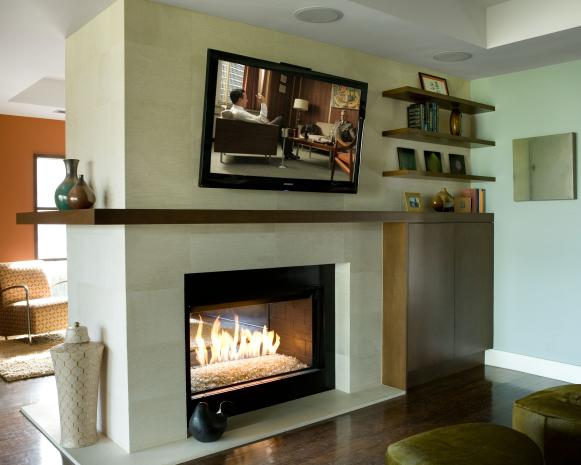 Contemporary Living Room With Floating Shelves
Floating shelves and a wraparound mantel give this contemporary living room a decidedly sleek vibe, while a wall-mounted television adds to the streamlined look.
Get a gas fireplace for elegant zone heating
Energy-conscious consumers are fueling the trend of using gas fireplaces, inserts and pellet stoves to provide zone heating for the spaces used most often. Natural gas fireplace inserts and free-standing stoves create less indoor and outdoor air pollution than their woodburning counterparts.
If you're ready to invest in a fireplace, a direct-vent model is the most efficient. On average, 70 percent of the heat it generates remains in the house. Direct-vent units are also easier and cheaper to install than wood-burning or gas masonry units.
"These have to be close to an outside wall. Fireplace doors are permanently sealed to allow for proper ventilation so air is blown out of the home," says Don Johnson, director of market research for the Hearth, Patio & Barbecue Association in Arlington, Va.
Air to feed the flame enters from the outside and relatively cool combustion gases are exhausted through a wall-mounted vent or can be vented through a roof.
So turn down the central furnace and snuggle up by the fire to celebrate lower energy costs.