Stylish, Comfortable Home Theater
Designer Kari Whitman creates a state-of-the-art home theater with lush fabrics, cozy seating and glam accessories.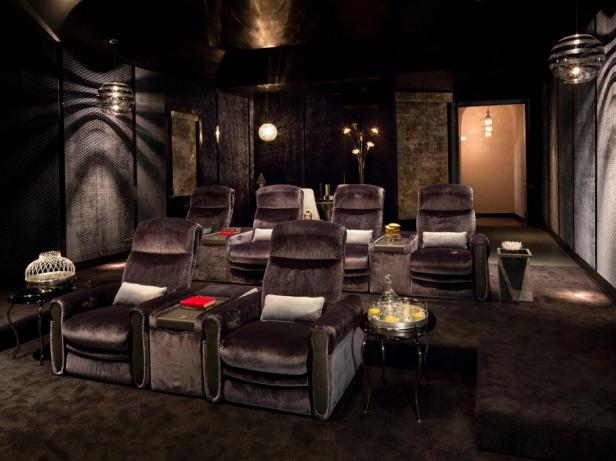 Contemporary Gray Home Theater With Fabric Wall Panels
Custom gray fabric panels cover the walls in this stunning home theater, enhancing the contemporary style and sound quality of the room. Designer Kari Whitman ordered the fabric for the walls from Italy, but when it arrived, the seams didn't line up. She installed thin smoky mirrors between the panels to solve the problem and add instant glam.
Intro: Designer Kari Whitman of Kari Whitman Interiors designs an innovative solution for expanding the home theater's seating from six to 20. To give the space a custom look, she mixes vintage pieces with new furnishings. We caught up with Whitman to find out how she transformed the space and why she's obsessed with home theaters now.
Describe the homeowners' wishlist.
For their state-of-the-art home theater, the homeowners wanted a space that was supremely comfortable but still chic. They also wanted it to have a unique feel, which I achieved by mixing old with new.
What were the homeowners' design problems?
The existing space wasn't being used well at all. Before I got to work, the theater could only accommodate about six people comfortably. I came up with a design to build a platform that would actually extend the floor to create more room. Once I'd reconfigured the floor plan, I was able to create this amazing theatre where at least 20 people can watch a movie in style and total comfort.
What was your biggest obstacle in this space?
I had ordered custom fabric from Italy for the walls and once it arrived, we discovered that the seams didn't line up. I decided to install these long, skinny two-inch smoky mirrors along the seams, which not only solved the issue, but looked amazing. Sometimes the biggest obstacles wind up being the most creative and visually interesting elements of the space.
How does the end result match up with your original vision?
The end result was even better than I had hoped because the problems we encountered became blessings. In addition to the mirrors, I was also really pleased with fixtures and furnishings I was able to add. I had these incredible lighting pieces and a gorgeous table that I just couldn't find a place for, in spite of this being a 43-room estate. I wound up finding a home for these pieces in the theater and everything came together so perfectly.
What lessons did you learn?
I realized how much fun designing theaters can be. I was never drawn to home theaters before but learned so much from this one and was so excited by the final result that I'm now obsessed. I can't wait to design more.
What are the "hidden gems"?
Mixing vintage with incredibly expensive wall paneling made a huge difference. I love I can take a $20 piece I found at a flea market and combine it with something that cost over $20,000 and mix them beautifully. It creates such an elegant, eclectic look that truly makes this theater one of a kind.