Cork Flooring, a Natural Choice
Made from tree bark, cork floors are sustainable and come in a range of colors
If the word "cork" only brings to mind wine bottle stoppers, think again. Sleek and contemporary, this resilient flooring is enjoying a surge in popularity. It is versatile from a design standpoint, thanks to the availability of tiles or planks in a variety of colors and sizes. It's also warm and soft underfoot. And cork is a natural insulator, meaning it muffles sound and lowers energy bills. Cork floors can be left cork's natural color, stained or painted.
Insulation. Thicker cork offers better insulation; cork tiles should be 4 millimeters thick, and floating cork floors should be 3 millimeters thick.
Durability. The granule size in a cork floor is a good indicator of durability. Large granules mean the cork is more dense, which in turn means the floor should last longer.
Finish. Cork does require sealing with a wax, polyurethane or vinyl sealant. Some cork products come pre-finished, but others must be finished on-site.
We're sorry, there seems to be an issue playing this video. Please refresh the page or try again in a moment. If you continue to have issues, please contact us here.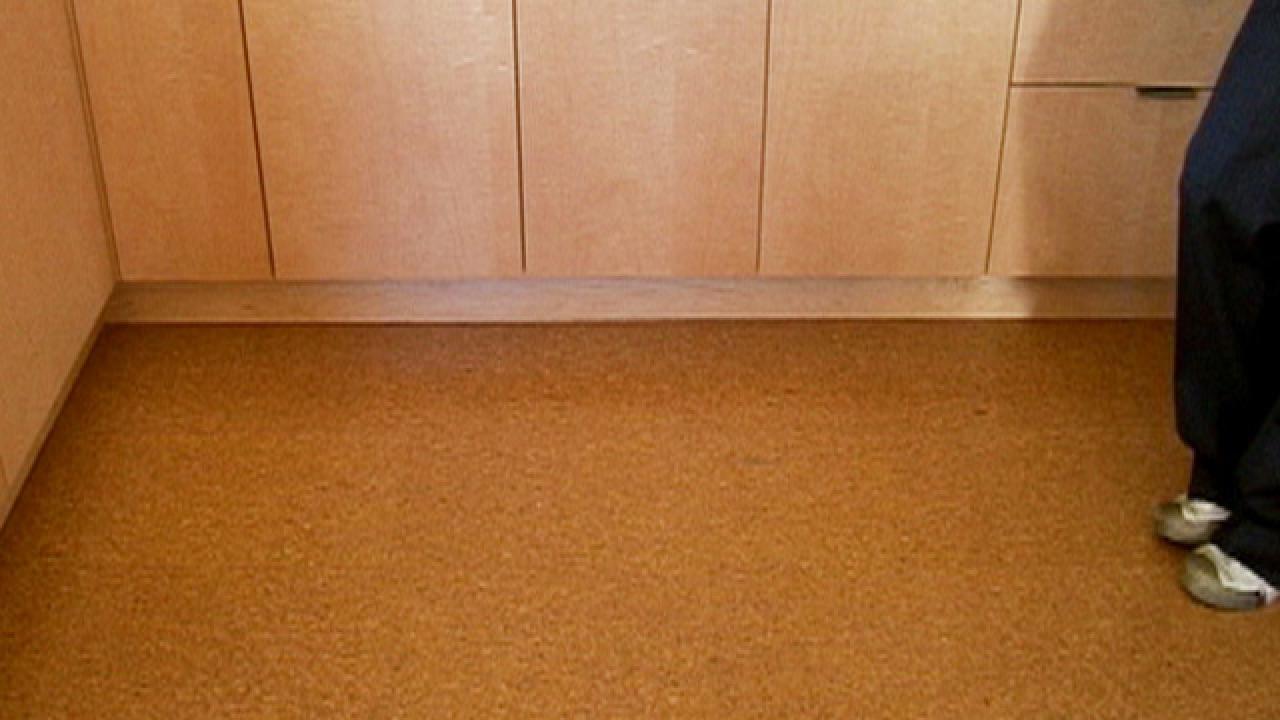 Cork is culled from bark of the cork oak tree, which is native to the Mediterranean. It is renewable, recyclable, and biodegradable. Its harvest minimally impacts the environment, and its manufacturing process produces very little waste. Some manufacturers incorporate recycled cork and cork waste.
Cork is a natural thermal and acoustic insulator. Its resilience makes it easy to stand on, and dropped dishes are less likely to break on it. Cork is hypoallergenic and resistant to fire, stains, mold and mildew. Keep in mind that cork can fade over time, especially in direct sunlight. It can also be dented, punctured and scratched fairly easily, and it's not impervious to moisture.
Cork costs about $3 to $8 per square foot, uninstalled. It's considered to be easier to install than traditional wood, and it's generally DIY-friendly.
How to Clean. Keep floors free of dirt and sand, as they can scratch the surface. Sweep, dust, or vacuum regularly, and occasionally wipe the surface with a damp mop. Refinish when signs of wear appear. Prevent uneven indentation by rotating furniture and placing mats on frequently used areas.
Best for: Any room, but bathrooms in which floors get wet are not recommended.
Pet Friendly? Moderately. Long toe nails can scratch the finish, but the springy surface withstands paws, quiets clicking claws, and provides a comfortable lounging spot.
Underlayment. Cork flooring can be installed—glued or floating—over flat surfaces, including wood and concrete. A plywood underlayment at least 1/4 inch thick is recommended and required when installing over existing floors.
Learn about the different types of bamboo flooring, how it's made and the pros and cons.