Learn why this earthy color evokes a sense of security and how you can use it to your advantage.
If you want a color that encourages your family and friends to slow down and relax, brown can be the solution to your problem. A weighty and robust color, brown represents nature and natural materials.
Use brown to highlight stronger colors like lime green or orange, or to tone down a room. Brown gives you an earthy richness that makes a room feel warm and inviting.
"Brown is less harsh than black, so I'll use a creamy vanilla white for the walls with a deep-brown bronze color for the crown molding," says interior designer Shannon Kaye. "The look is modern and elegant and the combination shows off artwork and sunny spaces beautifully."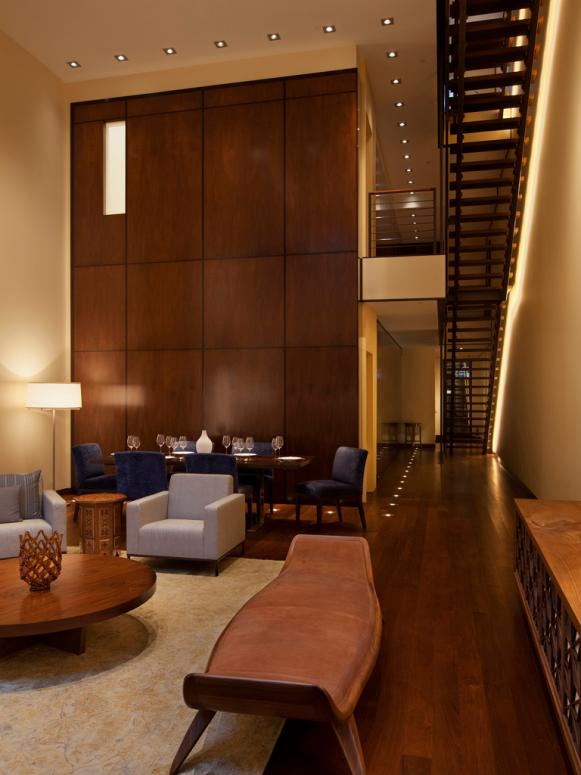 Neutral Contemporary Living Room Filled with Wood
Photo courtesy of SPG Architects
Daniel Levin
Photo courtesy of SPG Architects
"Brown is the color of wood, which is a stable color that we inevitability have in our homes," says Elaine Ryan. "What we need to do is counterbalance all that brown with another shade on the wall."
Brown comes in many different tones and shades, and offers the kind of variety you need for both the interior and exterior of your home. Medium-toned brown molding looks inviting when combined with muted sage-green walls.
Mix things up by painting your walls a rich chocolate brown to create a sophisticated backdrop for neutral accessories. Brown can be paired with burgundy for a swank dining or living room, or used with pale aqua to create a lighter and airy feel.
"Contrasting light and dark and mixing textures is how you want to use brown," explains Kaye.
Ways to Create a Down-to-Earth Space With Brown
Soft browns like beige, flax or linen can add warmth to the walls of a kitchen.
Mixing cool blue with dark brown evokes the feel of the earth and sky.
Combine a masculine brown with a feminine color, like a light purple, to add softness in a space.
Brown and pink is a natural color combination (think cherry blossoms) that's well-suited for a young girl's bedroom.
Inspired by vintage wallpaper, a TV executive created a masculine home office using smart storage solutions and shades of brown.