Maximum Value Budget Projects: Hardware
Updated knobs, handles and pulls dramatically improve the appearance of cabinets and can transform even the most countrified kitchen into a modernized space.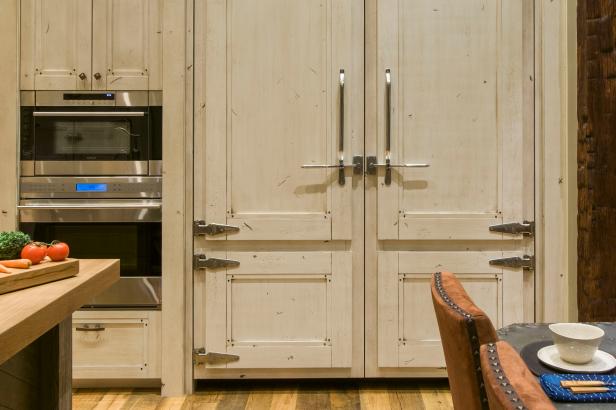 Kitchen Cabinets With Antique Latches
Antique latches and hinges adorn the refrigerator and freezer cabinets, which blend seamlessly into the wall.
Mark Boisclair Photography, Inc.
Cabinet hardware can easily change the entire look and feel of a room. Although it is one of the most functional items in the home, hardware is often the most underappreciated. Homeowners don't typically think that a simple knob can make such a difference in the grand scheme of things, but by swapping out many pieces of hardware in a space, it can have quite an impact on the overall look and feel of a room.
Appliance pulls. Coordinate your kitchen and its appliances with handles that match your cabinet knobs and pulls. Designed for your refrigerator and freezer, appliance pulls add a decorative touch and can immediately update the look of older appliances.
Stainless steel hardware. Ideal for matching the popular stainless steel fixtures and appliances in the kitchen and bath, stainless steel cabinet knobs, handles and pulls bring subtle accents to your home's overall look and do a great job of tying different rooms together.
Before making the switch to new hardware, make sure you are aware of the specific design you're going for and the look you want the space to have. According to appraisal expert, Leslie Sellers, president of the Appraisal Institute, quality will exceed aesthetics for serious potential buyers. "They will notice well-made hardware almost immediately, and will appreciate the attention to detail."
Don't go into a hardware store and just pick out what looks nice: hardware is not a piece of jewelry. Instead, take some time before you purchase to browse either online or in the store, go home and reconsult your design plan and then narrow your choices down to one that works the best for the space, in function and appearance. The intent is to blend into the overall design of the room, not overwhelm it.
On a Budget: Staying in tune with your needs is important when keeping to a budget with hardware. Cabinet hardware is most likely going to last the lifespan of your cabinets, so there's no need to buy a few extra pieces "just in case." That said, it's important to remember that the quality of the hinges and hardware will naturally influence their lifespan, so work with a professional at your local hardware or home improvement store to find the best product for your budget. Don't look to the cheapest materials -- like aluminum -- just to save a few dollars in the end. According to Sellers, "the dramatic change will be well worth it."
Mid-Range/High-End: Many times it's the little things that can go a long way, especially when considering whether or not to sell your home. To those of us who use our cabinets and drawers every day, that slight sag in the drawer or the fact that the cabinets might bang when being closed are things we get used to. Come showing day, potential homeowners will notice those imperfections immediately and recognize them as a hassle. By spending a little extra to install door catches, drawer slides or high-quality hinges, you are reassuring a potential buyer that there is quality and longevity invested in the home's materials.
Check out these man-made materials that mimic the look of natural materials without the cost and maintenance.