Maximum Value Home Exterior Projects: Doors
One of the easiest ways to freshen up your home's style and bring major curb appeal? A new front door!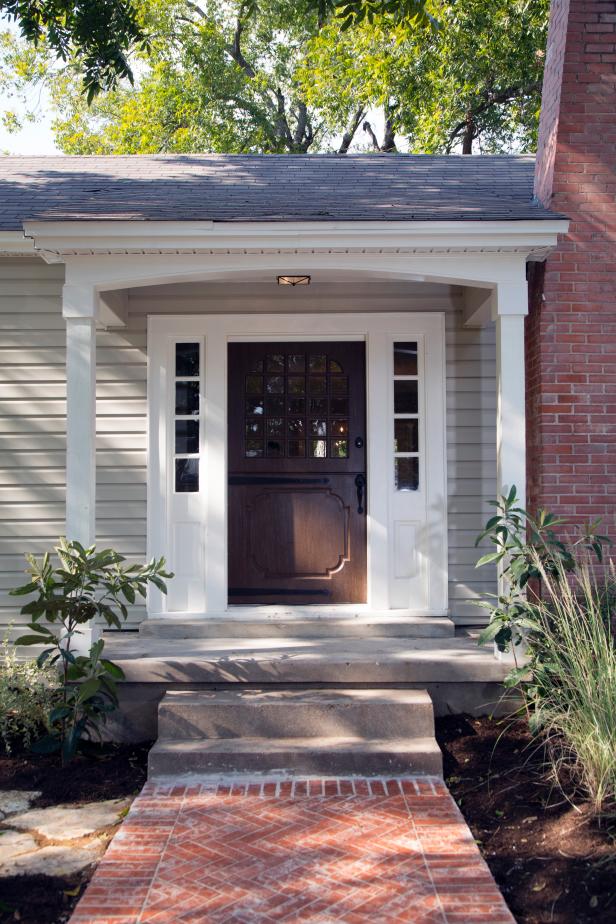 A Fixed Up Home With Dark Dutch Front Door
Fixer Upper hosts Chip and Joanna Gaines have repainted the siding of the home a modern gray/green and kept the original Dutch door but painted it with a faux finish to look like a dark stained wood grain. They also updated the landscaping as well as a new walkway that matches the brick of the chimney.
As the central focal point for visitors, potential homebuyers and everyone who looks at your home's exterior, your front door plays a crucial role in the perceived value of your home.
While most homeowners inherited their front door with the purchase of their home, a majority see their current door as an inaccurate reflection of their personal style. Invest in a front door that speaks to who you are as a homeowner but also stays within the architectural detailing of the home. By incorporating both mindsets, you're bound to have potential buyers come a knockin'.
The minimalist approach. Modern appeal has made its way to the front door, where clean lines are all the rage. Intricate carvings and wood detailing of the past have made way for simple but elegant and eye-catching entryways. "Less is more" has definitely become a new rule in front door design.
Keep energy efficiency in mind. No matter what style of front door you choose, the good news is that energy efficient doors complement almost any homeowner's style and their home's architectural features. When shopping around, take note of energy efficiency ratings and choose one that relates to your home design and temperatures in your climate.
It is important to make a statement, but one that fits within the style and proportion of your home. According to appraisal expert Leslie Sellers, homeowners who try and go above and beyond, in all aspects, do more harm than good. Too far outside the mainstream might detract a number of potential buyers, while dull and boring could have the exact same response. Don't make it too hard on yourself-- think about what works best for the overall theme of your home's exterior and what can make your home stand out above the rest, in a good way of course.
On a Budget: Steel doors provide a relatively inexpensive way to incorporate style and energy efficiency without hurting the budget. Steel doors hold paint well, have a foam core with good insulation value and are fire resistant and low maintenance. Starting at around $150-$250 for a basic door system, you have a lot of options when it comes to expressing your home's personal style in a way that won't break the bank.
Mid-Range: Fiberglass doors are a great way to get the overall appeal of wood without having to deal with the maintenance. Ranging anywhere from $275-$600 for a basic six-panel door, the cost might be higher than a steel door, but it has a high insulation value and comes in a wide variety of styles and textures. The door also holds paint and gel stains very well and will not rust.
High-End: Wood doors remain popular because of their unique look of a natural material. There are a variety of wood species to choose from, so finding one to complement your home's architectural style is easy. Wood takes paint and stains with ease and can be accessorized in a number of ways. Starting around $750 for a better-grade material, such as fir, oak or mahogany, all types of homes, from traditional to eclectic, can be complemented equally with the right wood door.
Just by replacing your windows and doors with more efficient models, you can save energy, improve comfort, minimize condensation, increase natural light, reduce fading and lower HVAC costs.