Maximum Home Value Storage Projects: Basement
Your basement is packed with design potential. Here's how to turn it into truly useful—and valuable—space.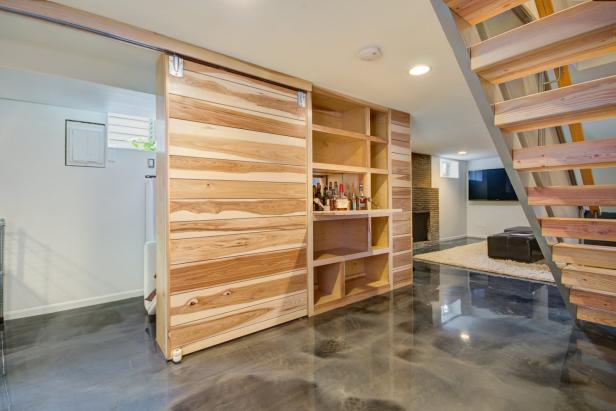 Urban Basement Features Bar Wall & Polished Concrete Floors
A shelving unit doubles as a bar in this urban-inspired basement. Polished concrete floors finish the look.
Just because the basement is beneath you doesn't mean you should ignore it. Whether you use it for storage or increase your home's square footage by turning it into living space, your basement is filled with hidden potential, and when finished, that translates into added value.
It looks like the rest of the house. Forget the cheap wood paneling and shoddy flooring. For real value, remodel your basement to the same quality as the main level, incorporating higher ceilings and a more elaborate finish. A finished basement can serve any purpose, from a family room to a home gym to an art studio.
Organized storage. As with the attic, the basement can be converted into a massive walk-in closet by installing open shelves or built-in cabinets.
Centrally located mechanical room. Some homeowners are reconfiguring their home systems, such as the water heater and air units, so they're housed in one centrally located area in the basement to save energy costs.
The biggest mistake homeowners make is putting hazardous materials such as old paint and gasoline in the basement, says appraisal expert Leslie Sellers. "It could create problems in the safety of the home," Seller says.
On a Budget: If you can't afford to convert your basement into living space, it's perfectly functional as pure storage space. Don't worry about what it looks like as long as it's structurally sound and can withstand moisture. You can find inexpensive lumber and shelving that you can install yourself.
Mid-Range: Your basement should be in line with your home's value and neighborhood standard. Depending on your budget, you can go DIY with a packaged organization unit or hire a professional contractor to remodel the basement. Finish the basement as a bonus room or family area to get the biggest bang for your buck.
High-End: Depending on the size and configuration of your basement, consider using the space as a mother-in-law suite or guest apartment with separate bathroom and kitchen.

If your home is on a slope and you have a daylight basement (where the front of the house is below ground level and the rear is above ground level), have the basement open out to the backyard, which creates a seamless outdoor living area. For even more value, build a deck.
Remodeling your attic can boost your home's resale value—and make it more functional for you now. Here, design ideas and tips.