Maximum Home Value Bathroom Projects: Sink, Faucet and Fixtures
A few simple upgrades can add instant luxury to your WC.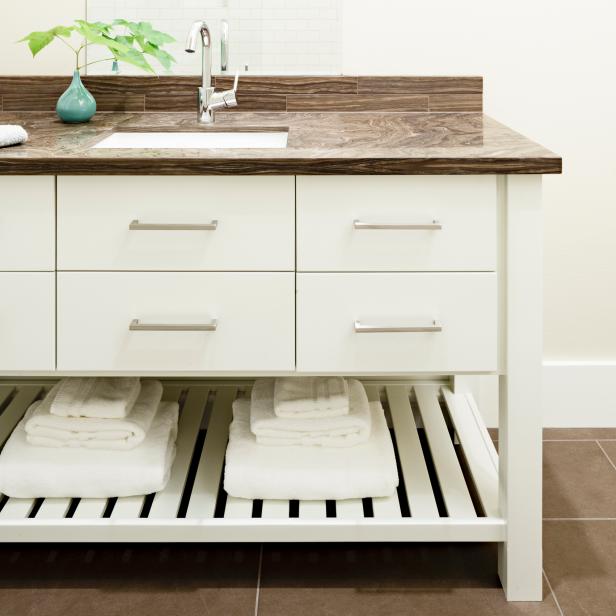 Bathroom Vanity With Grab-and-Go Shelf
The vanity's open, slatted shelf keeps bathroom essentials within reach.
You don't need to do a major bathroom remodel to add value to this hard-working room. Upgrading your bathroom sink, faucet and fixtures can instantly add style and a high-end feel.
Whether you're going for a modern or traditional look, learn about the different styles and materials available.
Two is better than one. Dual sinks continue to be in demand, especially in master bathrooms.
Undermount sinks. Vessel sinks have long been popular, but now the trend is shifting to undermount and farmhouse sinks that blend with counters for a seamless look.
Deep and freestanding sinks. More homeowners are choosing the convenience of larger basins and the clean, modern look of freestanding or pedestal sinks.
Brushed metal faucets and fixtures. These beautiful finishes are stylish and easy to clean. Popular choices include pewter, nickel, silver, weathered copper, bronze and gold. Match your towel bars, hooks and light fixtures for added value.
One of the biggest mistakes homeowners make is doing a bathroom remodel that is not proportionate with the home, says appraisal expert Leslie Sellers. Make sure the project is in line with your home's market value and neighborhood standards. "If you're putting in granite counters, a fancy faucet and a (jetted soaking) tub in a starter home, you'll have a nice bathroom but you won't recoup much of your investment," Sellers says.
On a Budget: If you can't afford to replace your entire sink, thoroughly clean your current one and replace the outdated faucet. There are many affordable options that fit your sink.
Mid-Range: For large bathrooms, a farmhouse sink instantly updates a tired look. For smaller baths, a pedestal sink adds space. Choose a brushed-metal faucet and matching fixtures to go with the sink. If your master bath has one sink and you have extra counter space, consider adding a second sink.
High-End: Dual sinks and high-end fixtures such as towel warmers are a must for a luxury home. For tech fans, smart faucets turn on when you approach, recognize your face and control water temperature.
If your floors have seen better days and need to be updated, you've got a lot of options. Increase your home's value with these remodeling tips.