Get all the info you'll need on corner bathroom sinks, and get ready to install an attractive and space-saving fixture in your bath space.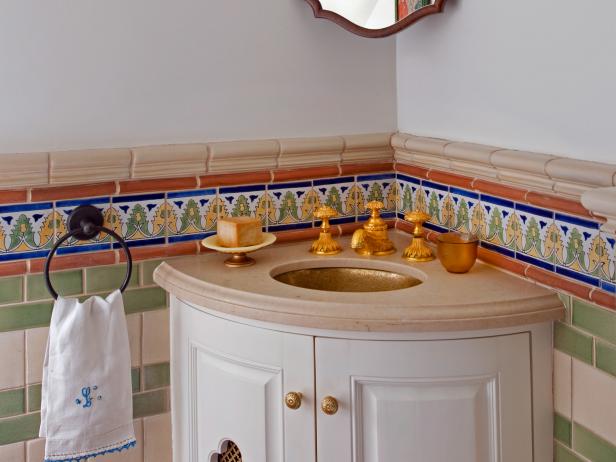 DP_Ashley-Astleford-Mediterranean-powder-room-niche_s4x3
A corner of this Mediterranean-inspired bathroom includes a large mirror, hung at an angle; a wedge-shaped vanity with round inset sink, gold fixtures, and space for soap dish and candleholder; and a tile wall with alternating rows of green and white tile which is topped by a row of blue, yellow, and green tiles that form a pastoral scene.
Bathrooms are often tight spaces, so if you're looking to maximize the efficiency of your bath space, you'll want to explore the range of corner bathroom sinks available.
Corner bathroom sinks come in a wide variety of styles, colors and materials. Because they're often minimalist in design, they can at times be less expensive than larger models. Additionally, it may be possible to place a standard-sized sink comfortably and snugly in the corner of the bathroom without having to customize the sink design. Pedestal sinks work particularly well for this, but drop-in sinks that sit in a corner-shaped console can also work well.
One consideration to keep in mind if you're contemplating a corner bathroom sink is plumbing. If your existing sink plumbing is located in the corner in question, there's no issue—you can, and probably should, place the sink there. If, however, you'll need to reroute plumbing to accommodate a corner sink placement, you may want to weigh the cost and time of reconfiguring the plumbing against the space-saving or aesthetic advantages of a corner sink.
Other Bathroom Sink Options