Find out how stars like Susan Sarandon are keeping fit while staying close to home.
Families who want an interactive way to spend time together can transform their backyards into an attractive sport court. It's sure to entice the kids to spend more time at home.
"These courts are all about quality time for busy hard-working families," says Derrick Pittman, vice president of residential sales for CBA Sports, based in Norcross, Georgia. "It's a great way to get your exercise and stay fit while building memories, and it's always good to know where your kids are playing."
His company and others like it can do the grading and construction of retaining walls and then install courts for volleyball, basketball, roller hockey, skateboarding, soccer, tennis, putting greens, batting cages and futsal. Younger children enjoy professional-looking surfaces for hopscotch and dodge ball, while retirees can practice their shuffleboard. Before embarking on an installation, consider these factors:
"First, make up your mind about what you want to be able to play," says Thomas Dieck, a landscape architect in New York. "You can have a half court or a full court, depending on your space and preferred activities. You can play tennis and basketball on a half court. There's a bigger variety than most people realize, and different ways to paint the lines."

Some courts can serve multiple purposes, says Dieck, who installed a tennis court for Susan Sarandon and Tim Robbins. "We added a concrete curb to theirs, and he would flood it during the winter for ice-skating for his family and for some of the New York Rangers."
Consult your local planning and zoning board about regulations. "In most places, these courts need permits because you're adding a nonpermeable surface to the landscape," says Dieck.

Select a level greensward. It does not have to be perfectly flat, though, if professional grading is involved. "You want flooring of concrete or asphalt, with interlocking tiles to give the ball true bounce," Dieck says.
Ideally these installations—designed for shock absorption, traction, drainage and maximum bounce for balls— meet the standards and guidelines of athletic governing bodies and professional venues. CBA installed Georgia Tech's new gym and the facility for the Final Four basketball tournament.
Another plus: Most courts require only minimal maintenance.
"They're injected with a UV light stabilizer so that even in the heat and sun, they hold their color," says Pittman, whose company installs courts all over the Southeast.

"So many parents work long hours while their kids play video games," he adds. "This is a way to get everybody together outside. We hear from clients who invariably say they wish they'd installed the courts sooner, when the kids were younger."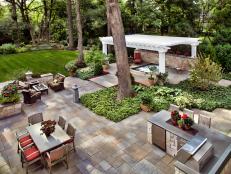 Landscape architect Bob Hursthouse designed a backyard retreat fit for celebrating all of life's milestones. The family-friendly space offers multiple seating and dining areas, a hot tub and a pergola, making it perfect for hosting gatherings of all sizes.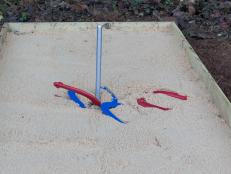 Get the family outside to play a game of horsehoes in your very own court!