The Collective Creative Genius of Rebel Nell
Learn more about the talented team creating unique jewelry that changes lives.

If you found a piece of fallen graffiti while out for a walk, what would you do with it? The artists of Rebel Nell might make it into an oversized pendant, a pair of earrings, or possibly a small lapel pin as those found pieces are their medium of choice when it comes to creating one-of-a-kind jewelry.
For the past few years, the Detroit-based team of women, who have been provided with employment and transitional opportunities from area shelters, have been creating wearable art from repurposed graffiti paint. The team collects the layered pieces of paint that have fallen off walls across their community and gently work the selections to reveal the fascinating designs and colors that years of designs have created.
Julia Rhodes, co-owner and director of sales and marketing, shares just a few of the reasons why the women of Rebel Nell are Creative Geniuses.
What attracted you to use graffiti for your team's design medium?
Our co-founder, Amy Peterson, used to live next to COTS, a women's and children's shelter, and wanted a way to give back to these women who were her neighbors. In chatting with them, she decided that she wanted to offer them classes to help them move towards a more independent life but needed a way to support these classes. On a run through the Dequindre Cut (an urban greenway in the city), Amy noticed that some of the graffiti had fallen off and discovered it was a usable material, and the rest is (recent) history!
Is it difficult to work with found graffiti?
The graffiti can be challenging at times. If it is not all the same paint, it can cause a few hiccups, which only causes us to innovate further. It has been inspiring to see the women we hire take such ownership over the process, where they are constantly finding new ways to work with the paint and transform it into its most beautiful form.
Is there a particular color combination that is a favorite of the designers, either found as is or during the refinement process?
Because the paint is just layers on layers of color, our favorite part is discovering the unique color patterns that emerge as we process the paint. This process also serves as a metaphor for the women at Rebel Nell; while these found pieces may look a bit rough around the edges or unappealing at first, when you look beneath the surface you can see the most beauty.
What kind of training or classes do the women of Rebel Nell take as they embark on journeys to become artists?
Rebel Nell merely serves as a transitional opportunity for the women we employ, our goal isn't to produce a bunch of stellar jewelry makers in Detroit. Beyond learning the skilled trade of jewelry making, we offer financial management, entrepreneurship, and additional empowerment classes at Rebel Nell to provide our ladies with the skills they need to move from the shelters permanently.
Since launching Rebel Nell, how have the lives of your team members changed?
Within our leadership team, I think we are continually blown away by just how broken the systems are that we have in place to help the poorest individuals.
With the women we employ, they have a newfound confidence in themselves from creating such beautiful works of art that women across the country are proud to wear daily. They also are empowered to move on to pursue more gainful employment, from home healthcare to more entrepreneurial endeavors like catering.
We're sorry, there seems to be an issue playing this video. Please refresh the page or try again in a moment. If you continue to have issues, please contact us here.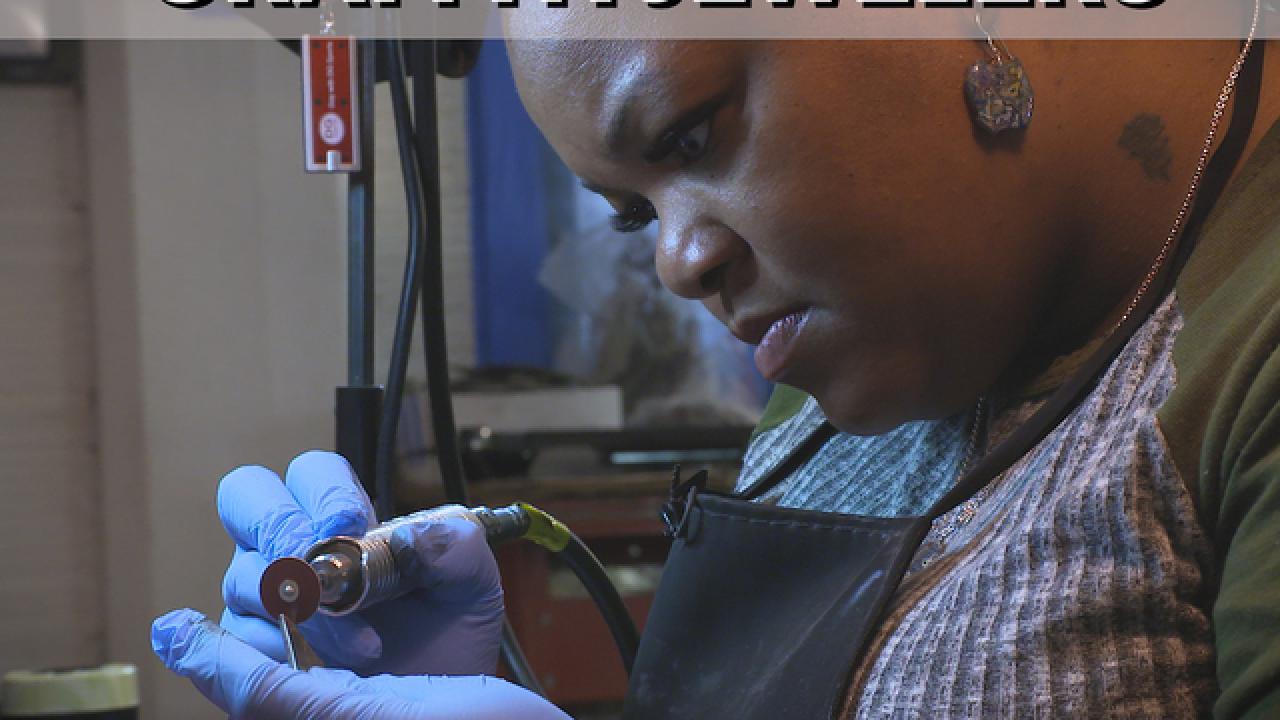 When it comes to developing new jewelry designs, where does the team turn for inspiration? What kind of trends is the team keeping their eyes on right now?
Our core items are our Signature Collection which includes our Signature Sterling Pendants and Drop Earrings. These items are where our ladies' personalities are really reflected in the designs because each piece is hand cut from whatever inspiration they feel that day. We also just launched a new Everyday Collection that is smaller and more minimalistic for the less in-your-face fashionista who still wants to support our mission.
What does it mean to not only have a Detroit-based company, but a company that's dedicated to changing the lives of its residents for the better?
For us, it is less about the job creation and employment opportunities, but the ability to make a lasting impact in the lives of these women. It's not only empowering individuals to move past what life has dealt them, but giving them the tools and resources to permanently move towards self-reliance, which we believe will have a positive generational effect.
What's next for the Rebel Nell product offering and for the team itself?
We are super excited about the launch of our new Everyday Collection, which arrives just in time for holiday gifting. We also hope to start sourcing graffiti from other cities in the U.S., as well as open a new retail location in Detroit.
We could not have made it this far without the support of the Detroit community and our followers. Because we are primarily funded by the sales of our jewelry, every purchase you make on our website or at one of our retailers directly impacts the work we are doing and the women we employ.
Great design works wonders. That's why MOO creates beautiful premium business cards, postcards, stickers and more — to help your business stand out from the crowd.