How to Make (Really Thick) Kids' Finger Paints
You'll never run out of paint again thanks to this kid-friendly recipe.
Seriously. Why haven't we been making our own finger paints this whole time? As a former kid, finger painting was definitely one of my favorite techniques. The temperature of the paint, the texture, the bizarre and beautiful smears of color that were always utterly perfect (before they merged as brown). It's a crafting experience that really stands out in my mind. As a parent, I understand the reluctance of letting kids finger paint. The mess! The expense! The paint is "wasted" so fast! Not to mention, how many brown paintings can you possibly fit on the fridge? Nonetheless, our kid's excitement for finger painting is no different than my own, so I give in often – but learning how to make our own rainbow of colors for just pennies really sweetened the deal.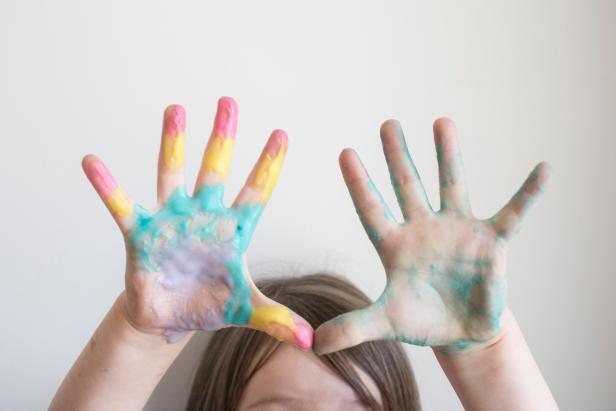 How to Make Your Own DIY Thick Finger Paints
2 cups of flour
2 tablespoons of salt
2 tablespoons of cornstarch
3 cups of hot water
food coloring
recycled jars or containers for leftover paint
The easiest part of this recipe is that making the base takes about two minutes to whip up. It's as non-toxic as it gets, requires simple ingredients you most likely already have on hand, and everything gets mixed together all at once, so it's really hard to mess up.
Stir together the flour, salt, cornstarch and water. Your children may also special-request pancakes at this time because it does look exactly like batter as you mix out the lumps.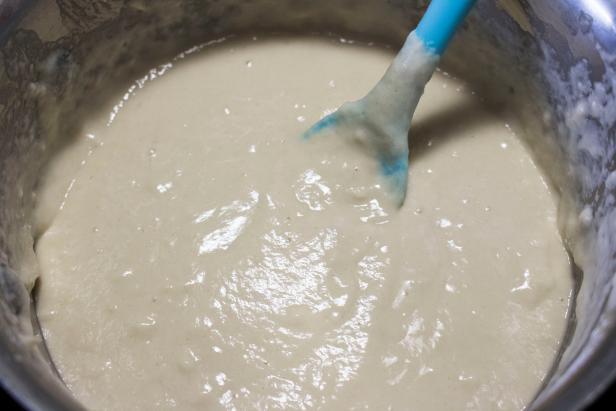 How to Make Your Own DIY Thick Finger Paints
Cornstarch and flour are the magic ingredients that control how thick your finger paints are, so add more if you want. I found that the measurements above yielded a nice consistency that holds up well, even after refrigeration (which is where I store our leftovers – again – making all efforts to not confuse our paints with leftover pancake batter).
Divide the paint into various bowls. Add food coloring, and then mix your custom colors.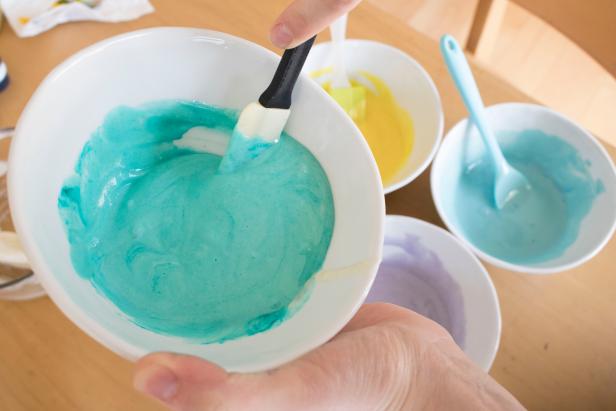 How to Make Your Own DIY Thick Finger Paints
Depending on the volume of paint that you want to dole out at one craft sesh, consider putting some of each color in a smaller, more manageable container. Keep in mind that this is food coloring, so while it is diluted in the paint, it could still stain surfaces and clothing.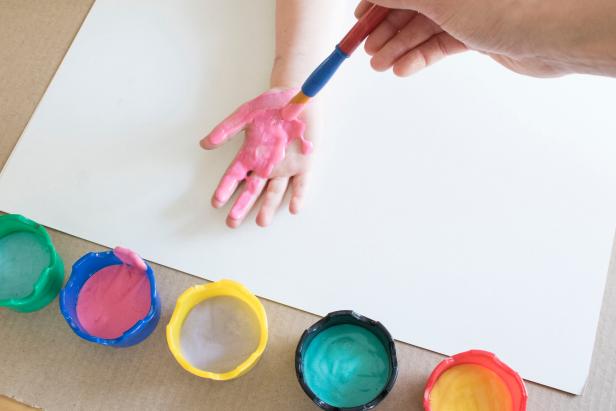 How to Make Your Own DIY Thick Finger Paints
Let them go wild poking, smudging, and enjoying the thick texture of the paint you created.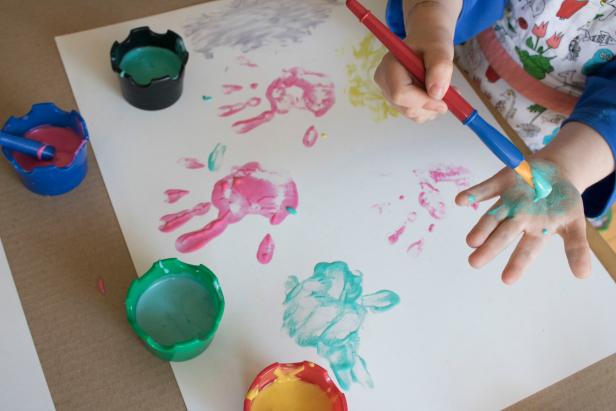 How to Make Your Own DIY Thick Finger Paints
It's so thick, that I find it dries with some nice texture, too. A little more like puffy paint than ordinary acrylics. And most importantly: you'll never, ever run out of finger paints again.
Store leftovers (if any) in separate containers, and refrigerate for up to a week.