HGTV on how to blend a big-screen TV into the decor
Is a giant black box causing a decorating dilemma in your house? HGTV Magazine experts share their best tricks.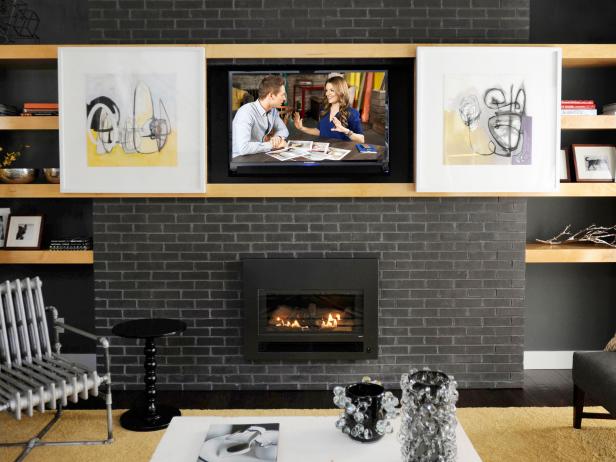 Modern Livingroom
This custom system cost approximately $500, including installation, in the 2011 HGTV Green Home living room.
This custom system cost approximately $500, including installation, in the 2011 HGTV Green Home living room.
An armoire would have been too bulky for the living room in the 2011 HGTV Green Home, so designer Linda Woodrum had the TV mounted in a recessed part of the brick wall, centered above the gas fireplace. She then added a track system to conceal the TV behind two watercolor paintings framed in Plexiglas. "We used natural, clear-coated wood tracks and bright white frames around the paintings so they'd stand out against the steely gray wall," says Woodrum. When the TV isn't being used, the paintings slide together and the set is hidden behind the artwork.

Best camouflage ever? A custom-built cabinet. You can close bifold doors when you're not watching TV, and slide them inside when you are. To see the screen from anywhere in the room, add a pull-out arm that swivels. "If a custom cabinet is out of your budget, fake the look with a ready-made TV armoire flanked by bookshelves, and paint everything the same color," says New York City designer Alexis Givens. Potterybarn.com and ashleyfurniturehomestore.com have great selections. "Stay away from bold colors, which can be dizzying next to the TV's glow."

Instead of trying to hide a 60-inch set, designer Vanessa De Vargas of Turquoise interior design firm in Los Angeles painted a bright green rectangle behind it. After deciding how high to hang the TV (tip: Sit on the sofa to judge—don't stand too close to the wall), De Vargas taped off the area and covered it with three coats of color. Use a level to make sure your paint edges are straight. "We decided to make the 'frame' around it nine inches wide, but anything more than six is fine," she says. "It just depends on how much color you want to see." A few hours after painting, the television was mounted. A sleek white stand houses the cable box and DVD player. "A border in any color could work," says De Vargas.

If you want the TV to practically disappear into the wall, paint the entire wall behind it black. That's what San Francisco designer Jerry Jacobs did in his client's study. But he didn't stop there. After painting the area above the fireplace, then mounting the television into a recessed space, Jacobs added a chunky wooden frame, also painted black, around the set for a more artlike look. The mantel, along with an extra-wide fireplace surround, keeps heat contained so it doesn't damage the TV.

A TV stand that looks like a TV stand isn't very stylish, which is why Los Angeles event designer Megan Fickling put her own set on a clean-lined West Elm credenza (tip: Choose a piece that gives you 10 to 15 inches of space on either side of the set). Help the TV blend in by hanging a little art gallery of pictures around it (Fickling framed photos from her travels, a pane of stamps, and a tile from Anthropologie). Then add symmetrical touches on the sides. "Trust me, you'll barely notice the big honking television!"
Before you buy a jumbo tv...
Give a bunch of them a virtual tryout. Log on to tvsizematters.com and upload a photo of your room. To check out how different-size TVs will look in your space, click on the site's sliding scale for an instant simulation.