Small Living Room Decorating Ideas
Stuck with a small living room? Turn it into a family room, lounge, dining room and office with these multipurpose decorating ideas.
Multi-Purpose Room Family Portrait
The Ardens made sure their sofa would seat the whole family.
A 160-square-foot living space may seem like an average, decent size — until you realize it must function as a family room, lounge, dining room and home office. Creating a design that's as functional as it is aesthetically pleasing can be a major challenge. In the case of a spatially-challenged, open concept great room, a few design elements are essential to maximize space: multi-purposing, playing with scale and proportion, installing proper lighting, defining the space plan, and delineating several zones within one area. When it comes to living large in cramped quarters, the vintage modern New York City great room of Matt and Jodi Arden showcases small space decorating at its best.

When the couple, both TV executives, relocated to New York's East Village neighborhood from Atlanta, they decided to leave most of their living room and office furniture behind. Only their dining table and chairs made the trip. Jodi comments, "Spatially, we couldn't see any of our old stuff working in the apartment. Why bother schlepping sofas, chairs, area rugs and desks up 10 stories if it may not even fit?" Instead, the Ardens enlisted the help of a designer friend to guide them in a direction that worked with their personal style and their functional needs.

First up was creating the right space plan. The L-shaped space presented several challenges. To access the living room, the open area just off the apartment's entrance needed a clear path down its center. A corner that would eventually become a dining area lacked lighting. The space intended for seating had only 8-feet of wall space, yet needed to be a comfortable place for Jodi, Matt and their two large dogs. The two busy professionals also needed a place for working from home. In order for all of these areas to function, the space was broken down into three zones: one for lounging, snacking and watching TV, another dedicated to formal dining, and one focused on work, storage and organization.

With the space plan in place, choosing pieces with the proper scale, proportion and dimensions became the focus. The Ardens accompanied their designer friend to a handful of New York retail chains in search of affordable, readily-available pieces for each of the three zones. Matt recalls, "One of the most important things we learned from our design pro is that you've got to bring a tape measure with you when shopping for furniture to fit a small space. Every inch counts. Our rule was that anything which measured over 92 inches wouldn't even get a second look." In addition to keeping dimensions in check with each of the apartment's interior zones, having the tape measure on hand was essential to ensuring that any potential purchase would also fit through the 100-year-old building's interior and exterior doors, hallways, stairwells and elevators.
For their sofa, the Ardens decided to maximize seating along the family room/lounge zone's main wall by opting for an L-shaped sectional with a left-arm chaise. "I had no idea what a right-arm or left-arm chaise meant. But after realizing that a sofa back would sit lower than our family room's window, we decided the L-shaped sofa would sit both Matt and I, as well as our dogs, Baxter and Teddy, perfectly," Jodi recalled. "Something to keep in mind when deciding on which side the chaise should sit on is that right-arm and left-arm refer to what side of the sofa the chaise is on based on standing directly in front of the sofa and looking at it, versus where the chaise sits based on being seated on the sofa." Not only did Jodi and Matt love the look, feel and fit of their new sofa, they especially appreciated how it took full advantage of the 8-foot wall. Matt comments, "Every square inch of the wall is now packed with seating. It completely maximized the space. It's great for lounging and watching TV, or having five or six friends over for drinks."

The elements surrounding the L-shaped sofa were equally as important as the sofa itself. With a 6-by-3-foot open span of space between the inside edge of the chaise and the opposite end of the sofa, Jodi and Matt opted for a low-profile, generously-sized coffee table. "The coffee table is genius. Not only does it use all of the space in front of the sofa functionally, but the top also hinges up to reveal two personal table tops that pull up to the edge of the sofa just above our knees," Matt says. "In essence, we kind of have two dining tables in the great room." To add light above the sofa and eliminate the need for end tables, Matt and Jodi opted for a floor lamp with an adjustable arm. The family room was grounded and delineated from the other zones thanks to an 8x10-foot silvery-grey jute boucle area rug. To finish off the seating area in a personal way, the Ardens had an entire filmstrip negative of Baxter and Teddy printed, then framed professionally online through Larson Juhl. Jodi comments, "We were originally going to group several framed photos together, but our designer said the scale was wrong. Instead, he suggested we use one large-scale piece almost the same size as the sofa to anchor the space. It turns out large art is the best choice for a small space. Who knew?"

In order to house the plethora of electronics and video components associated with their 52-inch flat screen TV, Matt and Jodi found a $35 dresser on Craigslist that was nearly the same length as the 8-foot wall opposite their sofa in the family room. To outfit the dresser as a media console, they had the drawer fronts removed, then installed on hinges that flip down to allow the video components to be operated by remote control. To give it an updated look, they had the media console refinished in glossy apple green paint. "The color for the console was pulled from the green found in our Roman shade," Jodi comments. "I'd never have though to use apple green and peacock blue, which we used for the wall color, together but they worked perfectly in the shade's fabric. So we pulled them into the room with furniture and accents."
Contemporary Dining Room With Dark Wood Table and Blue Shag Carpet
There's even enough space for a dining room table, thanks to careful planning.
We're sorry, there seems to be an issue playing this video. Please refresh the page or try again in a moment. If you continue to have issues, please contact us here.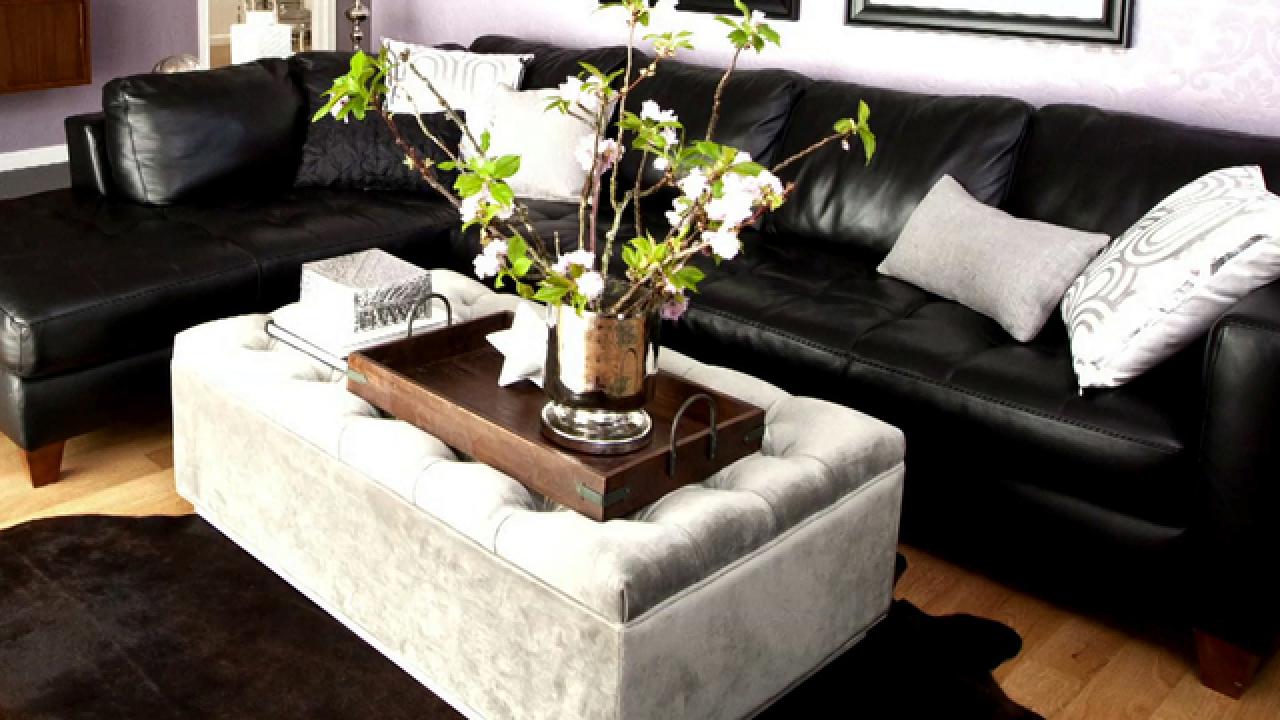 As far as color is concerned, the Ardens are happy with their designer's advice to choose a dark hue for the walls in their small space. Jodi initially assumed dark colors would instantly make the small space even smaller; however, she's thrilled with the overall effect, stating: "Believe it or not, the peacock blue on the walls makes the room feel larger. It's almost like the dark blue walls fall back and let the furniture and bold apple green jolts of color take center stage." All three zones carry the blue tone through accents, including the graphic art and a shag area rug in the formal dining area as well as baskets and accents in the office.

One of the key elements aiding in the successful design of the Ardens' dining space is their 42-inch round pedestal tabletop. Round tables in small spaces allow more seating than square tables, since there are no harsh corners to make a spot uncomfortable for guests. Jodi and Matt can seat up to six guests comfortably at the table. Also, the open circle cutouts in the pedestal base allow Jodi, Matt and guests to see directly through it, creating the illusion of slightly more space. The brown of the aged-leather upholstery on the vintage 1960s dining chairs carries over to the bookshelves, reflected in the wallpaper that was added to the back panels. The bookshelves, which also serve as room dividers, keep most of Matt and Jodi's tableware organized and within arm's reach. In order to add lighting to the dark corner, two swag hooks were screwed into the ceiling to allow a swag pendant light to hang directly over the table, then swing back to the wall where it's plugged into a nearby outlet.

Both the dining area and family room/lounge area are separated from the apartment's entry and private office by two pairs of ready-made bookshelves bought at a local office supply store for $49 each. By securing them to the walls and floor with L-brackets, adding wallpaper to the back, then trimming the exposed sides with 1x3 MDF (medium density fiberboard) and luan, the money-saving storage solution doubles as an architectural feature. One side has been dedicated to holding dining room supplies, while the other is a dedicated organizer for office supplies, bills, important documents and, most important, Matt's pair of Emmy® Awards. Matt comments, "Not only do I love the fact that we now have a fully functioning home office, but I find my favorite household items in it the moment I walk through the door: my dogs and my Emmys."

On a budget of $7500 and a timeline of three weeks, the Ardens are now living large in their small space. From the open storage solutions in the office and formal dining areas to the concealed storage of their media center, the apartment is staying tidy and organized. And with their great room complete, the couple has started saving and planning for the next phase of their small apartment's design, its 120-square-foot bedroom. Perhaps a Murphy bed will be in their near future?