Bachelor Pad Ideas on a Budget
Forget the messy, tacky bachelor pads of the past. Try these expert tips and ideas to get a warm, welcoming bachelor pad on a budget.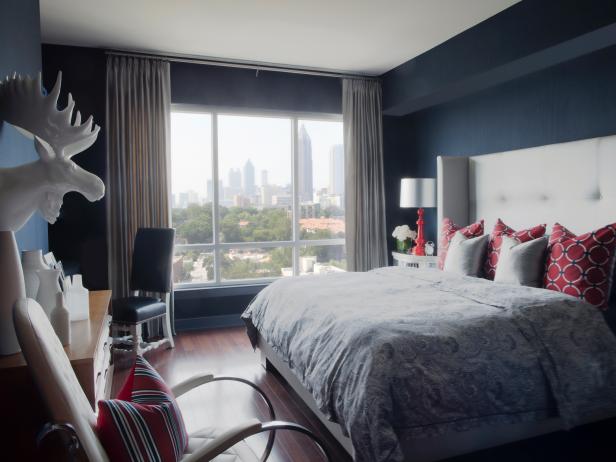 Menswear Touches
The walls of this bedroom are covered in pinstripe fabric, adding a subtle, menswear-inspired touch. The custom headboard is upholstered in white automotive vinyl. Design by Brian Patrick Flynn
Bachelor pad: A term previously used to describe messy, unstructured spaces packed with sports memorabilia, remote controls, college furniture and tacky art. Well, times have changed — and so have the ways designers approach spaces inhabited by dudes, whether 100% single or slightly off the market. From color schemes, furniture styles, art selection and value engineering, there are plenty of ways to create spaces fit for bachelors that are at once handsome and elegant, custom and off-the-shelf, warm and welcoming.
The first step in creating a designer-caliber bachelor pad on a budget is to avoid clichés whenever possible. Clichéd design ideas quickly become dated, accelerating how soon a room may require redecoration. Sure, leather sofas are durable — and nothing screams masculinity like touches of worn-in, aged textures — but there are many other guy-friendly choices that are much more unexpected and unique. With leather often costing as much as $250 per hide, and an average sofa requiring roughly five hides for upholstery, velvet, boucle, and linen are great alternatives that keep costs down. Something to consider when sourcing upholstery fabrics is to set aside at least $35 per yard for something high quality and durable. Skimp on upholstery fabric and it's likely pieces will cost more in the long run due to rips, tears and re-upholstery costs.
When it comes to color, blue is the most popular choice for men; however, strictly using it in accents or choosing a muted hue often gets more mileage than a space completely covered in cobalt. Two classic color choices for spaces inhabited by men are grey and brown. These colors work well with just about anything and, depending on what they're paired with, can take on extremely chic personas. If painting walls in a bachelor pad, great hue choices for incorporating color in a high design manner are Intellectual Gray and Well-Bred Brown, both from Sherwin-Williams. For male-friendly contrast to these tones, consider saturated reds or royal purples. Not just any red or purple will do; the wrong shade can completely throw off the balance of a room. Stay away from reds with pink undertones and avoid light purples, which may be considered lilac. Fire-engine reds and deep violets work best.
Another common cliché associated with bachelor pads is to leave windows bare. Men often associate window treatments as being feminine when, in fact, window treatments are gender neutral and play an important part in insulating spaces, reducing noise pollution, and preventing fading of furniture and/or carpets. To give window treatments masculine identity, opt for solids with metallic sheen or rough textures and choose prints with geometric patterns, pinstripes, tartans or plaids. Tailored pleats, such as inverted box pleats or top pinch pleats, add interest while staying gender neutral. When choosing fabric for window treatments, make sure the fabrics in consideration are labeled "drapery weight." Upholstery weight fabrics are considerably heavier than drapery weight, which can cause the draperies to fan out, losing the intended tailored effect.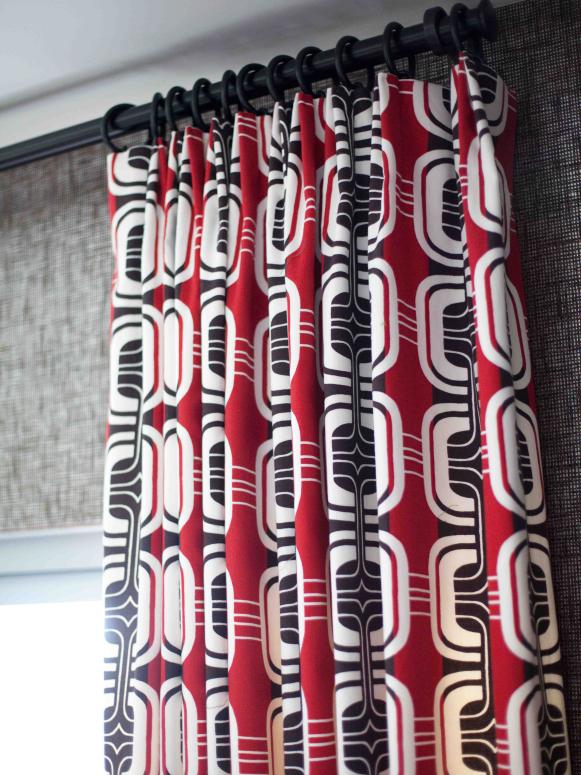 Living Room Curtains
For window coverings with graphic, masculine appeal, Chris had custom draperies made from a Duralee fabric called "Buckle" that coordinated with his dark brown and fire-engine red color scheme. To keep his overall custom window-covering budget in check, he decided to stick with iron hardware from Pottery Barn that came to $240.
For that high-end touch, it's important that window treatments are also lined. Lining helps the drapery panels hang properly and ensures clean, tailored folds from top to bottom. In spaces that receive an abundance of sunlight but are meant for rest and relaxation, blackout liner is an excellent choice. Nearly 100% of the light can be blocked out when draperies are drawn closed. To budget for window treatments appropriately, keep in mind that an average 8-foot tall by 4- foot wide window requires seven yards of fabric to create two single drapery panels. When budgets are tight, designers often choose basic, cost-saving fabrics such as cotton duck — which averages between $8 and $12 per yard — and invest in professional fabrication. Expert tailoring instantly gives it the window treatments a more polished, custom-made look.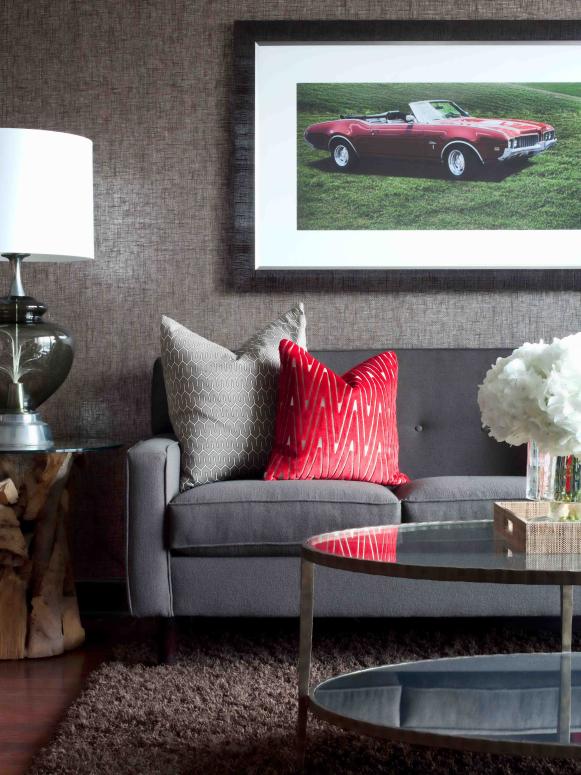 Bachelor Pad Living Room Accessories
Chris mixed modern with traditional to create a transitional design style. He paired a tailored, button-tufted, 1960s-style sofa with an ovular, bronze and glass coffee table that has more traditional lines. For rustic, masculine texture, Chris opted for end tables made of driftwood with glass tops. A pair of mid-century modern table lamps added a touch of the unexpected to the space. Altogether the furniture arrangement came to slightly over $2000. After searching for art, Chris couldn't find anything he connected with and instead had a professional photographer shoot his collectible Cutlass convertible, and then had it framed as fine art.
Tailored upholstery details are excellent ways to bring high-end touches of sophistication and elegance to a man's space. Sofas with simple button tufts, commonly referred to in pop culture as "Mad Men Style," have been en vogue since the 1960s and continue to keep from going out of style. Streamlined upholstery on chairs with sleek lines can take on new appearances depending on how they're accessorized. Should a lady friend enter the picture, these types of pieces can become more female-friendly with the introduction of botanical prints on throw pillows or blankets.
Sticking with solids on staple furniture pieces is also economical, since the pieces can instantly take on new looks with patterned throws and blankets. Nail head detail can be used to dress up an otherwise subtle, solid piece or bring a rock-and-roll edge to more traditional-style furniture. An excellent way to give basic, budget-friendly chairs or barstools a high-end update is to attach nail head details along the edges with a mallet, or drop them off at a local upholstery shop and have it done professionally.
For bachelors unsure of their particular design style, transitional interiors are often great middle ground between traditional and modern. If the look and feel of modern comes across as too cold or sparse, and all things traditional seem too stuffy or expected, transitional style is ideal. By marrying the best of both styles, transitional design creates something classic, clean and updated. To successfully pull off transitional decor, it all comes down to mixing. If a living room sofa is sleek and modern, consider pairing it with a classic, traditional-style coffee table. Throw in rustic accents with end tables and modern art and suddenly the entire space will come together as timeless, but with a streamlined, warm and personal edge.
A fantastic example of a high-end bachelor pad done on a tight budget is the Midtown Atlanta home of sales executive Chris Staub. The 1500-square-foot 2-bedroom, 2-bathroom condo sits on the 17th floor of a modern high-rise. It sports a balance of high and low price points in every room and was completed in five weeks. As Chris' place goes to show, when done right, a bachelor pad can be a marvelous thing.