How to Pull Off an All-White Room
While white may come across as cold or impractical to many people, design professionals have been perfecting the art of using white for centuries. Learn how to bring this beautiful, natural hue into your space with ease.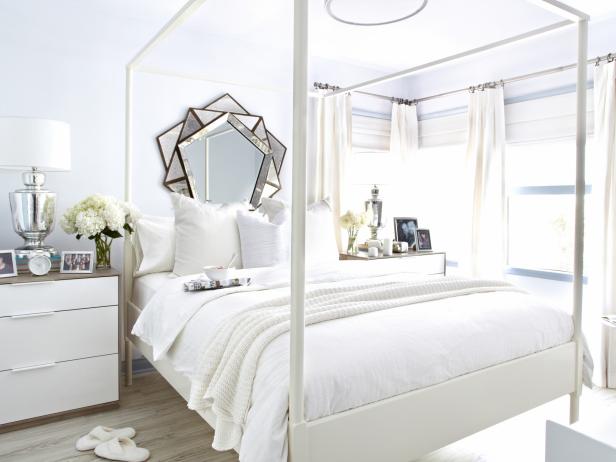 White Guest Room With Geometric Mirror
Spaces packed with an abundance of natural light are the best choices for using white effectively. Once the light hits the windows and is then diffused by lined window coverings, it floods the room with a visual softness that immediately creates a cozy atmosphere.
Spaces packed with an abundance of natural light are the best choices for using white effectively. Once the light hits the windows and is then diffused by lined window coverings, it floods the room with a visual softness that immediately creates a cozy atmosphere.
Ask an architect or an interior designer which color they find to be the most beautiful in regard to light, and you're likely to hear the same answer: white. Although the color does indeed present challenges when it comes to proper cleaning, durability and practicality, when utilized properly, it can be breathtakingly beautiful and bright, and can also make a room feel much larger or taller than it actually is.

The issue many homeowners have with white is its tendency to show every blemish, stain, spill, nick or smudge. In order to utilize white effectively and practically, it all comes down to where and how it's applied. In order to be able to live with white-on-white, it's best to stick with lower-traffic areas, especially if soft goods such as textiles and rugs are the main white design element. Consider spaces such as guest bedrooms, libraries, sunrooms, home offices or even master bedroom suites. Two of the biggest issues with using all white in great rooms, entries, living rooms, mudrooms or dining rooms are the tracking in of dirt and dust from outside, and staining from spilled food and drink.
It's also common for homeowners to find white stark, impersonal and cold. To avoid a white-on-white room feeling one-dimensional or flat, it's important to layer various shades of white in different ways, using an assortment of textures and materials. Another way to add layering of white is to combine different finishes: eggshell paint on walls and ceilings, satin on flooring, high-gloss or reflective on furniture, as well as smooth accents or accessories.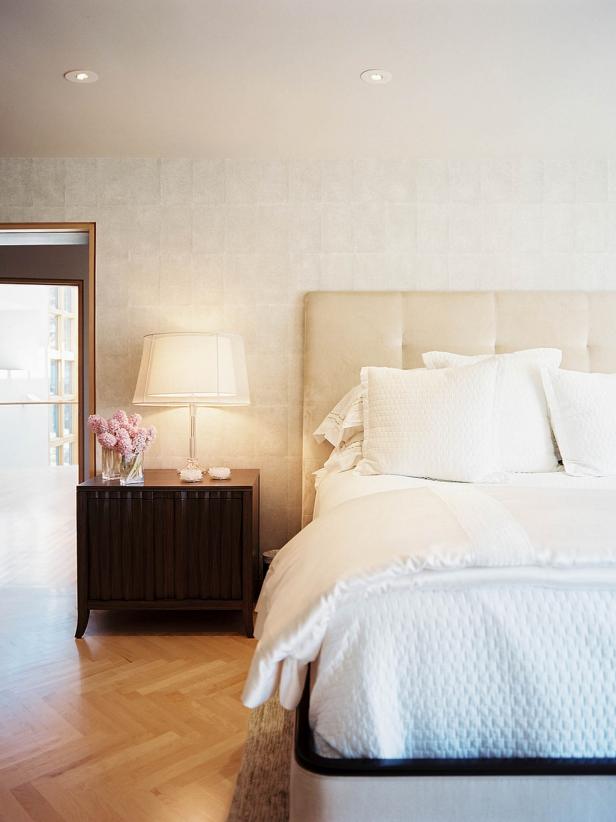 Neutral Bedroom with Textured Bedding and Herringbone Hardwood Floors
Texture, rather than color, is what makes the design this master bedroom so interesting. From the subtle texture of the wallpaper to the tufting on the headboard and the herringbone pattern of the flooring, this neutrally colored space is anything but boring.
When it comes to white flooring, durability is key. To incorporate a white underfoot surface which is both easy to clean and packed with texture, consider whitewashed hardwood or, for a more affordable option, go with an engineered or vinyl plank version. Although wall-to-wall white carpet, especially nubby styles such as shag or tinted seagrass, packs both color and texture, it's much more difficult to keep clean. An excellent alternative to wall-to-wall white carpet is using a large-scale white area rug. This offers a similar look, but with much more versatility; the rug can be moved from room to room, and it can easily be cleaned by taking it to a professional rug cleaner.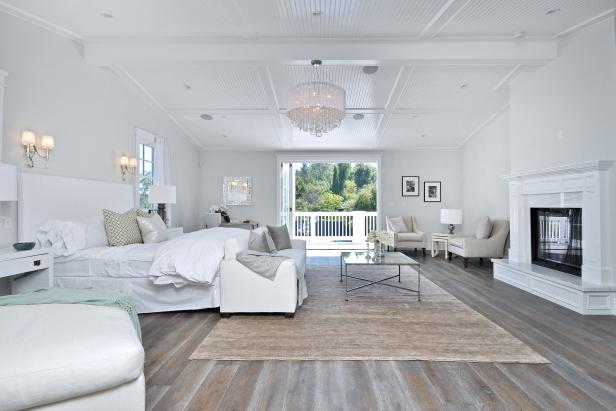 Magnificent Master Bedroom With Fireplace
This spacious master bedroom is decorated in all-white, giving it a bright and airy feel. The sconces, chandelier and fireplace all add an elegant feel to this luxurious master bedroom.
Dilbeck Real Estate, a member of Luxury Portfolio International
While choosing the proper white may seem like an easy task, it's much more difficult than one would think; white comes in more than 100 different shades. Ultra-white evokes a modern, purist tone, and is best used in minimalist spaces. Yellow-whites and beige-whites often work well in traditional rooms. Purple-whites are feminine and can evoke a more formal feeling. Green-whites tend to come across a bit more earthy and masculine. For a cool, calm and glamorous aesthetic, blue-white is a popular choice.
We're sorry, there seems to be an issue playing this video. Please refresh the page or try again in a moment. If you continue to have issues, please contact us here.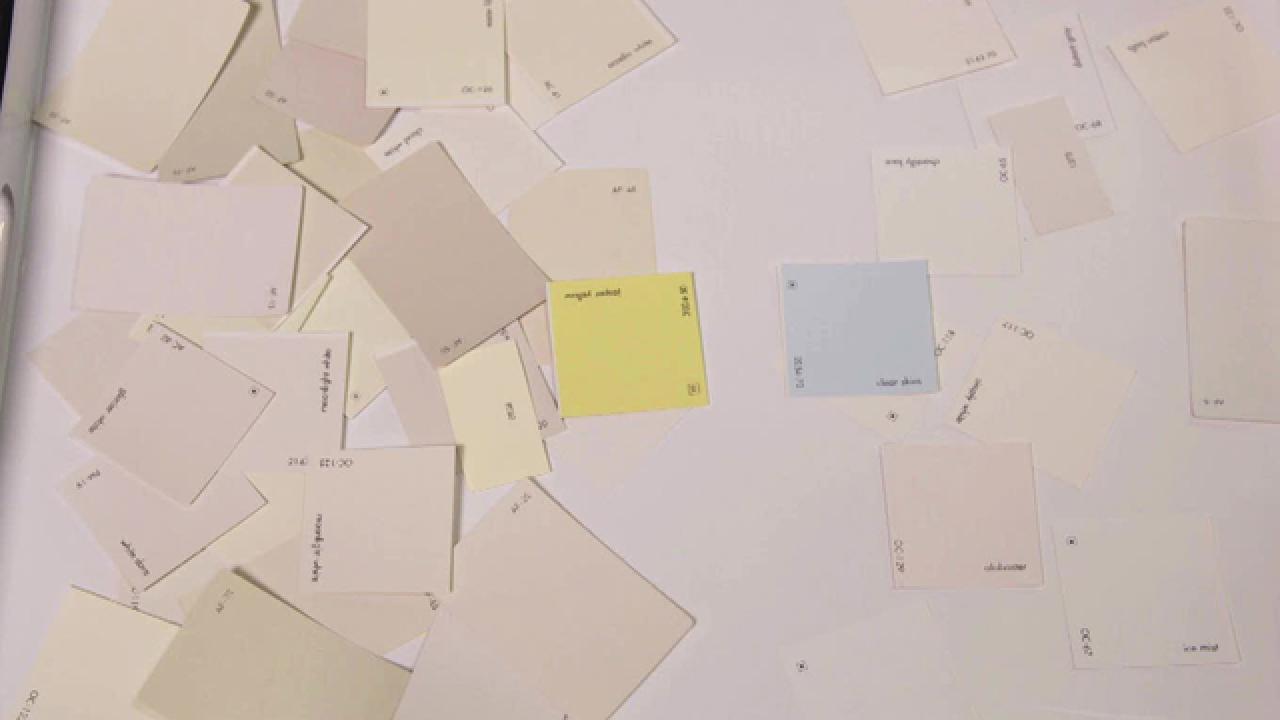 In addition to different tinted shades of white, it's also important to take into consideration which direction the room intended for a white-on-white color scheme faces. North-facing rooms have cool light, which can cast somewhat of a blue shade throughout the space, especially if a blue-white is used on walls. South-facing rooms receive warm light, and work best with warmer white tones such as yellow-whites and beige-whites. East-facing rooms will receive sunlight in the mornings, creating a warm feeling, then becoming cool in the afternoon, causing the room to change moods once the light has faded. Ultra-whites and gray-whites are excellent for east-facing rooms since they'll remain true to their values all day long. West-facing rooms will receive sunlight in the afternoons, resulting in the opposite change as east-facing rooms.
With so many shades of white to choose from, once layered together, they instantly take on more colorful appearances. Furthermore, if a single color is introduced into a space which is otherwise all white, the entire space may reflect that color, instantly creating the impression that the room is a highly muted shade of a particular hue.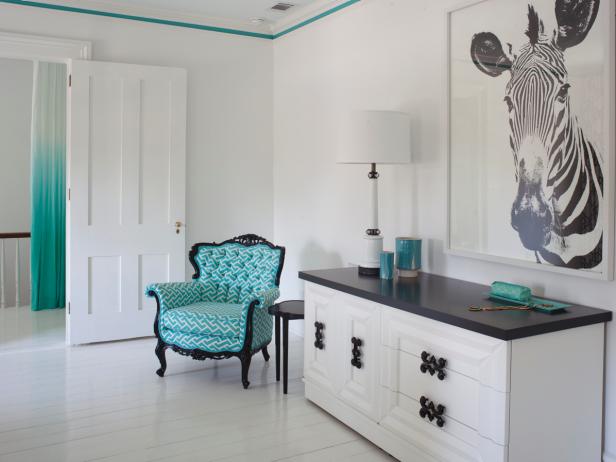 White Transitional Bedroom With Zebra Art
In this bedroom, the all-white palette is given contemporary crispness with accents of black and turquoise blue.
An excellent example of a livable, all-white designer space is a guest bedroom I designed in West Hollywood, Calif. Geared toward mostly female guests, the room is layered with more than 20 different shades of white. To play with the abundant natural light streaming in from the corner windows, reflective surfaces such as mirrors and lacquered drawer fronts were incorporated. From the mix of textures on the bedding to the use of white-on-white to help mask eyesores, get an insider's look below at how to successfully put together a white-on-white room that's equal parts pretty and practical.