Trick Out Your RV With These Cool Products
Editor and writer Ellen Seidman took a family RV vacation and brought back these tips for the great gear you can buy to make your own RV camping adventure more comfortable, efficient and fun.
Keep in mind: Price and stock could change after publish date, and we may make money from these affiliate links.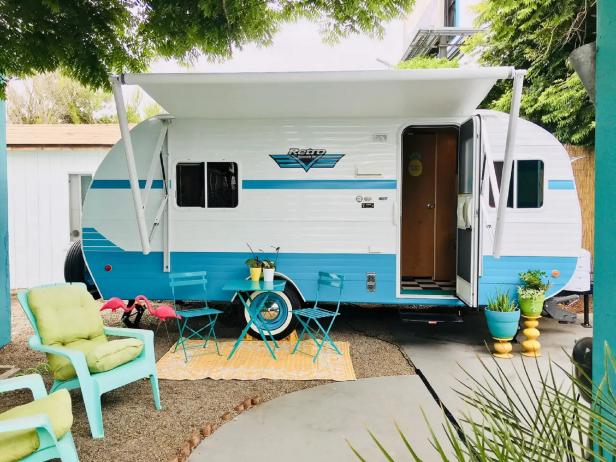 Blue & White Retro RV Trailer (San Diego)
Just three blocks from San Diego's Ocean Beach, "Miss Bettie Blue" is a 2019 Retro Riverside Trailer modeled after the vintage "Canned Ham" travel trailers from the 1950s. She is a beauty and makes for a surf-tastic stay during a SoCal beach vacation. Inside, look for pops of color, like the turquoise and white striped bedspread and matching turquoise Keurig single-serve coffee maker. The vintage camper sleeps up to three guests and wows with modern amenities, like wi-fi, a microwave, even an Amazon Firestick for streaming TV shows and movies.
If ever there was a time to fulfill my children's fantasy of an RV trip, this summer was it. They hadn't gone to camp. We weren't up for traveling on a plane or staying in a hotel. Months of quarantining meant our family — one 17-year-old, one 15-year-old, a 4-year-old and my husband, Dave — had gotten used to being around each other 24/7. But we desperately needed a new setting. A home away from home.
Our first planning stop was Go RVing to explore companies that rent RVs (you type in your zip code and a list of local places pops up) and decide where to go. RV travel is trending but there are still RVs to be found whether you rent through an RV dealer, a rental agency like Cruise America or El Monte RV, or peer to peer through Outdoorsy (aka the Airbnb of RV rental).

We ended up doing a homeowner rental and got a 34-foot-long Newmar Class A. This type of RV is on the roomy side; there was a pull-out sofa in front, bunk beds and a master suite. The RV also had slide-outs — at the flip of a switch, the living area extended another four feet, as did the master suite. Bonus: The kids got a kick out of watching that magic happen.

While national parks are booked up, we found reservations at private campgrounds. (The Campendium app rates sites as does the Dyrt site.) Since it was our first RV experience, we did a baby-steps itinerary with campsites that were several hours away from our house: Jellystone Lazy River and Watkins Glen/Corning KOA River in New York and Hershey Road Campground in Pennsylvania.

We brought the basics, including bedding, bug spray and baby wipes for post-s'mores cleanup. We bought biodegradable toilet paper, a must for RVs, and things you might not think about like zip-up bedding for the RV mattress. We brought sleeping bags for the two bunks and pull-out-sofa. But Dave and I got a sheets-and-comforter getup all in one from Beddy's. It slips over the bed like a fitted sheet and unzips on either side for the comforter and sheets. To "make" the bed, you zip it up — one less thing to do on vacation.
We downloaded movies onto our iPads before we left, in case the Internet at a campsite was slow and we were suffering from screen withdrawal, and packed card games, coloring books and Frisbees. I prettied up the inside of our RV with throws, area rugs, pillows and faux potted plants from home.

For other necessities and organizing ideas, I browsed Campanda Magazine; scoured the Girl Camper Facebook page; and scored a few hacks from its founder, Janine Pettit. We ended up getting some stuff that would do double-duty on our deck and in the backyard (our other great escapes). Read on for ways we tricked out our camper to make it homey, comfortable and pretty.
Bathroom Air Purifier
This natural gel, made with essential oils, helped keep our bathroom smelling Eau De Not Gross.
Removable Hooks
We put Command adhesive hooks in the shower for wet bathing suits and swim towels and a couple in the master bedroom for towels and PJs.
Over-the-Door Shoe Organizer
This is a hack I'd used on cruises: I hung a shoe organizer on the inside of the bathroom door to hold small items that have a habit of disappearing including sunglasses, lip balm and sunscreen.
Hand Broom and Dust Pan
Campsites get dusty and dirty — we used this regularly. Or at least, I used this regularly.
Non-Slip Shelf Liner
It stops dishes and kitchen accessories from sliding around cupboards and countertops when you're on the road.
Pop-Up Pail
To avoid traipsing dust and dirt all over the floor at campgrounds, we dropped our shoes in a bin before we entered the RV.
Giant Laundry Hamper
My goal: To not do any laundry during our nine-day trip. For that, we needed one very big soft-sided laundry hamper, which I stashed in storage beneath the bed.
Foam Mattress Topper
RV mattresses: not so luxe. We picked up inexpensive foam toppers for padding.
Camping Chairs
We excavated a few from the back of our garage; they were dusty, torn and had mice poop pellets. No, thanks! These were on sale, comfy and cute.
Outdoor Mat
You plop this outside your trailer as a setting for chairs and tables. It also comes in handy for chilling in backyards and the beach.
Nightlight
I could not resist this little camper one, in case someone needed a bathroom run in the middle of the night.
Collapsible Colander
My kids are pasta maniacs, so penne was definitely on the RV menu. This silicone colander folds flat —easy-peasy storage.
Folding Tables
Our campsites had picnic benches, but we brought along a couple of compact, foldable bamboo tables to hold drinks when we ate meals.
Over-the-Sink Dish Drainer
It's a major space saver.
Unbreakable Bowls and Dishes
On an RV trip, you want durable dishes. I also wanted to dine in style — this was our one and only trip for the entire summer. Downing cereal, soup or snacks in these blue enamelware bowls made me happy.
Heat-Resistant Gloves
They protect your paws when you're cooking in a frying pan over the firepit.
Rechargeable LED Lamps
We figured a lamp next to a picnic table would leave more room for food and not prevent us from seeing each other. And we liked the idea of an adjustable one that we could perch on the kitchen counter at night. We'll be using this one on our deck at home.
Vintage-Style Pillow
When we first decided to go RVing, I geeked out and bought this. It's going to sit in our family room, a sweet souvenir of our trip.
Glow Sticks
They're great for decorating your table for dinner or letting the kids have a blast in their bunk space at night.
Letter Board
For campsite camaraderie, we put our first names on a letter board, then hung it on the camper door.
String Lights
We hung these on the RV's awning so it would be easy to find at night — and look all nice and twinkly.