How to Add Parisian Style to Your Home
We share design tips on how to make your home look like a chic, Parisian piede-a-terre and how to add "joie de vivre" to your space.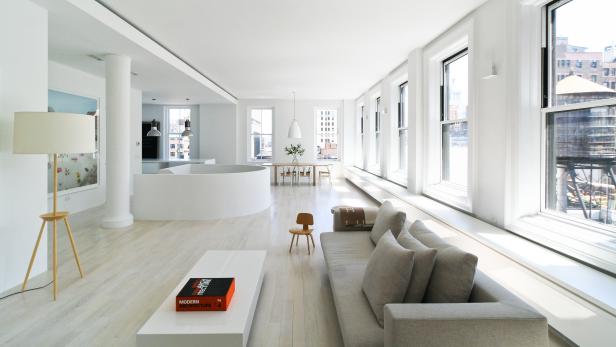 Modern Loft Living and Dining Area
This loft-style apartment uses a white and gray color scheme and sleek, unadorned style to let the city views be the main attraction.
Resolution: 4 Architecture
We've noticed a big trend that's brewing in the design world lately — Paris chic. Inspired by the stylish culture in The City of Lights, this design style tends to be bold, a bit more sophisticated and well curated.
With Parisian style, you'll often find rich color schemes, intricate furnishings and a love for both minimalism and maximalism. Check out our 10 ideas to help you add Parisian chic style to your home.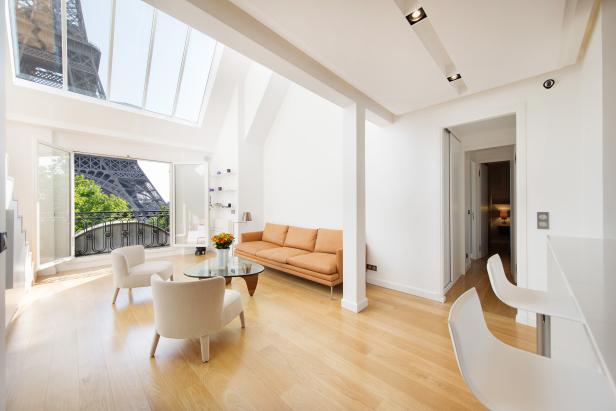 Modern White Apartment Living Room With Skylight
Natural floods into this Paris apartment through the enormous skylight and glass balcony doors, bouncing off of the crips white walls. Simple, neutral furniture keeps with the space's minimalistic theme.
Daniel Feau Conseil Immobilier, SA, a member of Luxury Portfolio International
Don't be afraid to give your furniture some breathing room to create some negative space in your home. Parisian homes are open, and while there is plenty of room for additional furniture, the negative space adds a calm, serene vibe.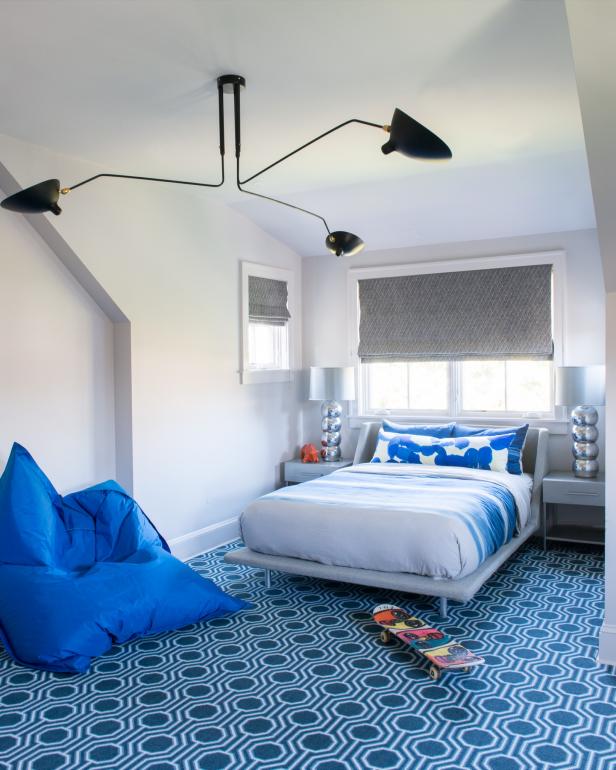 Modern, Geometric Bedroom in St. Barts Home
To create a unique bedroom for this St. Barts home, designers started with a neutral wall color to reflect the natural light of the Caribbean sun, then, they added teal carpet with a geometric pattern to create visual interest in this unique space. To complement the design, blue accents, silver table lamps and gray Roman Shades were added, along with modern nightstands and a modern light fixture to finish off the space.
An over-the-top light fixture is an easy way to quickly add Parisian style to your space. A light fixture like this one can really elevate any room, no matter what your design style is.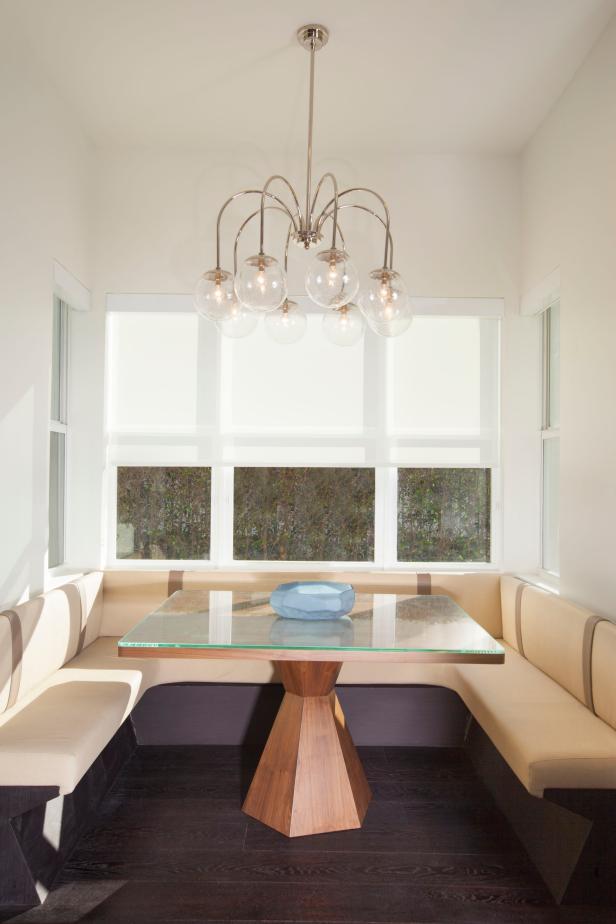 Contemporary Dining Nook With Geometric Table & Bench Seating
A stunning chandelier cascades from the ceiling like a firework, igniting this contemporary dining nook and offsetting the otherwise geometric aesthetic with quieter edges and refinement.
Banquette seating is one of the best solutions for an odd corner or a small dining area. If your budget doesn't allow for a custom banquette, find pre-made options online that fit your space. We dare you to not imagine yourself sipping on a café au lait at a French bistro when you're sitting on your new banquette.
The French aren't afraid of being bold, and this showstopping entryway with standout wallpaper is the perfect example. Wallpaper isn't cheap — if you're going to install it, go big!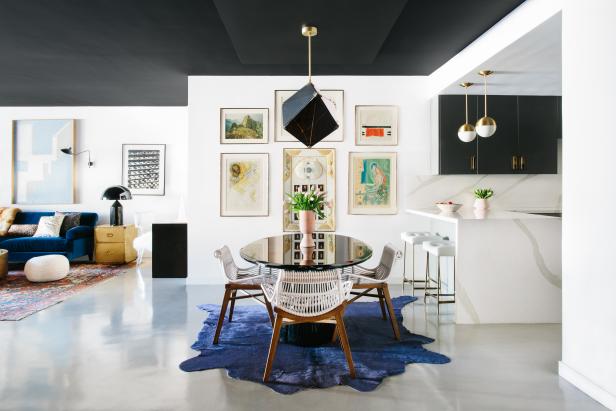 Open Great Room With Dining Area and Gallery Wall
This modern, open great room area features a black ceiling, a round dining table with geometric pendant lamp, an organically shaped blue rug and a gallery wall.
We will forever love a good gallery wall, but a trend that's gaining steam is the less cluttered, more sophisticated gallery wall. These gallery walls are more curated, intentional and feature fewer art pieces.
Marble, Marble & More Marble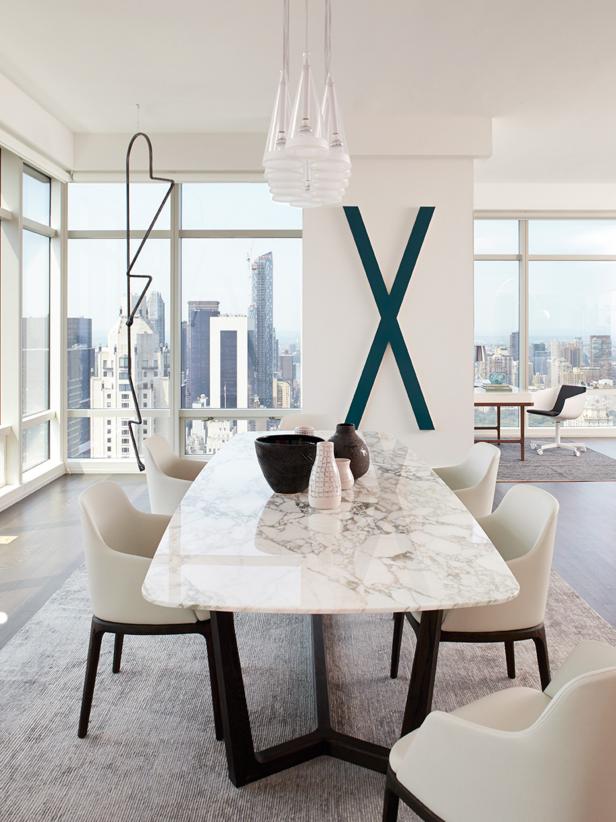 White Contemporary Urban Dining Room With City View
A Calacatta marble table, chosen especially for this urban dining room, feels both classic and contemporary. Its geometric base echoes the planes and angles of the surrounding skyline.
Marble is a prominent material in Paris apartments. Real marble requires care and attention, but faux marble is a great option. If you don't want to go all in, try a few stylish marble decor pieces on your shelves or your coffee table.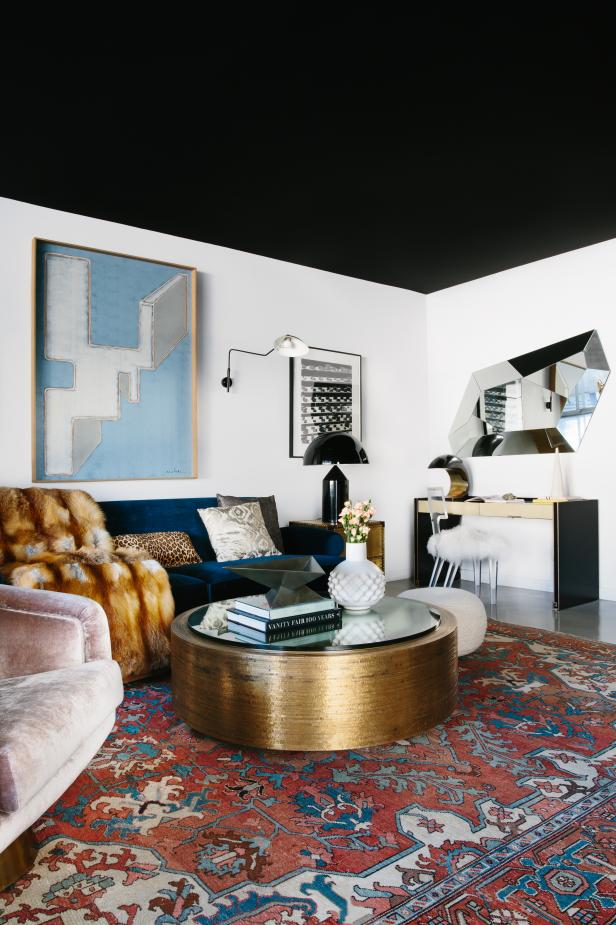 Modern Living Room With Desk and Round Coffee Table
This modern living room features a round, metallic coffee table, a blue sofa with faux fur throw, a red patterned rug and a work desk with abstract geometric mirror.
Metal is a popular element in furniture, furnishings and decor. Don't stick to all brass or chrome — mix different metals, instead.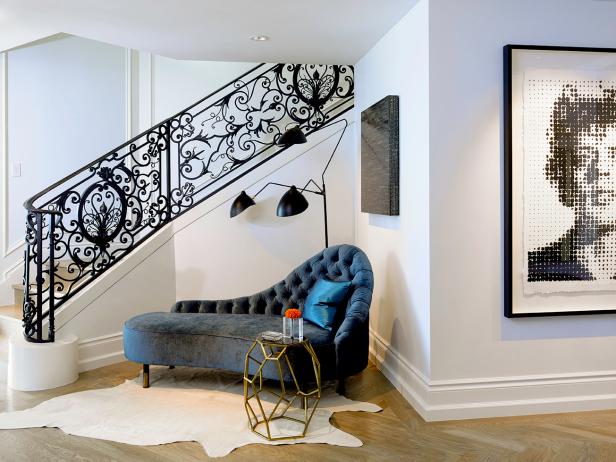 Entryway Features Plush Chaise and Intricate Railing
Every corner is utilized in the penthouse - even the space beside the staircase. The cozy corner includes a plush chaise lounge, a small geometric side table and a solid white cowhide rug.
Architectural elements are a great way to add real character to your home. A wrought iron staircase is the perfect spot to incorporate unexpected detail. You can also incorporate wrought iron on a front or back door or an outdoor gate.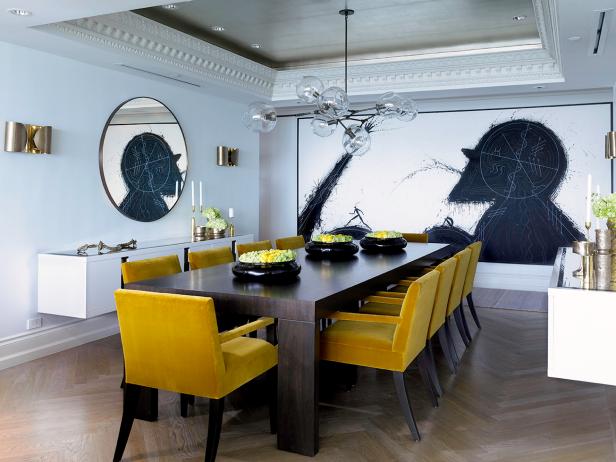 Chic, Contemporary Dining Room With Mustard Yellow Chairs
Cheery mustard yellow chairs add pizzazz to this sophisticated dining room. A pair of floating buffets on either side of the table provide storage for dinnerware, and the large piece of wall art at the head of the table completes the chic design.
Instead of laying your hardwood floors in a typical vertical pattern, lay them in a herringbone pattern to create more visual interest. You can choose to do this in only one room for a dramatic effect.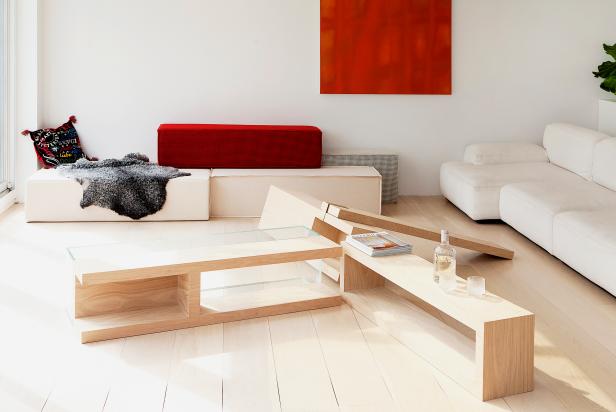 Modern Living Room with Wood Plank Table and Bold Red Art
Bold geometric shapes make up this modern living room. Instead of a traditional coffee table, this piece offers a unique focal point to the room.
While a bit harder to pull off, using furniture as art in your home is a true Parisian design element. Make a statement in your home by choosing truly unique pieces and using your creativity.