Hugely popular in the early 1900s, bungalows, craftsman-style homes can still charm home buyers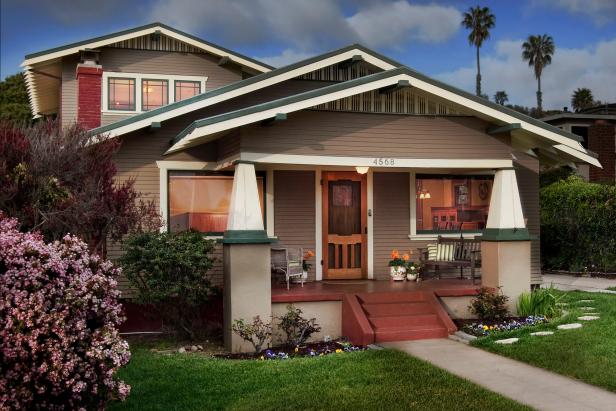 Brown Craftsman Bungalow Exterior and Porch
This San Diego bungalow beauty shows off classic Craftsman lines, highlighted by a soft brown exterior with hunter green and white trim.
"Pretense and the bungalow are mortal enemies—and it is against pretense that the good taste of the world should combine."
- 1913 Tacoma Daily Ledger
"To the land of the fruit and honey,
Where it does not take much money,
to own a little bungalow."
- from In the Land of the Bungalow by George F. Devereaux
The country was prosperous, and all it took to build your own little craftsman-style bungalow was a kit of precut wood and plumbing shipped to you by Sears, Roebuck and Co.
Homeowners loved their affordable little bungalows, with wide porches, low-hanging eaves and sturdy porch columns.
Nine decades later, neighborhoods are filled with Victorians, Queen Annes, ramblers, I-houses and mansions. But there is still a place of craftsman-style bungalows.
And bungalows are back. New developments are filled with row upon row of houses with wide porches, low-hanging eaves and sturdy porch columns.
"It's basically a trend that's coming back in," said Steve Jensen, owner of a construction company that built a new development in Tacoma, Wash., filled with $350,000 homes with bungalow shape and craftsman touches. "We've kind of modified it to the new market," Jensen said, referring to the spacious kitchens and vaulted ceilings you'd never find in a true bungalow.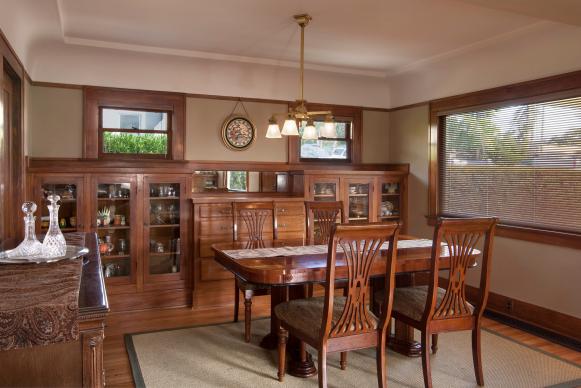 Neutral Craftsman Dining Room With Built-In Cabinets
In this Craftsman-style dining room, a built-in bank of cabinets is shown off beautifully by the light brown walls.
Enthusiasm for bungalow homes became a mania in the 1910s and '20s. Even the word was new, exciting and fashionable: bungalow.
It's a corrupt form of a Bengali word, and the design for bungalows came from India, where houses with wide, wraparound porches were popular with the British army.
Bungalows first took hold in Southern California, where they were built with open sleeping porches and sometimes with canvas walls to make "tent bungalows." You don't have to go to Los Angeles to see the bungalows there—just rent movies shot in L.A., such as "L.A. Confidential" and "Devil in a Blue Dress."
They spread throughout the country and the world. Vancouver, British Columbia, has a huge number of bungalows, as does Australia.
Architectural historians believe bungalows came along at a time the nation was filled with "self-confidence and chauvinistic pride," said author John Milnes Baker. The American way of life was touted as informal, healthy, wholesome. Americans wanted homes that reflected that life.
"It's a more casual home style and a more comfortable lifestyle," said Elizabeth Anderson, Tacoma's historic preservation officer, of the simplified bungalows that fill Tacoma and its environs.
"It flows. It's not like a hall-and-parlor house where it's rather controlled—there's the entry into the stairs from the hall, the entry into the parlor from the hall. This bungalow style does exemplify a social style which is less formal."
But even better, the bungalow met high ideals. Gustav Stickley, the original designer of craftsman homes and furniture, wrote that he wanted his home designs "to substitute the luxury of taste for the luxury of costliness; to teach that beauty does not imply elaboration or ornament; to employ only those forms and materials which make for simplicity, individuality and dignity of effect."
Bungalows united simplicity and artistry, and they were one of the first home styles that seemed truly American.
Bungalows were promoted prodigiously, not by top architecture magazines, but in popular ones like Ladies Home Journal. Plus there were the specialized magazines, like Stickley's Craftsman magazine and Bungalow magazine published by self-styled "Bungalow Man" Henry Wilson of Seattle. Each issue of each magazine featured the plans for a different bungalow home.
Building companies published dozens of "bungalow books," cheap softcover books that advertised rough plans for more bungalow homes. Like the magazines, readers could send in $5 for a full set of detailed plans, often drafted up by anonymous journeymen architects.
Or, for less than $1,000, a would-be homeowner could open the Sears catalog and order everything it took to build a house.
Sears, Aladdin Redi-Cut and many regional ready-cut companies let owners pick their home design, then sold them the plans and a boxcar full of all the lumber, wallboard and plumbing fixtures they would need to build it. The kit would arrive at the local train station, ready for assembly, like a giant Tinker Toy set.
Matt Shrader, of Tacoma, figures his home is a Sears plan No. 21, with an extra porch. He lives in a 1922 home
"All of the original detail is inside," Shrader said. "We've got the built-ins and the fireplace and the tile. When we got here, it had teal carpeting, and we pulled that up. It was all painted white, so we spent five days sanding it. It's all quarter-sawn oak. It'd be $50,000 to put this floor in now. We were stunned."
Bungalow is usually described as a form, not a style. It can have detailing that makes it a certain style—and experts agree that most bungalows are arts-and-crafts style, or a simplified craftsman style. A bungalow generally has most of these qualities:
Built 1900-1929.

One or one-and-a-half stories.

Overhanging eaves.

Generous porch.

Heavy columns on the porch, often with rock or stone supports.

Double-hung windows, sometimes with the top section divided into three or six sections.

Living room joined to the dining room with an arch or columns between.

Built-in cabinets or sideboard.

Small kitchen.

Living room doubles as the family room.

Fireplace.
Do I live in an imitation craftsman bungalow?
Many houses often have craftsman exteriors, but some have features which definitely are not bungalows:
Vaulted ceilings.

Porches less than 6 feet deep.

Garage in the front of the house.

A big kitchen.
The 19th century Arts and Crafts Movement sparked the Craftsman and bungalow styles.
Designer Mark Williams shares how he improved the design of a 1920s bungalow kitchen to blend seamlessly with the rest of the house.