Curb Appeal Tips for Craftsman-Style Homes
Make your Arts and Crafts treasure shine with these simple landscaping and home maintenance tips from top experts.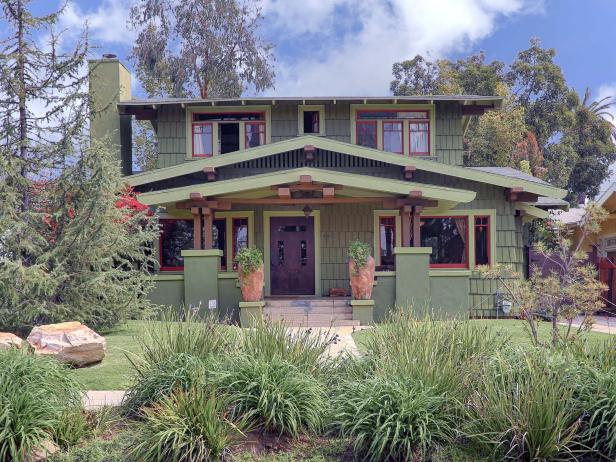 Olive Green Craftsman-Style Home
John Barrentine and Chuck Marquardt of the RED Real Estate Group recently sold this stunning Craftsman in Los Angeles' Hancock Park neighborhood, and affirm that the discerning use of color, including classic red and yellow on an olive background, added immensely to the curb appeal.
One of the most popular architectural styles in the country right now is American Craftsman, which originated in the final years of the 19th century, experienced a revival in the 1930s, and has become outrageously popular again in the 21st century. Also known as "Arts and Crafts," you're seeing more of the style's traditional gabled roofs, overhanging eaves, tapered and square columns and handcrafted stone or woodwork on recently designed homes, in another example of what's old is new again.
If you're lucky enough to live in an established neighborhood full of original Craftsman homes, you might notice that your home is looking a bit shabby, and could use a little touching up.
If you're building a new house in this style, you've already realized that Craftsman homes lend themselves to unique landscaping and exterior features — what works on a Tudor or Mediterranean looks out of place on a Craftsman.
We've consulted a host of experts, from real estate agents to landscape designers to architects and beyond, who gave their best advice for boosting a Craftsman home's curb appeal. Whether you're getting ready to sell and want to get top dollar, or just feel like making your residence a better place to come home to, we have some excellent suggestions.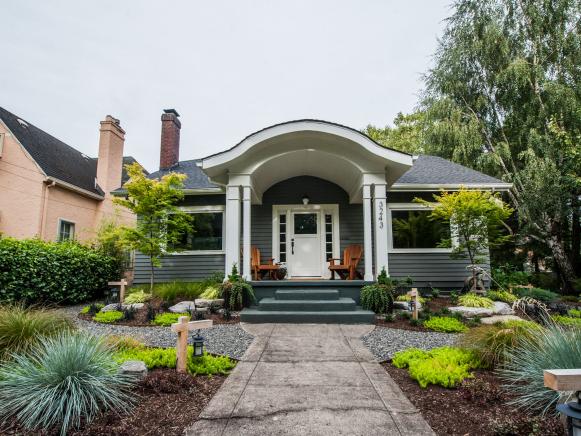 Gray Craftsman-Style Home With White Trim
Jenelle Isaacson of Living Room Realty played up the architectural details of this home's trim by playing down the body color of the home. She found the perfect dark gray for the base that worked with the indirect light of the Oregon skies. Next, she painted the door details, columns and porch ceilings a simple white, really making them pop.
Jenelle Isaacson, Living Room Realty
Make It a House of a Different Color: Craftsman-style homes lend themselves to distinctive color combinations, but it takes a tasteful palette to do your home justice without making it look jarring or ill-fitting with the rest of the neighborhood.
Jenelle Isaacson, owner of Living Room Realty, a real
 estate firm specializing in Portland's urban neighborhoods, suggests playing it up by playing it down. "You can play up architectural details, such as columns, by playing down 
the body color of the home," she says, explaining how they repainted a pastel-colored Craftsman with the perfect
 dark gray for the body, which worked with the indirect light of the Portland skies.
 Then, she says, "painting the door details, columns and porch ceilings a simple white really 
made them pop and showed off the home's unique characteristics. The charcoal
 grey on the foundation (porch, stairs) helped anchor the home to the ground
 and created a nice backdrop for landscaping around the base of the house."
The experts at The Plan Collection, a leading online site for reasonably priced house plans, have another suggestion: "Many homeowners tend to be extremely cautious when it comes to choosing a paint color and color scheme for their home. The result is often an entire neighborhood painted in white or off-white. Fortunately, many Craftsman house plans include stone masonry or rooflines that break up the exterior facade. The smaller paint surface area allows you to be a bit more creative with your home's paint color. Embrace red, yellow or even olive as part of your color palette."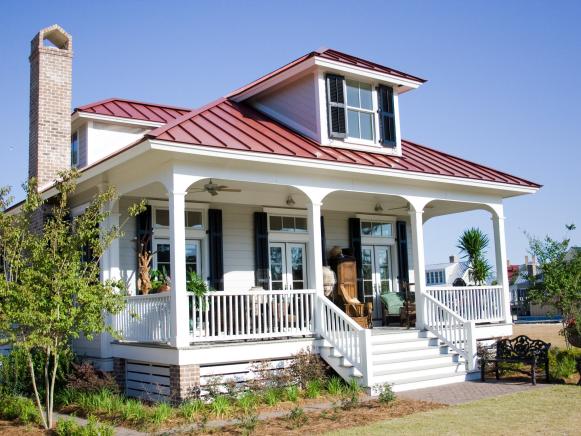 White Craftsman-Style Cottage
A cheerful boating community called River Dunes located on the intercoastal waterway near New Bern, N.C., used materials from AZEK on their exterior surfaces like trim, moldings, porch and railings. The materials don't crack, warp or need to be painted but hold paint very well if desired, all of which is important near the water.
Amp Up the Architectural Features: One of the advantages of owning a Craftsman home is its strong "bones." Most have a sturdy, defined structure with clean yet prominent lines and exterior details. Making these details shine might be as simple as pressure washing the exterior, cleaning out gutters, and cleaning windows and screens, according to the folks at Homes.com, a leading online real estate listings and lifestyle site.
But sometimes it's a bit more complicated. Old wood tends to rot, fade and splinter, not to mention the havoc wreaked by termites. But there are ways to make yours look fresh and attractive, rather than shabby and seedy. If your porch planks, columns, trims, decking, railings, etc., need to be replaced rather than repaired, consider using low-maintenance, high-performance materials like AZEK Building Products. These materials don't require painting for protection, so you don't have to worry about cracking, warping or moisture absorption. This is especially helpful in homes near the water. A clever little intercoastal waterway community called River Dunes, located near New Bern, N.C., used these low-maintenance materials on many of their structures, and residents were thrilled with the results.
If the damage to your porch is cosmetic rather than structural, try giving it an inexpensive makeover in about four hours with a product like Behr Deckover, which primes, coats and seals all at the same time. That's a great DIY fix that won't break the bank.
For a grand entry, The Plan Collection experts advise using a bold color or a rich stain on the front door to create a positive feeling even before stepping inside. An older-styled, weathered front door can make the entire home feel out of date, according to the folks at Homes.com. "Sometimes the front door just needs a great clean, but other times it may be time for a fresh coat of paint."
Lighten Up on Landscaping: If your home is several decades old, landscaping can often be your worst enemy, according the experts at The Plan Collection. "Overgrown shrubbery and trees can make even the most well-designed and maintained house look uninviting," they say. "Sometimes those shrubs and trees can be saved and the curb appeal improved with significant pruning. More often, we find selectively replacing those plants that are just too overgrown or close to the home will go a long way to improving the overall landscaping while enhancing the home's exterior."
Sharon McRill of the Betty Brigade, a
 personal assistance company based in Ann Arbor, Mich., advises trimming back tree limbs, keeping the trunk areas groomed, and letting light into the house by trimming shrubs and bushes so they aren't blocking the windows.
Framing out the walkway also helps, according to the experts at Homes.com. Depending on what climate you live in, you can use plants, flowers and ivy, or even large rocks in interesting patterns. Another great option is to edge your walkway with the same stone, brick or cement used on your home's exterior.
And finally, you should consider getting rid of the dated plants that have been growing in the yard since the house was built. Examples of these include be overgrown, messy Bird of Paradise and juniper bushes that your grandmother's gardener used to clip into roundish-blobs. Also, say goodbye to spider web-infested hedges.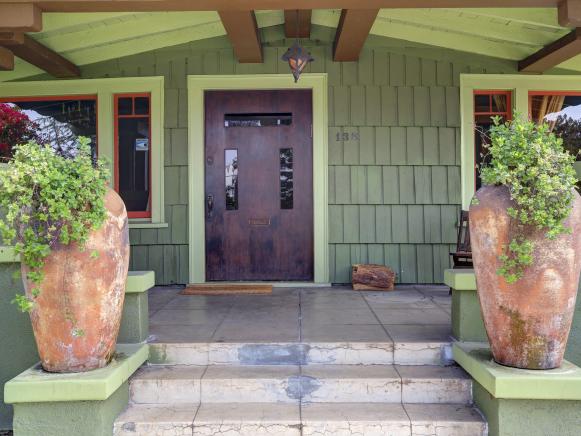 Inviting Craftsman-Style Home Entrance
A bold color or a rich stain on an interesting front door can create a positive feeling about a home even before you head inside. This uniquely designed front door helped John Barrentine and Chuck Marquardt of the RED Real Estate Group sell this Hancock Park, Calif., Craftsman quickly.
Accessorize, Accessorize, Accessorize: Just as the perfect outfit isn't finished until the right shoes, belt and jewelry are added, your house needs carefully considered accessories as well. Lighting, door mats, porch furniture, and hardware can really improve the curb appeal of your Craftsman-style home.
When it comes to lighting, there are myriad options for the Craftsman, and nothing adds to the appeal like a lantern near the front door. Make your life easier by selecting one made of a low-maintenance material that doesn't need to be polished consistently. McRill suggests making sure all exterior lights are clean, have new bulbs, and are in good working order.
One of the great features of a Craftsman-style home is the porch, which is often deep and spacious. This can be a drawback, however, if you allow junk to accumulate there. Sometimes heavy items don't quite make it down to the curb for collection, and other times faded and shabby furniture goes overlooked because it's been there for so long. It's a good idea to clean off the porch of anything that wasn't meant to be there.
But don't throw the baby out with the bathwater. The right furniture can give visitors or potential buyers an excellent first – and probably lasting – impression. Jon Lichterman of Rodeo Realty advises you to consider adding Craftsman or Arts and Crafts-style rocking chairs or planters.
A common problem with Craftsman-style homes is that sometimes we've lived in them and loved them for so long we're no longer objective about their looks. Certain features fall into disrepair and we don't even see them. Probably the most helpful tip of all would be to stand back on the curb and look with a fresh eye. Imagine you're a potential buyer, seeing the house for the first time. You might want to rethink that foil-wrapped poinsettia pot that's been sitting on the front porch since Christmas, and replace it with cheery planter full of fresh blooms.