The Ultimate Guide to White Paint
If you're painting your walls white, the options are endless. This handbook from HGTV Magazine will help you find the right one.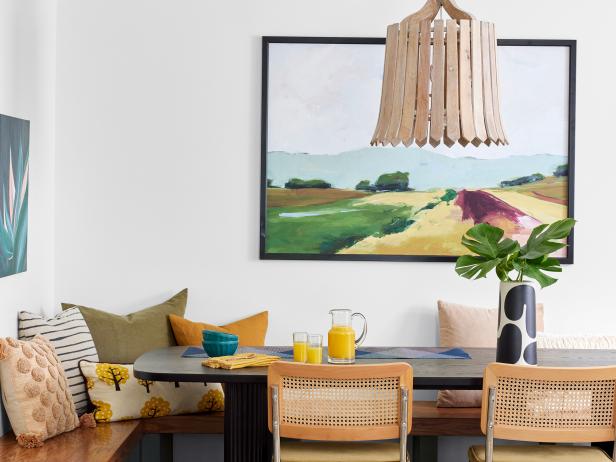 Kitchen Breakfast Nook With White Paint
This white breakfast nook from HGTV Magazine features a wood pendant light, landscape art and a green banquette.
Choosing a white paint is one of the toughest design decisions you'll ever have to make: More than 600 shades exist among the major paint companies, and they're more different than you might imagine. If you grab some chips and compare them up close, you'll notice they have varying undertones (some skew yellow, some blue), and they can change from one room to the next, depending on the light. What all white paints have in common is their ability to instantly refresh a room, says Erika Woelfel, vice president of color and creative services for Behr, which named a creamy ivory, Blank Canvas, its 2023 color of the year. "We chose a white because the color is versatile and comforting, and it gives you a sense of renewal." Read on for help narrowing down the options.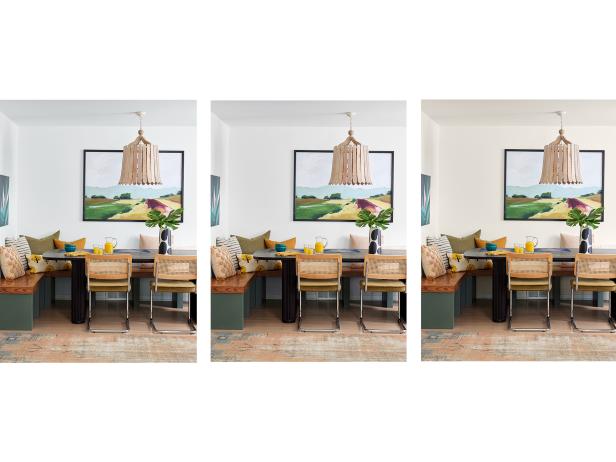 White Paint: Three Ways
HGTV Magazine shows the difference between cool, neutral and warm white paints in this breakfast nook.
These shades have blue, green or purple undertones, so they appear crisp and icy. They work well in modern spaces and can brighten up dark brick or wood. They're best in rooms with ample sunlight; they can appear dull in the shade. In the first image above, the blue-green undertones in the wall color complement the landscape painting.
Minimal undertones keep these shades from favoring any one color palette, so they're incredibly versatile. Galleries often use neutral whites to make the art pop; furniture and fabric also stand out against them, as seen in the second image above.
Subtle hints of yellow, orange and red give these shades a cozy feel. They're great in traditional spaces, regardless of sunlight: In dark rooms, they add a welcoming glow; in sunny rooms, they enhance the natural light. For example, the creamy shade in the final image makes this spot feel bathed in sunlight.
The White Paint Whisperer
Few designers love white paint as much as Leanne Ford. "I think my brain is so busy that I crave visual simplicity, and a coat of white paint does that," says the Home Again with the Fords star. To keep white walls from looking stark, she adds cream-colored pieces and layers in textured materials. Try it at home, and then just … relax.
Leanne's go-to is Ultra Pure White by Behr (shown below). "Friends always ask me what I use, and this is my forever suggestion."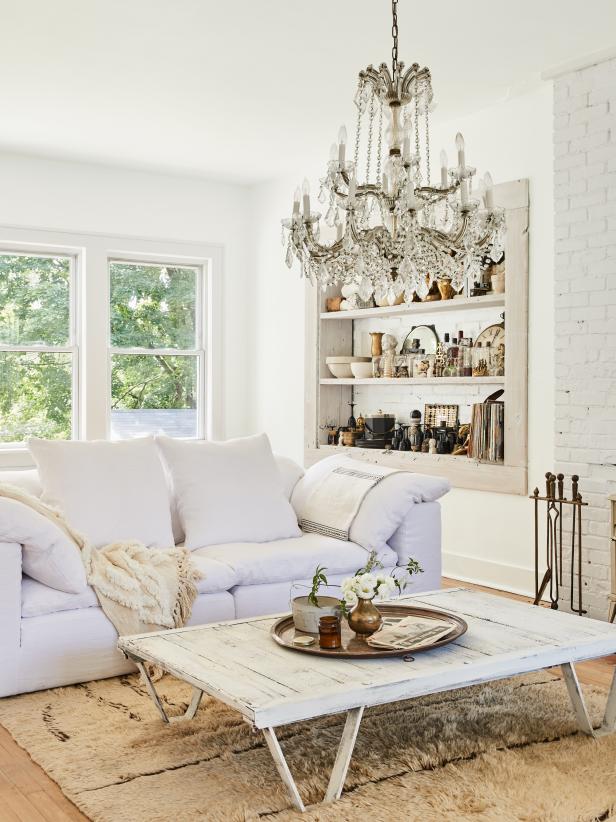 Shabby Chic White Living Room
This white and beige living room designed by Leanne Ford features layers of texture and vintage-inspired decor.
More Suggestions From the Stars