11 Clever, Crafty Ways to Use the Things You're Hoarding
You know those wine corks, Mason jars and spare buttons you've been saving for future craft projects? Here are 11 DIYs you'll actually want to use them on.
If you're a crafter, chances are you've got some buttons, wine corks, yarn or fabric stashed away for future crafting endeavors. Or maybe you're the type who can't bear to part with back issues of your favorite magazines, well-worn clothes or toys your kids have outgrown. Either way, you've probably got some stuff cluttering up your home that you'd like to do something with. Well, we've got you covered. Try these 11 decorative and functional ways to actually use all those items you've been saving "for someday."
Mason Jars = Hanging Storage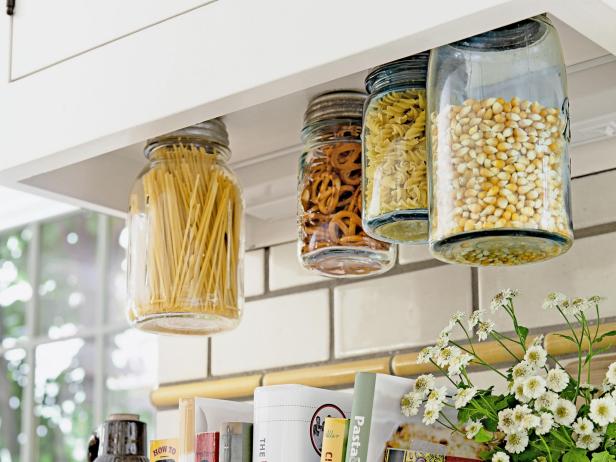 Hanging Glass Mason Jar Storage for Kitchens
Ditch the cardboard boxes and plastic bags that go with your cereal, snacks and dry goods. They're ugly, take up lots of space and don't keep your food fresh. Instead, opt for glass jars or airtight food storage containers. Steal this idea for DIY hanging mason jar storage from Shannon Quimby's recycled kitchen, as seen in HGTV Magazine.
Ahh, Mason jars. You probably have a Pinterest board chockfull of ways to craft with them and a cabinet overflowing with unused ones. Here's a Mason jar project from HGTV Magazine that's both pretty and practical: mount them to the underside of your kitchen cabinets for extra storage.
Glass Bottles = Hand-Painted Vases
Bohemian-Inspired Vases and Jars
With a few simple drawing techniques, make these bohemian-inspired jars to decorate your home.
If a hoard of pretty beverage bottles or food storage jars is eating up your precious storage space, make them into a cohesive collection you'll want to display with hand-drawn, bohemian-inspired designs. All you need is an oil-based paint marker to create these stylish vases.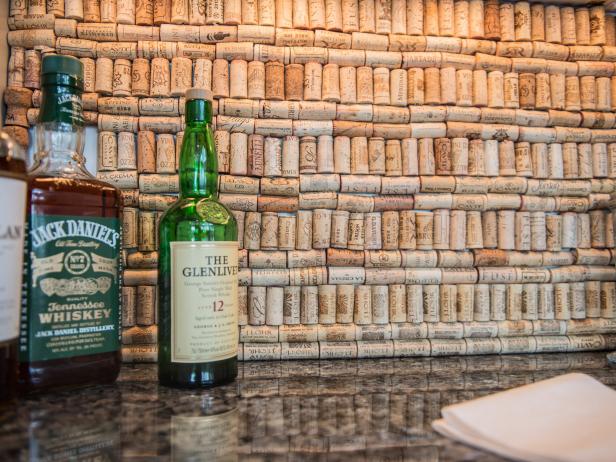 Wine Cork Backsplash
To give a wet bar a dose of witty personality, consider an easy DIY project: covering the backsplash area with used corks. "It's a great conversation-starter," says Luke Perisich of Blue Sky Building Company. "If anyone asks, just claim you can't remember drinking all those bottles."
If you've been collecting the corks from every bottle of wine you've imbibed over the years, showcase them with a DIY backsplash. In this bar area, Luke Perisich of Blue Sky Building Company alternated horizontally and vertically stacked corks for visual interest.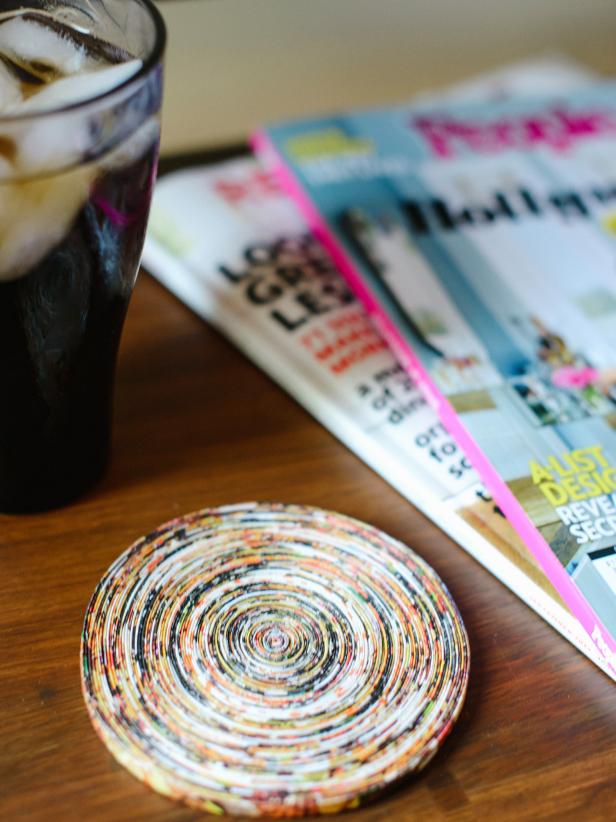 DIY Magazine Coasters
Bring a burst of color and pattern to your table with coasters made from upcycled magazine pages. Tear out pages, then fold each page into 1/4-inch strips and coat with rubber cement. Next, cut approximately 25 strips and place them to the side. Unfurl a paper clip and wrap the first strip around, creating a perfect hole for the center of the coaster. Once the first strip is wrapped around the paper clip, keep it securely wound with a bead of hot glue. Continue to roll the strip around the paper clip, then layer other strips on top, securing each strip to one another with glue. Once the shape of a coaster takes shape, secure the very end of the last strip in place with glue.
Even if you only have a handful of subscriptions, magazines can quickly stack up in your home and create clutter. Repurpose old issues into these colorful coasters.
Silhouette Art
Put a playful spin on classic game taxidermy with silhouette pop art. Paint the surface of the cardboard backing in a picture frame, then trace the silhouette of a buck head to the backing with a pencil. Cover the traced silhouette with colorful buttons, fastening them in place with hot glue.
If a bag of buttons is lurking in your house somewhere (for garments you may or may not even own anymore), give them a new purpose as adorable wall art. Paint the cardboard backing in a picture frame, then trace a silhouette to the backing with a pencil. Cover the traced silhouette with colorful buttons, fastening them in place with hot glue.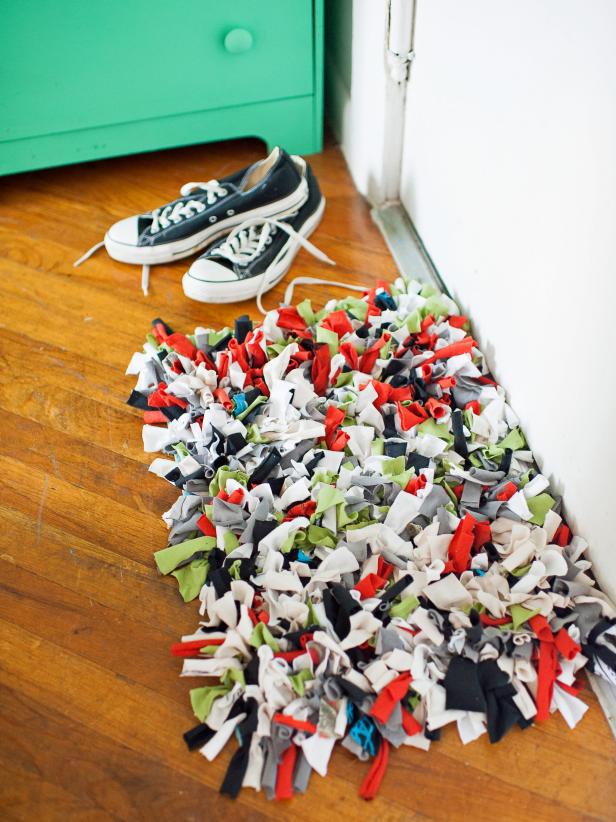 Old T-Shirt Rug
You know that overflowing drawer of T-shirts? Turn them into something functional, like this recycled shirt rug.
5Ks, blood drives, concerts, sports teams — it seems like you get a T-shirt for nearly everything you do these days. If your dresser drawers just can't accommodate any more tees, upcycle some of them into a cute rug for your bathroom, kitchen or mudroom.
Gift Wrap = Servingware Liner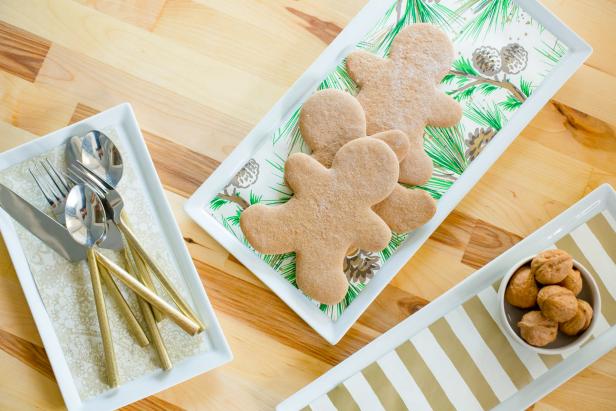 Tray Liners
If you entertain year round, take your servingware to the next level. Trim your gift wrap to size, then line your favorite trays and platters to give them a fresh and sophisticated look.
Flynnside Out Productions
Don't you hate it when you get to the end of a roll of wrapping paper, and you're stuck with a piece that's just barely too small for your present? Instead of saving it for a gift that's just the right size, use it to dress up your servingware the next time you entertain. Just trim the gift wrap to size, then line your favorite trays and platters to give them a fresh, sophisticated look.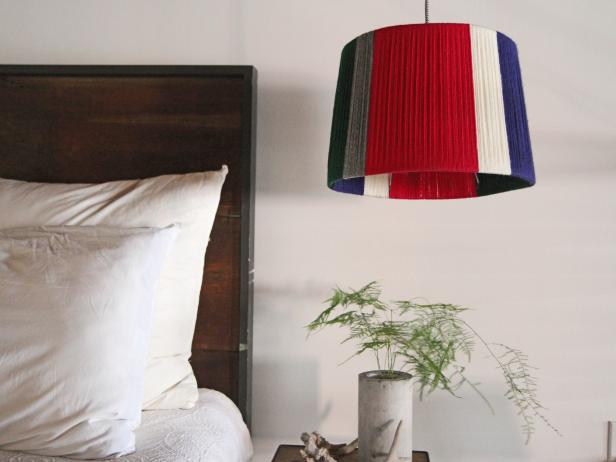 Colorful Yarn Lampshade
Wrap several different colors of yarn around a lampshade to create a one-of-a-kind lampshade.
So your knitting or crocheting hobby didn't pan out — that's okay. Use up the yarn that's lying around by making this super-easy lampshade. If you can tie a knot, you can do this project.
If you've recently finished up a painting project at home, chances are you have some paint chips lying around. Make this easy geometric paint chip art to fill in bare spots on your walls.
Your child never plays with his formerly beloved animal figurines anymore, but you can't bring yourself to part with them. With a can of spray paint, transform them into colorful, sturdy bookends to dress up your bookshelves.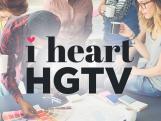 Get to know the talented writers and editors of HGTV's show and design blog. 
Go Behind the Blog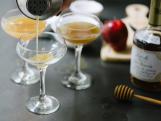 Take a look back at our past posts, from entertaining and design trends to up-and-coming HGTV shows.  
Read All Our Past Posts