How to Make a Map-Embellished Vase
Use a map of a favorite location to give a plain glass vase or votive a globe-trotting makeover.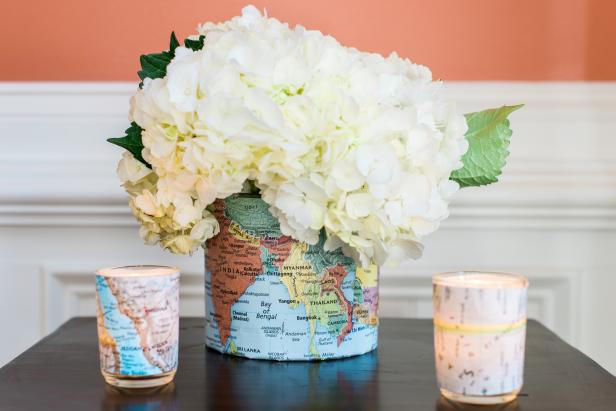 DIY Map Floral Vessel & Votives
Colorful maps add a classic touch to glass vessels and votives. You'll need the following materials for this project: an assortment of glass votive candle holders and vases, scissors, maps, a pencil, a ruler or straight edge and double-sided tape.
straight-sided glass vase (or votive)
scissors
maps (choose maps with meaning, like your hometown or favorite vacation spot)
pencil
ruler or straight edge
double-sided tape
Place the votive or vase on top of the map. Pencil in lines to mark just below the top and just above the bottom of the vessel (Image 1). Lay the ruler or straight edge on the pencil lines drawn on the map and extend them out to create cutting guidelines (Image 2). Cut along the pencil lines to create a strip that's slightly shorter than the height of the vessel and long enough to wrap around the vase with a slight overlap (Image 3). Tip: If necessary, cut a slightly inverted curve at the bottom of the map strip to better contour to your vase.
Apply a strip of double-sided tape to one inside edge of the map strip and press onto vase (Image 1). Add another piece of tape to the back of the unsecured end of the map strip, wrap around vase and press to secure (Image 2). If necessary, trim off any excess length (Image 3).
Create a globe-trotting centerpiece by filling a vase with flowers (Image 1). Or, add a candle to light up your favorite destination (Image 2).