How to Make a Blooming Letter Centerpiece
Say it with flowers! Create a stunning centerpiece using seasonal flowers and inexpensive papier mache letters.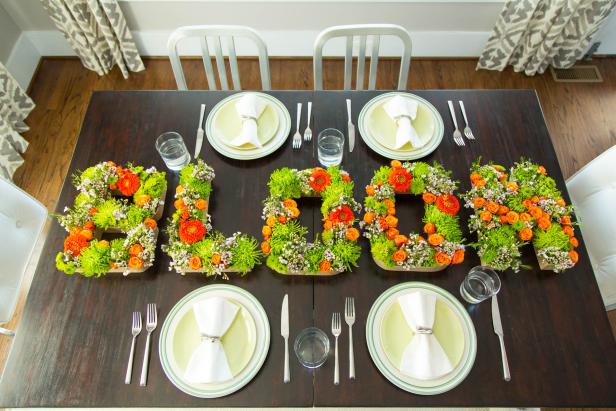 DIY Bloom Letter Centerpiece
Create a stunning centerpiece for your spring table using seasonal flowers and paper mache letters. Gather the following materials for this project: a craft knife, paper mache letters, floral foam, fresh flowers and pruning shears.
craft knife
papier mache letters (available at your local craft store)
floral foam
fresh flowers
pruning shears
Using the craft knife, carefully cut around the front panel of each papier mache letter and discard (Image 1). Remove the cardboard support inside each letter to make room for the floral foam (Image 2). Cut the floral foam so it fits snugly inside each letter (Image 3).
Use pruning shears to cut the flowers' stems leaving them long enough to firmly anchor the blooms in the floral foam (Image 1). Push flowers into foam, using a variety of colors and bloom shapes to create an eye-catching arrangement (Image 2).