How to Make Ice Cream Cone Party Hats
Basic craft supplies are all you'll need to whip up these playful party hats that kids will love wearing during the party and can take home as a fun favor.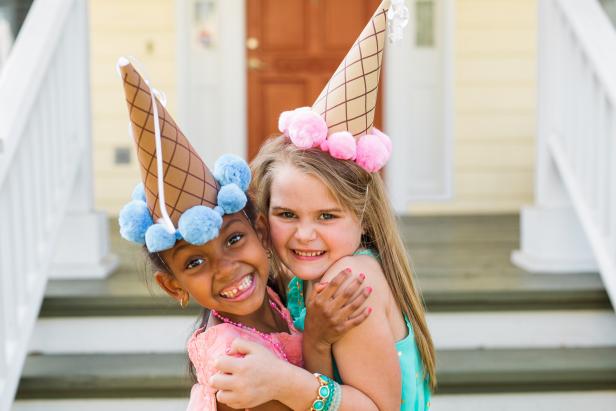 Ice Cream Cone Hats
Keep the kids entertained at their next party with this whimsical hat project. You'll need: brown or tan card stock, brown marker, scissors, craft knife, hole punch, hot glue gun and glue sticks, 3/8" width elastic, pom poms in pastel colors, ribbon and a downloadable cone template.
brown or tan card stock
brown permanent marker
scissors
craft knife
hole punch
hot glue gun and glue sticks
3/8" wide elastic
pom poms in pastel colors
curling ribbon
ice cream cone template
Print template onto card stock and cut out. Use the craft knife to cut a slit on the end of the paper opposite the tab.
Using a brown marker, draw parallel lines along the paper, rotate, then draw more parallel lines to create a crisscross pattern reminiscent of a waffle cone.
Cut three 12" pieces of curling ribbon. Drag them across the scissors' edge to create curls then glue the curled ribbon to the inside top of the cone.
Insert the tab into the slit to form the cone then secure the seam with hot glue (Image 1). Create holes opposite each other near the cone's base for a chip strap (Image 2). Cut a 12" length of elastic and insert into the holes then tie them off (Image 3).
Attach pom poms around the base of the hat with hot glue (Image 1). Create a display of the finished hats near your party's entrance so kids can choose which one they want to wear when entering the party (Image 2).