Streamlined furnishings were mixed with sparkling accents for a clean, contemporary bathroom design. The designer shares how it all came together.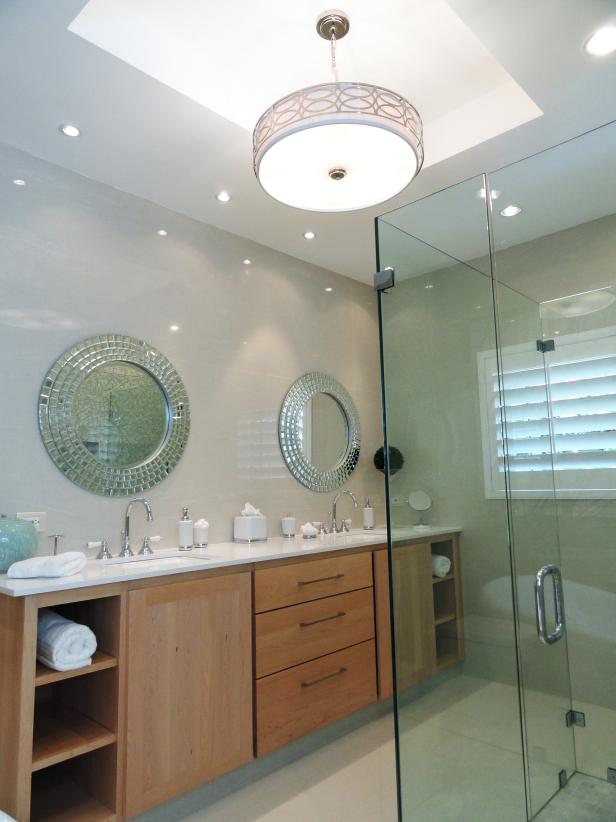 Contemporary Bathroom Vanity
Designer Randall Waddell combines a streamlined wooden vanity with solid-white quartz countertops for a crisp, clean style. A chrome-and-linen chandelier hangs from the tray ceiling, adding ambiance to the room.
Designer Randall Waddell created a $40,000 luxurious bathroom retreat in Trinidad, Caribbean. We caught up with the designer to find out how he conquered design challenges and achieved his goals in this project.
Describe the homeowners' wish list.
The homeowners wanted to create a clean, contemporary space with a timeless aesthetic, where they could see the entire space (no walls or partitions).
What was your biggest obstacle in this space?
The positioning of the elements in the space was critical. I had to relocate all the plumbing and electrical to create the layout I designed for best flow in the space, as the previous layout was dated and not suitable for an open plan.
What were the homeowners' design problems?
To try to allow as much natural light into the bathroom as possible. The previous space did not take advantage of the views.
The bathroom was situated in an advantageous location in the house where large windows benefited the space, and its finished elements with tons of natural light create the feeling of additional size to the space.
How does the end result match up with your original vision?
In this project, mostly everything went to plan. The client was wonderful to work with and allowed my vision to come forth. I modified the lighting plan toward the end of the project to add mood lighting so that elements like the gorgeous soaker tub could be used for relaxation in the evening.
What lessons did you learn?
How well the trades can work together once there is a cohesive plan that allows each to complete their job in tandem with the others. It reminds me that design implementation is always a team effort, and everyone deserves the praise on a job well done.
What are the "hidden gems" in your plan that really made a big difference in the overall success of your design?
The "gems" are the reflective sparkle elements of the space that bring the subdued overall tone of the bathroom to life, including the vanity mirrors, the polished-chrome fixtures with white ceramic handles, the solid-white custom quartz vanity countertop, the solid tempered-glass cube shower enclosure and the chrome-and-linen chandelier set into the tray ceiling.