Feng Shui-Inspired Great Room
Designer Jill May explains how she designed a kitchen and living space with a gray color palette and feng shui design principles.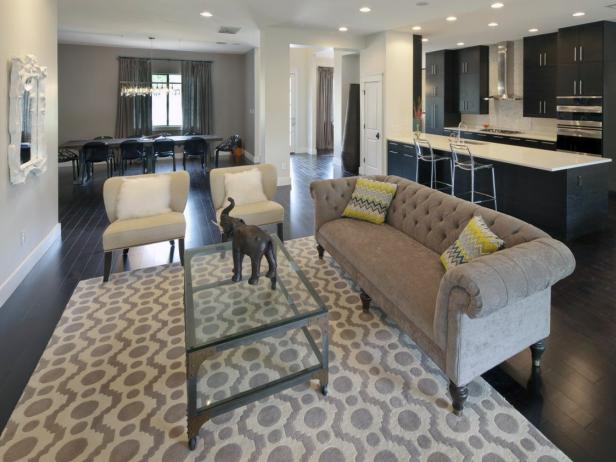 Feng Shui Inspired Living Space
Modern furnishings, muted colors and feng shui principles anchor this open kitchen and living area.
After a fire destroyed their home, homeowners turned to Jill May of Jill May Interiors to remodel a first-floor living space to include an open kitchen, living and dining area.
Drawing on her expertise in feng shui design, Jill uses a gray color palette, modern furnishings and eclectic accents to create a harmonious great room.
What was the design's focus?
The house has a very open concept with the kitchen, stairs, living room, dining room and sitting room all visible.
Each room on the first floor had to both stand on its own and interact perfectly with the other rooms.
How did you approach the design?
Color was an important part of pulling the space together and differentiating each room. When painting a house, the fewer colors you specify, the less expensive the paint job will be.
How does the end result match the original vision?
The house was not a planned remodel. Therefore, the new design was constrained by a budget. We used IKEA cabinetry and were able to make it look extremely high-end because of the clean, modern lines of the house and because of the materials we put around it. We selected remnants of quartz for the counters, so we were able to splurge on the limestone backsplash behind the stove.
What lesson did you learn?
The open nature of this house demanded more precision. Maybe it's the time I spent in China running my antique Chinese furniture and design business, but I try to incorporate feng shui principles of creating harmony in a space because they seem to bring more peace to the people living there.