Cool, Contemporary Bachelor Pad
Designer Hubert May pulls out all the stops to give his client the simple, clean bachelor pad he had hoped for.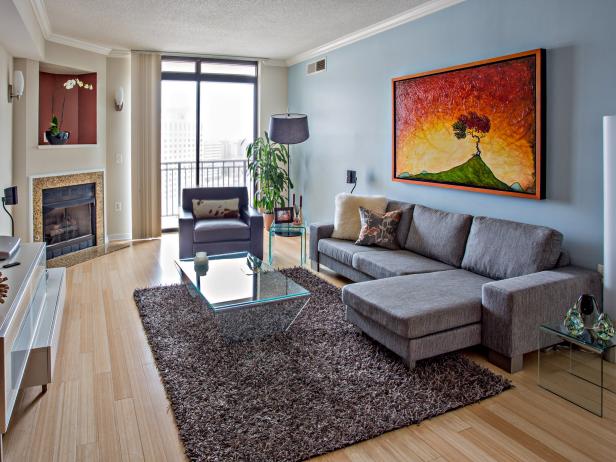 Stylish Bachelor Pad Living Room
This bachelor pad living room has it all: space, style and comfort. A blue wall anchors the gray sofa, while a corner fireplace serves as the room's focal point. A shaggy brown area rug defines the sitting area, which includes a brown leather chair.
Brian Landis, Scripps Networks, LLC
With a fully-formed vision and a $30,000 budget, designer Hubert May was able to redefine a basic bachelor pad, making it a cool, contemporary space that his client loves.
Describe the homeowner's wish list.
The owner was newly divorced, so he wanted a place that was minimal but his kids would find cool.
What was the biggest issue the design addressed?
The linear nature of the space was the biggest issue. It made furniture placement a challenge. We ran new electrical/cable outlets to allow for the desired TV and game system location.
Describe an obstacle in the space.
The biggest obstacle was time. The client thought it would come together as quickly as it does on TV. So I had to manage his expectations, while meeting all deadlines.
How did the end result match your original vision?
It turned out better than originally planned. The client loved my vision so much that he was willing to go over the established budget to ensure our vision for the space was fulfilled.
What lessons did you learn from this project?
Clients will be willing to try new colors, textures or patterns when they're presented in a way they can relate to. I've learned to give clients the opportunity to see new things, so we'll both have a chance to grow.
What are the hidden gems that make a big difference?
The client loves orchids, so I decided to place a pop of color behind it. The Little People Screen hides the condo's heating vent.