First Floor Update Showcasing Natural Colors and Textures
When this family decided to give their home a transitional makeover, designer Katheryn Cowles knew just what to do to turn the entire first floor into a relaxed, neutral and completely beautiful space.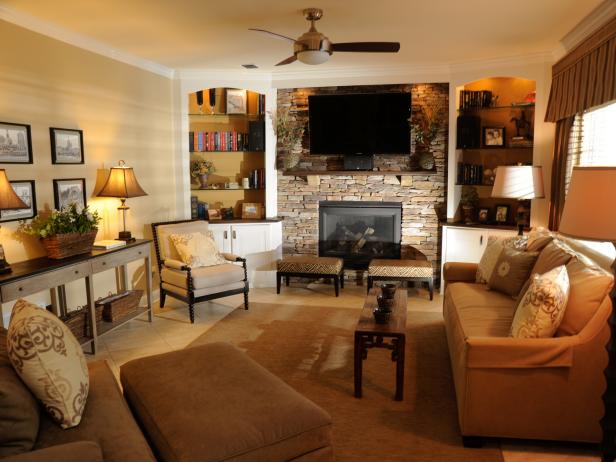 Neutral Transitional Living Room With Stone Fireplace Wall
Photo courtesy of Bruce Grainer
To achieve the transitional look the homeowners desired, designer Katheryn Cowles embraced the home's traditional architecture and added a mix of contemporary and modern design. Colors inspired by nature and soft, textural patterns play up the neutral, earthy vibe the family loves.
Describe the homeowner's wish list.
They wanted an updated look combined with function for the lifestyle of their family of five, featuring transitional style, a neutral color palette, natural fabrics and textural materials.


What was the biggest issue the design addressed?
The homeowners had been using furniture handed down or purchased at the beginning of their marriage. Most of their furniture was oversized and too large for their space. Proper proportions are critical, and the homeowners realized how much the total look and feel of their rooms changed. Everything was more pleasing and inviting with proper sizing.
Natural Colors and Textures Shine in This First Floor Update
See All Photos
Describe an obstacle in the space.
To stay within the allotted budget, I specified medium-priced cabinets. The same applied to furniture and fabrics. To stay within the budget in the family room, we gave the existing bookcases flanking the fireplace a facelift with paint, glass shelves and lighting.
How did the end result match your original vision?
This project was smooth compared to some, and there were no changes.
What are the hidden gems that make a big difference?
This family has been around the world together; so to add a personal touch, we took several of their world travel photographs and transformed them with FotoFlex. This process makes a photograph look like an original watercolor. We framed and hung them over the console in the family room. Over the pantries in the breakfast room, I designed an open, lighted area for displaying collectibles and holiday arrangements. The charging station inside the cabinet at the kitchen entrance and adjacent shoe station for children's shoes is a big hit and functions well for this family. The feeding station is in the same area, tucked under the charging station.