Feminine Master Suite Makeover
Designers Jackie Bayer and Sadie Sanchez of Emerald Hill Interiors created a one-of-a-kind master suite for a homeowner who loves all things feminine, romantic and covered in jewels.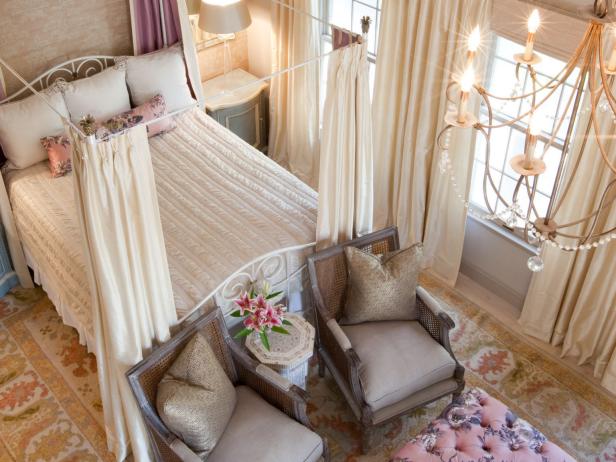 Traditional Romantic Bedroom With Canopy Bed and Chandelier
Drapes mimic the curtains around the canopy bed giving this traditional master bedroom an elegant and romantic feel. A ribbed bed comforter adds texture to the room while an orange, yellow and green rug and pink floral throw pillow and matching tufted bench add color to the neutral theme. The wicker chairs with brown fabric create a small sitting area at the end of the bed.
A disorganized space with a tiny bathroom becomes a luxurious master suite with gorgeous feminine accents and opulent textural details, thanks to designers Jackie Bayer and Sadie Sanchez.
Describe the homeowner's wish list.
The owner wanted a feminine, elegant and well-organized master suite that expressed her love of opulent textures and bejeweled details.
What was the biggest issue the design addressed?
The biggest issue was the petite size of the bathroom in comparison to the soaring ceilings in the bedroom, and how to join those spaces aesthetically and functionally. There was also a lack of sufficient closet space for shoes and clothing. To remedy this, we reconfigured her closets (the footprint and interiors) with custom cabinetry and shelving.
Describe an obstacle in the space.
Our client loves luxurious details, so we had to carefully place them throughout the space, while not overdoing it. That's why we used opulence in small doses, such as the rhinestone buttons on the drapery (on the canopy bed), accent furniture with gold leaf, and the use of pink silks where they would be most impactful, but not overpowering.
How did the end result match your original vision?
We had been searching for an oversized antique rug (10x14) locally and had something specific in mind. We were not able to locate what we were looking for locally, so we broadened our search to other areas and ended up finding something slightly different (but perfect) at a New York auction.
What lessons did you learn from this project?
Editing someone's rooms and implementing certain organizational strategies so they can enjoy a more simple existence really does change lives! Our client had not had the time over the years to stay on top of organization and needed some assistance. Once we implemented these strategies for her, she has been able to enjoy her space without having the stress of feeling like she always has to sort through her belongings.
What are the hidden gems that make a big difference?
There are so many subtle layers in this room that make up the entire design, which we called the Jewel Box. The space features small rhinestone buttons at the pleats on the drapery (on the canopy bed); pink silk contrast lining on the canopy bed panels; and a tone-on-tone damask pattern on the neutral grasscloth wallcovering. And our favorite detail: in the bathroom we recessed a large medicine cabinet in the wall for optimal storage, but used a series of artwork as the door to the cabinet. So when it's closed, it just looks like beautiful art!