Bright Interiors Offer Updated Twist to Southwestern Style
PHX Architecture and Kim Scodro collaborate to bring a bright, fresh look to Southwestern style in this award-winning Scottsdale, Ariz., home.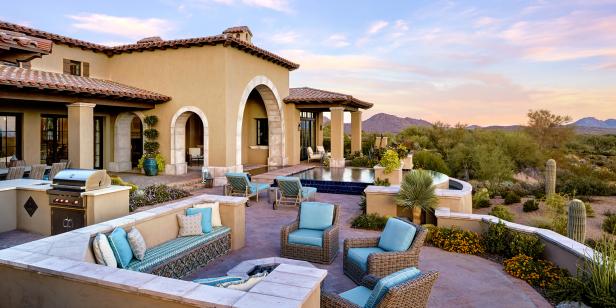 Southwestern-Inspired Patio Perfect for Entertaining
Built-in banquette seating is paired with cozy wicker chairs around a fire pit for a comfortable entertaining and conversation spot. Light blue cushions are used throughout the space and on the pool lounge chairs reflect the stunning blue skies of Arizona.
By the time Kim Scodro was ready to design a new Scottsdale home, she was tired of the Tuscan style seen throughout the Arizona city.
But she knew her favorite style wouldn't quite be right in the middle of the desert, either.

"I would have loved to put up an all-white, brick, East Coast home, but you can't do that. You have to give a nod to what you're surrounded by," says Scodro, owner of Kim Scodro Interiors.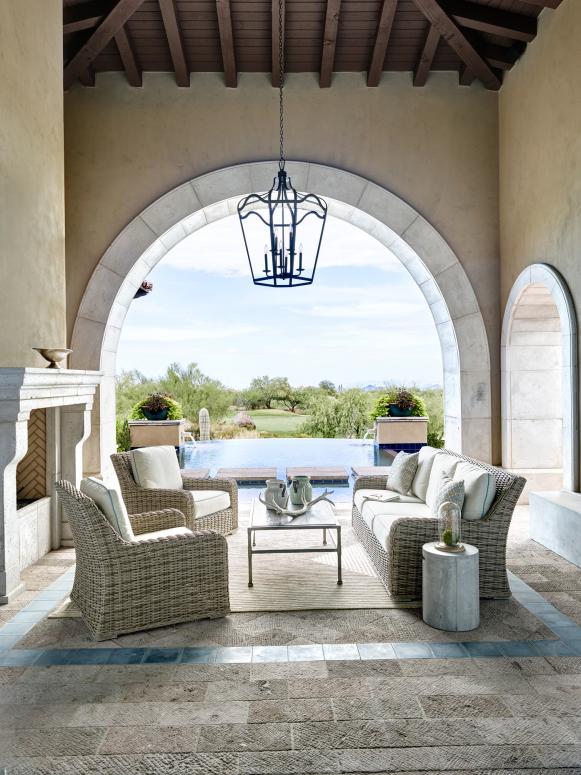 Southwestern Patio is Welcoming, Relaxing
Neutral wicker furniture is combined with a glass coffee table and elegant lantern chandelier for a comfortable outdoor seating area. Exposed wood ceiling, stucco walls and textured neutral brick patio evoke a southwestern feel, overlooking the beautiful pool area.
Scodro worked with Eric B. Peterson, principal of PHX Architecture, to find balance between the disparate styles. Peterson and his team answered with a design that embraced the nearby golf course green, desert sunset and distant city lights and gave Scodro a clean, fresh canvas for her interior designs.
"It needed a fresh look that was different than what most of the interior designers were doing here," Peterson says.
The hansome hacienda-style estate, which was constructed by Scottsdale's Luster Custom Homes, was named the National Association of Home Builders' 2015 Home of the Year.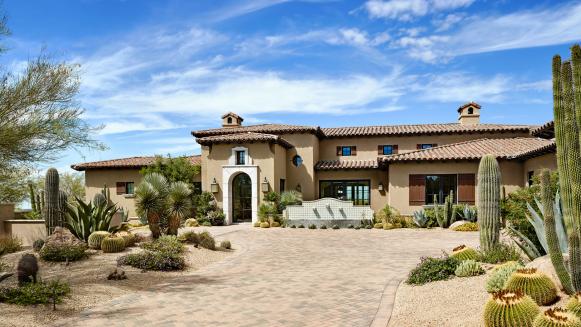 Arizona Home Features Southwestern Style
A neutral paver driveway leads up to a gorgeous southwestern-inspired home with stucco walls and terracotta roof tiles. Desert landscaping, full of cacti and pebbles, reflects and takes full advantage of the Arizona surroundings.
PHX Architecture used a low-pitched tile roof and stucco walls to create a Spanish-influence look to the exterior but eschewed the dark and heavy look commonly found in the interiors of both Mediterranean and Arizona homes.

"Our work is really known for its livability and the human scale and natural light," Peterson says. "(Scodro) weaves thorugh it this gorgeous blue that's just stunning. There's not a lot of that that you see out here."
Instead, the team opted for creamy white finishes for the walls and ceilings, alder wood ceiling beams, built-in reclaimed wood shelving and white oak flooring.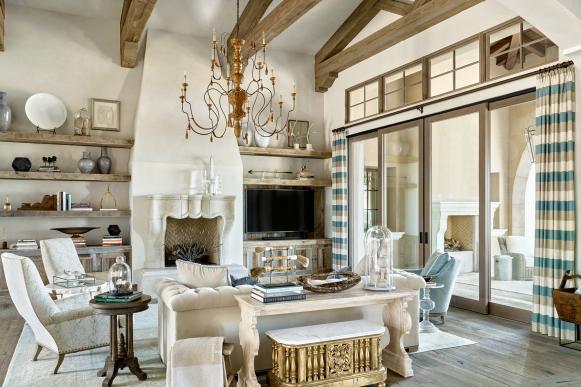 Open, Transitional Living Room is Rustic, Sophisticated
Exposed weathered beams and floating shelves bring a rustic quality to this open, transitional living room. White furniture creates a neutral base for the space, while a muted blue chair and striped curtains add soft color. A large brass chandelier is centered on the space, and the adobe-style fireplace adds a southwestern feel to the room.
Clerestory windows and expansive glass doors facilitate abundant light flow into the home and allow for sweeping views, which start with the infinity pool and well-appointed patio and continue past natural desert landscaping to the nearby golf course.
"The main part was the view," Peterson says. "She really wanted this to feel like an Arizona home instead of a Chicago home."
Inside, four bedrooms are separated from the main living quarters by long hallways to create separation from the public and private areas of the home.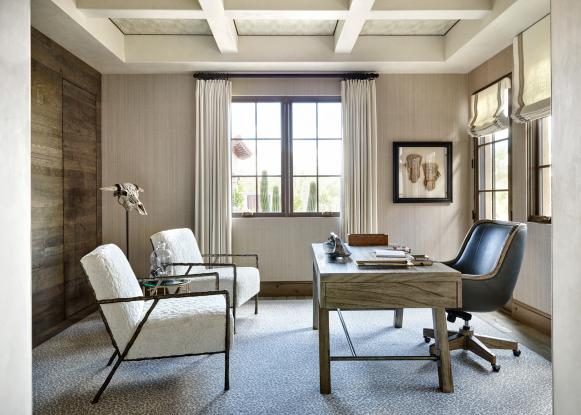 Contemporary Home Office With Southwestern Twist
A sleek wooden desk is paired with a comfy leather chair in this contemporary, southwestern home office. Upholstered fur chairs features a streamlined metal frame, while the speckled area rug brings in lots of visual texture.
Scodro finished the design with high-end touches such as Carrara marble countertops, 18th century Spanish doors and an upholstered ceiling in the home office with hundreds of hand-installed nailheads.
The result is an open and inviting home where all of Scodro's family and friends find themselves welcome.
"It's a place where we can bring everyone together in an oasis," she says. "When we're there, people know we're there and that they're welcome to come over any time."