Inviting Living Room in Lake Tahoe Retreat
Designer Linda McCall creates a charming place for family and friends to gather in this couple's traditional Lake Tahoe getaway.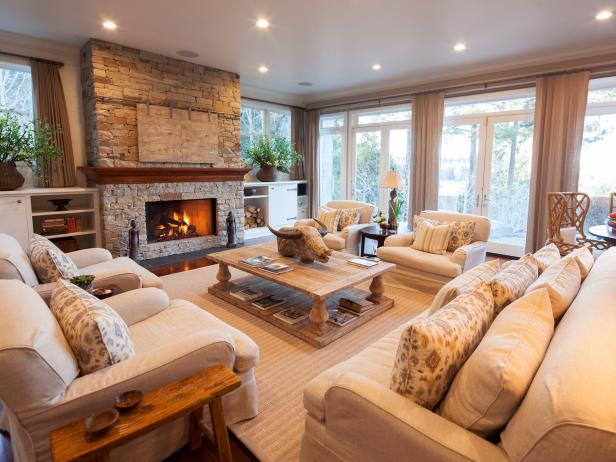 Traditional Living Room With Stone Fireplace
Symmetrical furnishings and a neutral color palette give this traditional living room a simple, clean feel. Great use of texture in the rug, coffee table and stone fireplace create visual depth and make the large space feel intimate.
Jack Wolford, Wolford Interiors
A great escape for the homeowners and the perfect vacation spot for friends and family, this Lake Tahoe home now boasts a traditional living room with personal and eclectic touches. See how designer Linda McCall pulled it all together.
Describe the homeowners' wish list.
The homeowners wanted to create a warm, inviting atmosphere that welcomes family and friends to their Lake Tahoe retreat. It was also necessary to reflect their penchant for an eclectic mix of Nantucket and Asian styles.
What was the biggest issue the design addressed?
While the bones of this 7,000-square-foot home were excellent, it lacked the architectural details that give a space personality and sense of history. Architectural interest was created by adding crown molding and rebuilding the fireplace focal wall to incorporate varying textures such as the distressed wide-plank horizontal paneling and natural stone.
Describe an obstacle in the space.
Creating a sense of intimacy in such a large room was certainly my biggest obstacle! The large area rug I placed in the room anchored the oversized seating area. Casually elegant linen draperies over roller shades on the multiple windows added dimension, texture, warmth and a sense of being enveloped by the room.
How did the end result match your original vision?
From artwork that would roll up to a two-way mirror placed over it, many ideas for concealing the TV were presented. As the project evolved, however, and the fireplace wall as a whole was simply so beautiful, I didn't want anything over the TV that would overpower the fireplace. So I decided to employ the KISS (Keep It Simple, Stupid) rule and incorporate the barn doors that were faux-painted in warm tones to complement (rather than compete with) the stone.
What lessons did you learn from this project?
Originally, I thought such a large room would need some really bold elements in order to balance the space. I was happy when my plan for layering textures and subtle tones had the same effect in creating the feeling of intimacy the homeowners desired.
What are the hidden gems that make a big difference?
I always endeavor to incorporate items that mean something to my homeowners and reflect their personalities: their collections, artwork, family photos, etc. These homeowners, a retired executive and his artist wife, have a keen eye and had items they had collected made into lamps for the space that work perfectly. While difficult to see in the photo, small shims were placed between some boards during construction to create random "cracks." This gave it the appearance of having settled over time and kept it from looking new. Imperfect perfection!