A Kitchen Made For Gathering
Designer Orren Pickell transforms a closed-off kitchen into a bright and spacious hub of the home.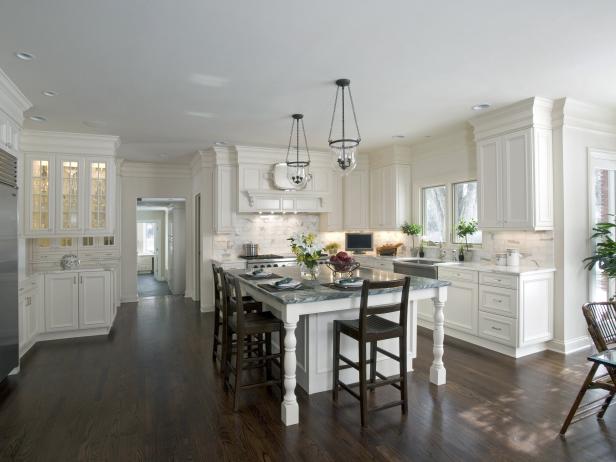 White Cottage Eat-In Kitchen With Glass Pendants
Generous ledges extend beyond the edge of this kitchen's island making a comfortable dining table. The room's dark brown hardwood floors are a grounding contrast to the fresh, white cabinets and walls.
A young couple asked designer Orren Pickell of Orren Pickell Building Group to transform their closed-off 1970s kitchen into a more user-friendly space, so they could both cook and entertain with ease.
Pickell shares how remodeling another part of the home benefitted the new kitchen's design.
What was on the homeowners' wish list?
These young homeowners were eager to add more space to accommodate their growing family. The kitchen remodel was part of a major renovation which included a second floor addition. Because they are a young family, we knew the kitchen would be the hub of the home. It had to be functional for the family yet still be beautifully designed.
What issue did the design address?
This home had not been updated since the 1970s. The kitchen was terribly dated and not accommodating for a family, or even a cook. It was closed off and offered little room for food preperation or gathering. Knowing this family would use their kitchen more than any other room, we wanted to design it for both cooking and gathering while making it easily accessible, open and inviting from the adjoining great room.
How did you address obstacles?
The existing 8-foot ceilings, contributing to the dated and closed off look of the space that we were trying to avoid, made it difficult to update the look of the home and kitchen. With the addition of the second floor, we had the opportunity to raise the ceilings in the great room and kitchen and use the same ceiling treatment throughout. This made the kitchen and adjoining great room look and feel much more spacious and modern.