Designer Orren Pickell designs an efficient, user-friendly kitchen perfect for everyday living and family gatherings.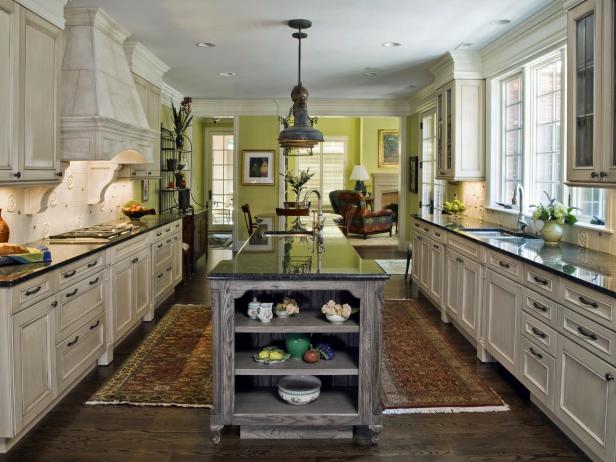 Open, Traditional Kitchen is Family Friendly
Traditional, white cabinets with black countertops line both walls of this open kitchen. A long island, the length of the room, provides tons of extra counter space and storage.
An Illinois couple asks Designer Orren Pickell to update their kitchen and create a space that has a better look and improved function to serve as the true hub of their home.
Pickell shares goals and design challenges that were associated with this kitchen remodel.
What were the main items on the couple's wish list for this remodel?
The homeowners feel that their kitchen is the hub of their home and enjoy hosting family gatherings. They wanted a kitchen they could live in and enjoy, but did not want to compromise fashion for function.
How did you overcome design obstacles?
This was an old house, so finding venting for the hood was a unique challenge. We solved the problem by making modifications in the structure of the home's second floor to ensure it vented to the house's exterior. Matching the floor levels between the old and the new was also a challenge and required meticulous planning.
What are the "hidden gems" in your design?
Aside from the striking limestone hood, everything which makes this room a kitchen is hidden. All the appliances, including the microwave, dishwashers, refrigerators and freezers, are concealed with Orren Pickell Signature Collection cabinetry. We also included radiant heating in the kitchen floors.