Soaking Tub Inspires Zen Bathroom
Designer Matthew Coates creates a luxurious Zen retreat with warm wood and sleek design.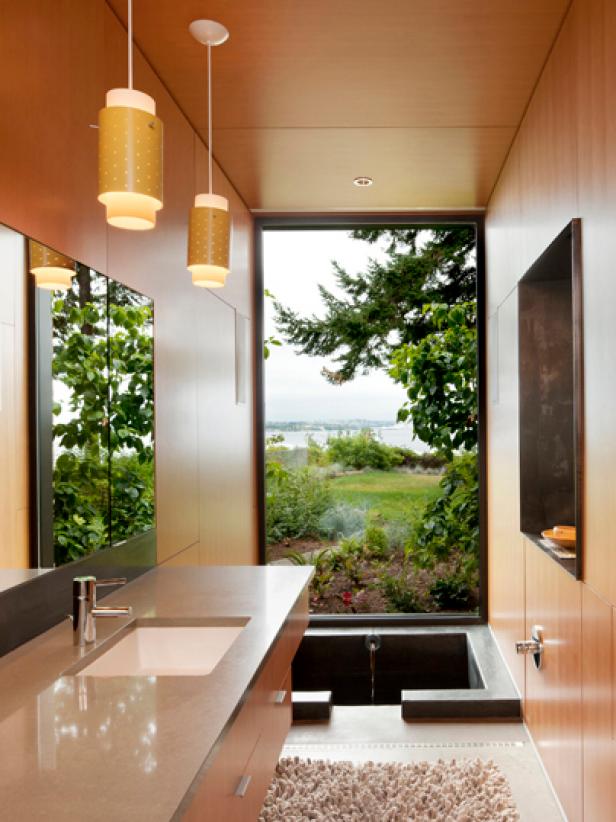 Japanese Master Bathroom
Japanese soaking tub, or ofuro tubs, are deeper in comparison to the western bathtub, with sides that are square rather than sloped or rounded. The lights are compact fluorescent, and the countertops are recycled quartz. The wow factor is the view!
When a homeowner contacted designer Matthew Coates to create a bathroom retreat in a LEED Platinum house, Coates had to create a space with multiple uses.
Incorporating luxurious details and thoughtful storage, the design includes a Japanese ofuro tub, hidden laundry facility and dressing area.
Coates shares how he designed a multipurpose space while maintaining a spa-like aesthetic.
What was on the homeowner's wishlist?
The owner wanted a large shower area with easy access as well as a Japanese ofuro soaking tub. We included both items at opposite ends of the bathing area creating a nice dynamic relationship within the space.
What issue did the design address?
We wanted to create a space that was truly "a place apart" from the rest of the world – a place to which the owner could retreat from the chaos. This was accomplished by creating a linear expression with a Zen garden at one end with the shower, and at the other end, a prominent view of the Seattle skyline from the soaking tub.
How did you address obstacles?
Perhaps the biggest obstacle was finding a way to provide built-in storage for everything in the room. The closet cabinets are built into the wall, there is a hidden compartment behind the mirrors and art niches are tucked into left-over space. Everything has its place and when tucked away, gives a clean and clutter-free environment that enhances the sense of relaxation.
How does the end result match the original vision?
Honestly, the space turned out better than I expected, given the circumstances. One aspect of the space that we did not anticipate was that it ended up being somewhat challenging to get into and out of the sunken ofuro tub. We needed to retrofit the space with some grab bars.
What are the hidden gems of the design?
We wanted to give a warm sense to the space by using wood, but instead of using wood flooring we used it on the walls and ceiling, where it is unlikely to come in contact with water. The laundry machines are built into the wall and have a wood panel door. You would never suspect that this is also the laundry room!