Elegant, Transitional Living Room
Designer Susan Jamieson mixes natural handmade furnishings with modern pieces for a sophisticated living area in a 1900s row house.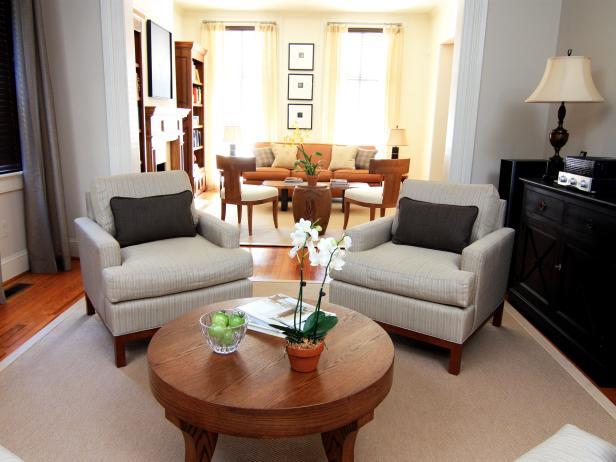 Transitional Living Room With Comfy Chairs
This sitting room, with living room behind it, features two upholstered arm chairs. It's the perfect place for a good book or enjoying morning coffee.
For this Richmond project, designer Susan Jamieson of Bridget Beari Designs, Inc., uses a neutral palette and combination of organic and contemporary furniture to create two separate seating areas in the row house's parlor.
We caught up with Susan to find out about the goals and challenges she faced during the remodel.
Describe the homeowners' wish list.
They wanted to open up the space, as well as simplify and modernize it.
What were the homeowners' design problems?
How to modernize this early-1900s row house by accentuating the positives: high ceilings with tall draperies and a subtle color scheme to highlight moldings.
What was your biggest obstacle in this space?
We needed to remove the '80s columns to open up the space, but the floors had to be patched. It needed to look seamless so it took time and effort to patch and stain it correctly.
How does the end result match up with your original vision?
It went accordingly to plan until we got to the art. The client was very particular. I wanted more color, but the black-and-white pieces ended up working well in the space.
What lessons did you learn?
The client loved mixing organic elements like the log coffee table with the 1950s end tables and custom bookcases. I loved the way the mixing turned out.
What are the "hidden gems"?
We did a faux finish on the mantel to look like wood, which created the look we wanted while saving money. The custom-made bookcases, designed by my firm, are copies of antique 1800s French bookcases.